By Peter Bailey | Photos courtesy of Bouvette
Buvette Restaurant and Wine Bar, one of Burlington's hottest new eateries, offers fine dining in a comfortable setting that boasts plenty of windows, wooden floors and rich, subdued decor.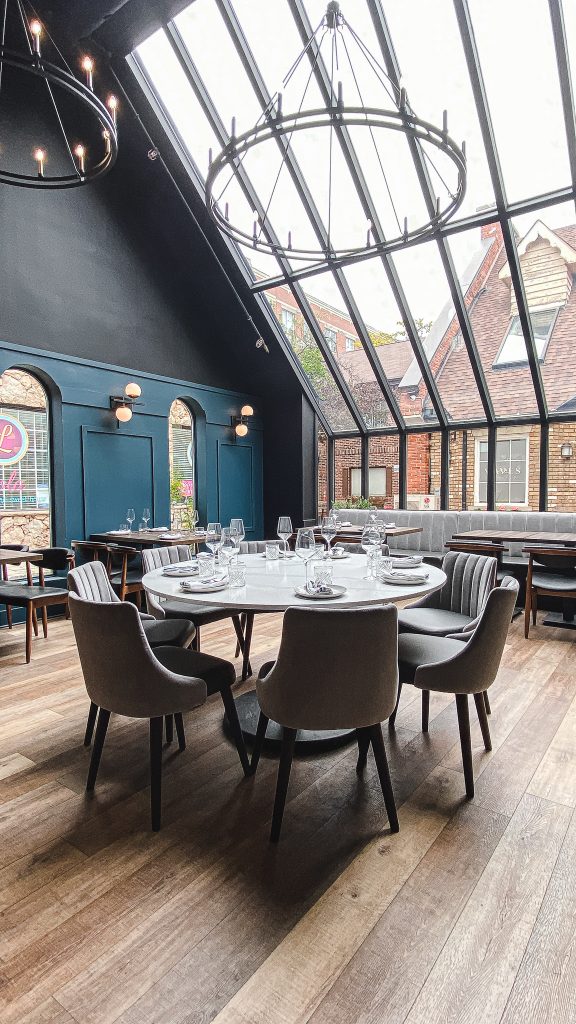 The timeless, classic dishes he enjoys creating keep customers coming back, says executive chef Joel Bennett, elevating them with a modern twist. Once you get him started on the subject, his eyes gleam and the ingredients of his dishes come tumbling forth. "We do, for example, a beef carpaccio," he begins. "It's a tenderloin with an arugula salad, truffle vinaigrette and shallots (I love texture), honey mushrooms and other small tweaks or garnishes."
Another of his unique dishes is what he calls KFC – Korean Fried Cauliflower with gochujang sauce. "It's breaded in rice flour, which is gluten-free, and it has great customer appeal. It's our top-selling appetizer."
Buvette also features pan-fried Brussels sprouts, with double-smoked bacon and caramelized onions tossed in a maple/sriracha mix. 
Seafood is a staple on the menu. "Our Spicy Tuna Tartar is a big hit," Bennett says. "And we plan to have two choices of oysters each day. They're selling like hotcakes right now. And customers just love our Lobster Gnocchi. It consists of lobster tails, cognac, lobster bisque, gnocchi, summer succotash (corn, asparagus and cherry tomatoes) and whipped truffle mascarpone cheese."
Bennett is originally from Niagara Falls and commutes daily from that region to Burlington. He also spent many years in Oakville and says he likes the pace of life in Burlington. "The work is more year-round here compared to Niagara, which is more tourist-oriented. This is a great location."
When owner Alex Lassos opened his long-awaited project last summer, he and his chef wanted to put their stamp on Burlington's dining scene, and they succeeded. Chef Bennett says the restaurant has been packed every night. "Alex and I wrote the menu together, which is unusual," he says. "I'm really proud of it. It's a perfect menu."
Bennett studied at George Brown College, apprenticed at Paradiso in Oakville and worked over the next 20 years as a swing chef at Toronto's Canoe, at restaurants in the city's Distillery District, and at Peller Estates in Niagara. 
Lassos "is a great frontman," Bennett says. "He's one of the best front-end people. He worked at a restaurant called Cagney's for 20 years. It closed because of Covid. He then wanted to start a new restaurant on his own. He came up with this vision, and the process took a year to finish, but he did it."
Lassos describes the ambience as "casual fine dining." He explains that he created the kind of place he would want to go to for a good meal, and his chef agrees. "Alex knows what customers want."
The result is a modern, easy interior encapsulated in a historic home built in the mid-1800s that features three dining rooms that seat 16, 24 and 32 diners in spacious comfort.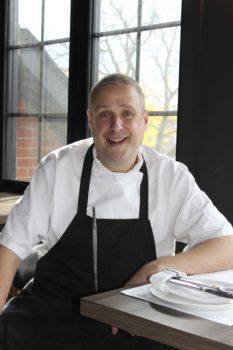 Bennett, who used to be a piano teacher, enjoys working with his staff to strengthen their skills. "Everyone learns differently. In this business, you're only as good as the person beside you. It's a team effort."
It's also important, he says, to strive for a work/life balance. "Restaurant management is now more understanding of employees' needs. For instance, we pay above industry norms. Our cooks get paid close to the sous-chef range. I want to invest in people and to make them feel wanted."
What sets Buvette (which means "tavern") apart from other local restaurants, is its combination of food, decor and good service, Bennett says. "When you charge these prices, you need to provide impeccable service, food, interior design and a strong wine list. As far as service goes, we were able to assemble a great staff."
The public response has been gratifying, he says. "People who dine here say Burlington needed this," Bennett says. "They leave here full and satisfied."
The restaurant's fresh produce is supplied by two local farmers, and the meat and fish are supplied locally as well. The wines are chiefly from California and Italy. Diners wishing dairy-free or gluten-free meals need only inform the staff tableside, Bennett says. "We have separate stations for gluten-free meal preparation," he says.
At press time, the restaurant was open for dinner only, however, should hours change, check online for up-to-date information. Buvette is closed to the public on Mondays and Tuesdays, allowing large family gatherings, weddings, meetings or business get-togethers to enjoy the restaurant. For the rest of the week, reservations are recommended, particularly for Friday and Saturday dining and during the holiday season.
The restaurant is conveniently located at 417 Elizabeth St., on the west side of the city's Village Square, and offers convenient access to city parking. 
For more information visit Buvetteresto.com