Portuguese and Italian cuisines celebrate partners' heritages
By Peter Bailey | Photography by Graham Paine
The name "Chop and Wop Ristorante" for one of Burlington's newest restaurants is easy to figure out: The place is a blend of Portuguese and Italian cuisine. Partners Marco Rodrigues and Giovanni Falbo understand the terms are sore spots for their families and compatriots, but the pair wants to take the names back and create new traditions.
"We're proud to be a Chop and Wop," Falbo says. "We know the name is edgy. But we're proud of our ancestors and we're fusing our two cultures. We've had some pushback from our communities, but once we explain ourselves and our goals, they understand. They get the message."
The restaurant opened on Harvester Road just east of Walker's Line in April, and business has steadily grown for the two restaurateurs. For both, starting the business took a huge leap of faith. Rodrigues had been an executive in national operations for Walmart Canada and Falbo a registered nurse who had managed a Good Life Fitness operation for 16 years.
"It was always our dream to open a restaurant," Rodrigues says. Both men take a newcomer's passion to restaurant operation. "Our goal is, first, to serve great food. Second, to have great people – both staff and patrons. Third, to have great energy."
His partner Falbo agrees. "We're both very hands-on. We enjoy visiting the tables and talking to the customers. And even though we close at 10 p.m., people can still hang around until midnight if they wish."
The restaurant can seat 160 inside at booths and the bar, with a further 20 on the front patio. There is parking for 50 cars on site. The interior is an inviting blend of modern and traditional, with more than a dozen chandeliers and several old mirrors, one 400 years old, along with antique desks and dressers as part of the décor.
Lunch at the Chop and Wop can average $20 per serving, with dinner entrees averaging $40. The most popular dishes are the Bisavo's Cataplana, featuring mussels, selva shrimp, baked salted cod, clams in white wine and tomato and fresh herb sauce. The other popular feature is the Nonna's Contadina short ribs. Both men say the restaurant honours Rodrigues' grandmother, who always wanted to open her own restaurant but never got the chance. Her portrait hangs over the fireplace on the east wall.
"Our aim is to serve fine dining without an attitude," Rodrigues explains. "We have no dress code, and our servers are very approachable." The restaurant is a hit with couples, he says, but it can easily accommodate families as well. "We are grateful when people come here to celebrate personal events."
The kitchen staff can accommodate personal dining needs, and customers who are celiac need only tell the staff to have their dietary requirements taken care of.
Chef Saverio Persichilli, 39, was born south of Rome and grew up in Brampton. He is a George Brown grad who also worked in Italian restaurants and at North 44 in Toronto.
"When I came to Canada the Italian food was so terrible," he says. "We don't eat a ton of meat, it's mostly vegetables and fish.
"I love the concept of comfort food," he adds. "It's easy to make a good meal if you have oysters or foie gras, but to me the real beauty is to take ordinary food and make it into something people will want to pay for."
"In my kitchen, there's no dairy, I use only olive oil. People say when they leave they feel good, and they feel good the next day." That, to him, is proof his cooking is healthful and nutritious.
While at the Chop and Wop I ordered the Nonna's Contadina Short Ribs ($32) and the Gnocchi Montagna ($28), served with a 2017 Cingalino red from Toscana. The short ribs were tender enough to cut with a spoon and the gnocchi was slightly spicy, served with mixed mushrooms in a fennel sausage ragu. Both were delicious and very filling.
The knives, forks and spoons are gold-coloured, something the customers never cease to remark upon.
Speaking of wine, the restaurant offers a large selection of consignment wines that are not available at the LCBO. Most are from Italy or Portugal and make excellent pairings with the food. There are also wines from British Columbia and Ontario on hand. The separate banquet room has glass walls with wine bottles on display with the labels showing, so you can see what's available.
Both Falbo and Rodrigues say the restaurant is easily able to cater to large dinner gatherings or weddings, and business lunches are already a regular feature on weekdays.
All in all, this new flavour in Burlington's smorgasbord of international cuisines is a welcome addition, and one worth visiting.
The restaurant and washrooms are wheelchair accessible. However, reservations are recommended for Friday and Saturday evenings.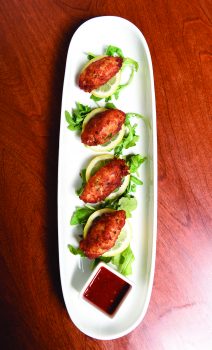 Bacalhau Croquettes 
Ingredients:
1 lb bacalhau (salt cod)
1¼ lb potatoes
1 onion , finely chopped
1 bunch parsley , chopped
2 eggs , lightly beaten
salt
vegetable oil (for deep frying)
lime
Instructions
Soak the salt cod in water for at least 24 hours, changing the water 2 to 3 times.


Boil the potatoes with the skin for about 30 to 40 minutes.

Remove them from the pot, let cool, then peel them.

Mash the potatoes with a ricer or a grater, but not with a food processor or blender to maintain a certain consistency.

Remove the cod from the soaking water.

Bring a pot of water to a boil.

Reduce to medium heat and cook the cod for about 8 minutes.

Remove the cod from the pot and let cool for a few minutes.

Remove the skin and bones.

Add the cod to the food processor and pulse a few times to shred into fine pieces.

In a large bowl, add the cod, onion, parsley, mashed potatoes and beaten eggs. Mix thoroughly.

Using two tablespoons, shape the bolinhos into a torpedo or quenelle shape. Alternatively, you can form round balls with wet hands.

Fry the bolinhos for 2 minutes on each side until golden brown.

Drain them on a plate lined with paper towel.

Serve hot with a few wedges of lime.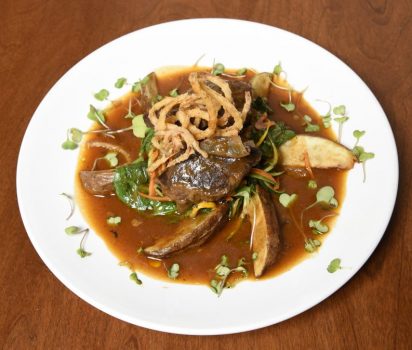 Nonna's Contadina Short Ribs
Ingredients
5 – 6 beef short ribs , 300-400g/10-14oz each
1 1/2  tsp each salt and pepper
2 tbsp olive oil
3 garlic cloves , crushed
1 large onion , chopped (brown, yellow or white)
2 celery ribs , chopped
2 carrots , chopped
2 tbsp tomato paste
2 cups (500ml) dry red wine
2 cups (500ml) beef stock/broth, low sodium
2 sprigs thyme (optional)
2 bay leaves
Instructions
Preheat oven to 160C/325F.

Sprinkle beef all over with salt and pepper.

Heat oil in a large ovenproof pot over high heat. Add half the ribs and brown aggressively all over (5 – 7 min in total). Remove and repeat with remaining ribs, then remove.

Turn heat down to medium. Add onion and garlic into the same pot and cook for 2 minutes.

Add carrot and celery, cook for 5 minutes until carrot is softened and sweet.

Add tomato paste and cook for 1 minute.

Add wine, broth, thyme and bay leaves. Stir until tomato paste is dissolved.

Return beef into liquid, arranging them so they are submerged.

Cover with lid and transfer to oven for 3 hours, or until the meat can easily be pried apart with forks.

Remove beef carefully, keeping the meat on the bone. Cover to keep warm.

Strain all liquid in the pot, pressing juices out of the onion, carrot etc. Return sauce into pot, bring to simmer and stir. Adjust as necessary – simmer to reduce/thicken, add water to thin, season with salt and pepper if needed.

Place beef on serving plate, spoon over sauce. Serve!