by Peter Bailey
If you're looking for the finest in French cuisine that Burlington has to offer, or if you're in the mood for a high-end steak house and a fine cocktail, you'll find just what you are looking for at one of the city's newest restaurants, The Cherry House.
The interior of the restaurant is composed of several rooms for quiet dining, each tastefully decorated with slate-grey walls, modern brick gas fireplaces, and dark wood panelling.
The Cherry House opened just six months previous to this visit, said owner Michael Cherry, 49. Cheery grew up in the industry, starting in the restaurant business at age 14. Once he completed his education he decided being a restaurateur was the right thing to do and dove right back in.
Together with partner chef Anthony Trenton, 30, and veteran general manager Jesse Melbye, 52, the trio make a formidable team with several years of experience to guide them.
The interior décor of the restaurant, the paintings and the comfortable furnishings were chosen by Cherry's wife, Helena Alexandre.
Trenton started as a dishwasher in the food court at Square One. He later trained to be a chef at the Culinary Arts School of Ontario, also known as Culinaria at the Elliott House. He has worked with Cherry for more than 16 years. Together, they have created a new approach to a steakhouse, combining many classical elements of French cuisine with the traditional expectations of a steakhouse.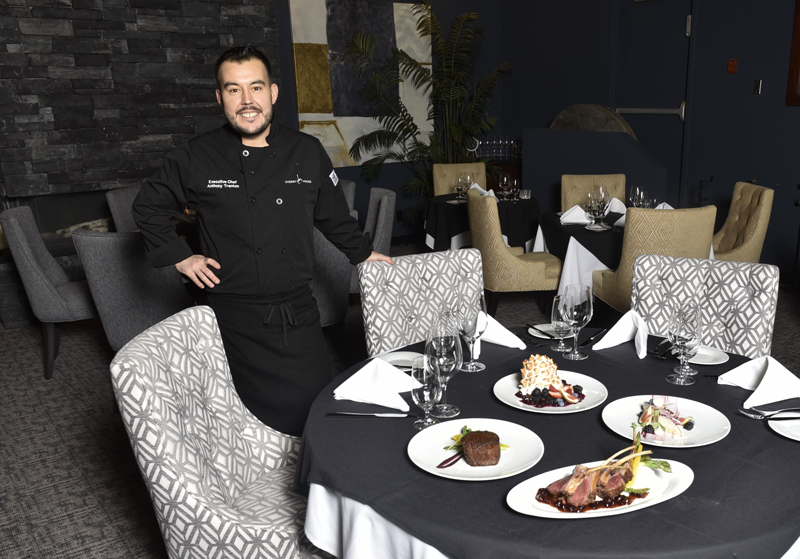 "Mike and Anthony took over the Aria Bistro and Lounge in Brampton nine years ago," sais general manager Melbye. "It was failing. But in nine years they turned it into the most-loved restaurant in the GTA. When we sold the business, we had more than 200 heart-felt email messages. Mike and Anthony had created friendships that went way beyond customer and proprietor relationships. They over-delivered on their promise of good food and service. With Cherry House, we've wanted to build on Aria's foundation."
And build they have, as the restaurant has begun to build its own regular clientele, and with that a whole new suite of favourites.
"Our biggest sellers are escargot or calamari," said Cherry. "Another is our 12-ounce filet with baked Alaska."
Among the restaurant's signature dishes is the Wagyu beef, imported from Japan. This exquisite serving comes at a cost, though, with a 10-ounce steak ranging in price from $32 to $40 per ounce.
But perhaps the most talked-about dish is the Tomahawk, which sells for $159. It is a 48-ounce steak grilled in roasted garlic and herb butter. Believe it or not, some have eaten this three-pound meal on their own, but Cherry recommends it be shared by two people.
The moment discussion of this meal I even raised however, customers at the bar join in the conversation to proudly pull out their phones and show everyone a photo of a Tomahawk they once conquered.
"I dine out quite a bit, in some of the best restaurants in the world," said Gord Rados of Brampton. "This restaurant is among the top 10. I think Anthony is one of the best chefs in Canada — and I'm a tough critic."
Rados is an executive director of a steel fabrication business. He travels frequently and with his passion for eating out, knows what to look for in regard to food, and service.
"Everyone here works hard for their money. I like to reward people who truly care and are passionate about it."
And work is the right word, as even the chef himself is known for an unrelenting work ethic. Chef Trenton's painstaking preparations for his dishes show off the level of care and culinary knowledge he puts into each one.
The Tomahawk steak for one.
"This steak is aged no younger than 45 to 80 days in its vacuum pack," Trenton said. "We give it 20 minutes to come up to temperature, 20 to 25 minutes to cook, then 15 minutes to rest. Expect an hour wait if you order it."
The sour cherry preserve he makes to complement the rack of lamb has natural pectin.
"It takes 30 days to be what I think it should be," chef said.
The red wine demi-glaze takes three days and is made from beef bones roasted for eight hours, added celery, carrots and onions, simmered and strained, then reduced by 75 per cent. He cooks shallots, butter and black pepper corns, reduces red wine, then adds the beef stock and reduces it from 33 parts to one.
Cherry House can hold a maximum of 240 diners, and there is a 10-seat bar where customers can wait for a table. The restaurant has gluten-free and Halal menus with an extensive wine list of both foreign and domestic products.
Dinners are the busiest times and reservations are recommended. The restaurant plans to have patio service for 40 to 60 in summer months.
It's best to check the website for menu items and dining hours. Lunches vary from $30 to $40 per entree, and dinners range from $40 to $80.
The restaurant is available for business functions, weddings or meetings in the private dining room. Couples and families are welcome.
The entrance and both washrooms are wheelchair accessible, and parking on site is free. Depending upon government regulations, masks may be required.
"We'll follow the guidelines of the Province of Ontario," Cherry said. "Consult our website (cherryhouse.ca) for details."
For those who miss the quality and service of Aria and those who look forward to a new adventure in fine dining, The Cherry House offers an exciting new take on French cuisine. It's an ideal spot for those special occasions, when you want a little extra for your dollar.
3106 S. Service Road, Burlington
905-632-1316