Local patisseries bring you the memorable pleasures of French cuisine
By Peter Bailey Photography by Graham Paine
French writer Marcel Proust proved in his 1907 novel "Remembrance of Things Past" that an action as simple as eating a "petite madeleine" with his tea could summon up a host of happy memories. So if you want to recall pleasant afternoons spent in a Paris café, or even if you just wish to imagine what that would taste like, here's a way to enjoy those pleasures in the comfort of your home.
The Greater Toronto Area is dotted with wonderful French-style patisseries (pastry shops) and boulangeries (bakers) where you can pick up delightful desserts or bread. You can live the life of a Parisienne without the difficulty of finding parking in that city. Here are just three:
The French Revolution, 2 King Street W., Dundas, Ont. — 905-628-2335
Owner Rhonda Wells is a former Quebecer who has run this business since 2009, when it was known as Ya'd Never Know. Before that, she worked as a caterer. She lived in France in 2018 and studied there under local chefs. "Even eating a carrot over there was totally different," she says. "The flavours were incredible, there were no GMOs. The nutrition level was much higher. I want to get people to appreciate good food.
"A little goes a long way when you use high quality ingredients," she adds. "And I like to support local businesses when I can. I'm not a believer in processed foods."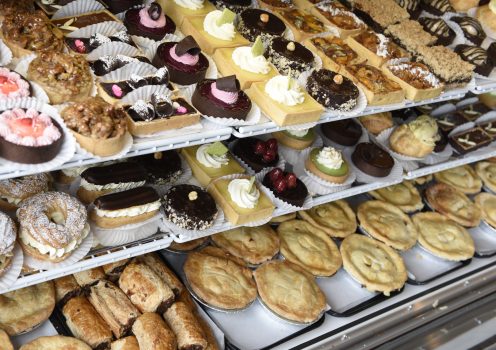 Her shop is a patisserie and a boulangerie. To that end, she says she always uses high-quality ingredients. Her shop sells 100 different items, all produced in-house. They range from vegetarian deluxe galettes to pot pies, soups, pizzas, quiches, salads, croissants and pastries. "We sell 1,200 croissants a week," she says. "Along with 400 baguettes weekly."
French Revolution has begun a Friday "Dinner for Two," that changes every week for approximately $42.95.
For example, The Valentine's Day special was marinated stuffed dates wrapped in bacon, two Beef or Vegetarian Wellingtons with roasted potatoes and honey glazed carrots, and for dessert Chocolate Pate with fresh fruit. The meal also comes with a fresh baguette. The special price was $85 per couple.
The shop's online presence is the most extensive of the three here profiled, with many recipes and suggestions for dining a la francais. 
And yes, they also sell madeleines. Check their website for more details:
The French Corner, 1224 Dundas Street W., Unit 114, Mississauga, (905) 566-1919
In Mississauga, The French Corner is the place to find a taste of France. Chef Mohamed Youssef is a trained chef who studied in Egypt and later in France. His concept is to have a French boulangerie and patisserie that is typical of the shops in France or in his homeland. He was inspired to take up baking in high school and has run his local business since 2009. His goal is to provide authentic French products based on the availability of ingredients. That ensures freshness, but the range changes by season and within season, he says.
Customers are surprised by the quality of French pastries in Mississauga, he says. "They don't expect to see the concept exist here," he says.
His colourful and brightly lit shop produces pies, cakes, tourtières, bread, pastries, quiches, and sandwiches to take out. It has been in operation since 2009.
His products have the "French signature," he says. The items he sells all must have "the taste of France."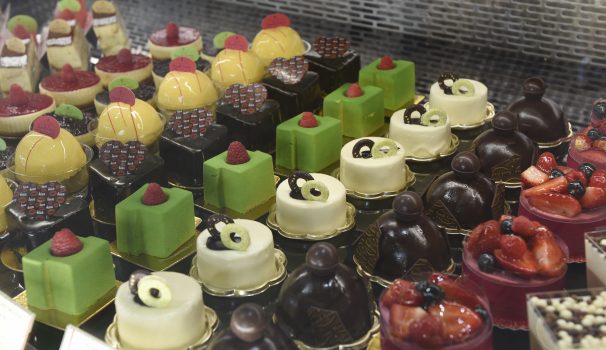 The pastries and breads are created with local ingredients wherever possible, he adds. And his cakes are priced at $20, which serves six to $40, which serves eight to 10.
As with the other patisseries, there is limited space for customers, but because of his store's size, it can accommodate 12, properly spaced. Parking is available.
http://www.frenchcornerpatisserie.com/
Tradition de France, 31 Lakeshore Road W., Oakville
This Oakville patisserie is perhaps the most elegant of the three we're discussing. Customers cam place their inquiries and orders by Facebook or Instagram at this time, as there is no telephone.
Owners Mary and Cyl bring many years' experience in the food industry in their native France. Cyl trained in Paris and Normandy. "We work as a family. The atmosphere of Tradition de France is possible thanks to my wife. Without it, this would not be possible. Maintaining the store is just as important as baking production. My daughter supports her mother in the store and my son supports me in manufacturing. We work in the old rules and methods of French pastry."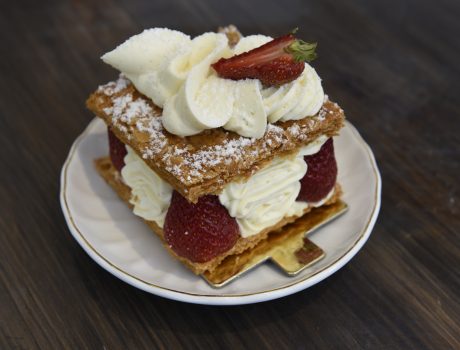 Their business is also a patisserie and boulangerie. It's also the newest, having opened in 2020. "We wanted to create a very bright, spacious and simple atmosphere," he adds. "Our French customers tell us it reminds them of home. Customers who go on vacation say they remember their vacation in France, and those who haven't gone tell us they feel like they are there."
The most popular items? "Croissants and pain au chocolat," he says. "We change our cakes regularly to be able to offer a wide choice of pastries to our customers."
Once the Covid restrictions are eased, Tradition de France can accommodate 30 customers with comfortable seating.
@traditiondefranceontario 
All of these patisseries have an extensive online presence, including Facebook and Instagram, where you can find colourful photos of the dishes they sell, tantalizing recipes and updates on seasonal or holiday specials.
Admit it – you're getting tired of the grey days of winter and you need to treat yourself and your family. In a time when we cannot travel abroad, returning to Paris or going there for the first time is simply a dream for the future. But we can still enjoy the pleasures of French culture, thanks to the local businesses that specialize in that cuisine. Supermarkets cannot provide the personalized creations these corner shops excel at.
So treat yourself and your family to the flavours of Montmartre, Dijon, Boulogne or Marseille. All without the hassles of long airport line-ups and hours spent in a crowded airliner to reach your destination.
Take a short drive in familiar traffic and bring some souvenirs of France back to your home.