Beer lovers can discover a range of flavours from raspberry sours to Reese's Pieces
By Peter Bailey Photography by Graham Paine
There was a time in this great land when the brew pubs did not run.
Although John Molson opened his first brewery in 1786, followed by Alexander Keith in 1829, John H. Sleeman in 1836, and Thomas Carling in 1840, the coming of Prohibition in the 1920s, the Great Depression and corporate machinations led to the shutdown of hundreds of small breweries.
It wasn't until 1984, when John Brickman started Brick Brewing in Waterloo, that the first new craft brewery in Canada was born. As of 2019, Canada has nearly 1,000 craft breweries and approximately 7,000 domestically made brands.
Gone are the years when a beer drinker would go to a restaurant and be offered a choice of brands from three or four large commercial brewers that closely resembled each other in taste and price. Imagine going out to restaurants and being offered only six or seven meal choices – for decades!
That's what Canada was like for beer lovers who thirsted for something different. But thanks to the five patron saints of brewing, that has all changed.
A quick look at the emerging craft brewers in the GTA and beyond reveals some interesting choices for people who like to slake their thirst with something different. Here are five locations that offer unique beers in distinct surroundings to please the most jaded beer palate:
The Brewers Blackbird Kitchen and Brewery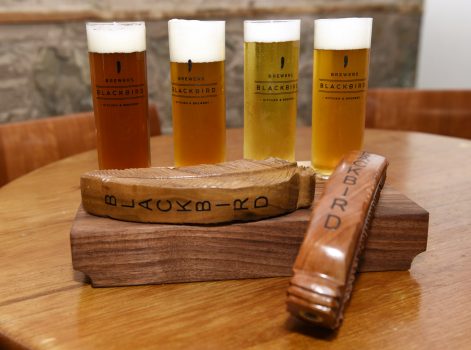 375 Wilson St. E., Ancaster
Brewersblackbird.ca
905-648-8863
This downtown Ancaster brew pub, which opened in December 2019, is the brainchild of Mark Gibson and Andrew Kershaw. Once the former Rousseau house, a fine-dining restaurant, the Blackbird is a brew pub located in an historic Georgian building on the main street.
Inside, the style is one of colonial elegance and simplicity, with a large patio on two sides. The brewery offers "cravable comfort food," Gibson says, with lunches averaging $20 with a beer; and, dinner and a beer averaging $25. Pizza is a favourite with customers, who also come back for the four beers the brewpub offers – a lager, a bitter (a classic ale), an American-style pale ale, and a hoppier IPA (Imperial pale ale).
Pints are $7 and 24 cans cost $66.
Gibson, a trained sommelier, says their goal is to match beer with food. Dan Burcher, the restaurant's chef, is a 25-year veteran of the restaurant industry, and previously worked at Ancaster's Old Mill and the former Rousseau House. Pizza baked in a wood oven is a favourite that brings customers back for more, Gibson says.
Nickel Brook Brewing Company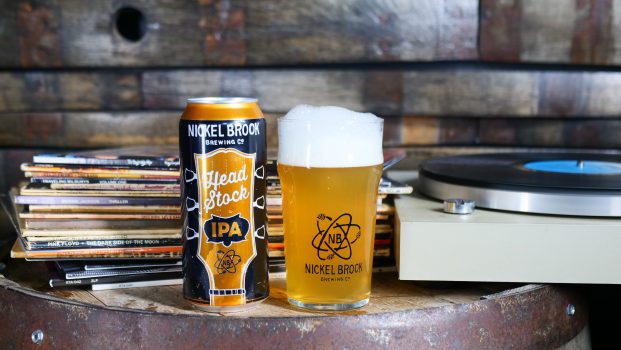 864 Drury Lane, Burlington
Nickelbrook.com
905-681-2739
Founder John Romano chose to name his brew pub after his two children, Nick and Brook. Together with his brother Peter, he has created a company that offers a multitude of quality beers and other beverages that have set the two brothers apart among craft brewers.
"Our Headstock is the top-performing IPA in Ontario and our Naughty Neighbour is the number two American pale ale in Ontario," he says proudly. His company is routinely ranked 7th or 8th among the province's craft breweries, he says. "We're listed seventh in grocery stores, seventh or eighth in the LCBO and fifth or sixth in the Beer Store," in terms of popularity.
"Our Kentucky Bastard is rated the best craft beer in Ontario," he adds, "And our Cafe Del Bastardo, a bourbon stout, is rated the number one craft beer in Canada."
Although the brewer lists seven beers in grocery stores and seven in the LCBO, it also offers another dozen at its Drury Lane location. It also makes non-alcoholic root beer and ginger beer for the younger set.
Those who can't personally visit the Brewery for pick up can take advantage of the Nickel Brook's Door Drop Delivery — convenient GTA wide complimentary delivery right to your home. Ontario wide delivery is also available at $15 fee for a minimum order of $75.
Nickel Brook would like to extend an offer to West readers with $10 off a minimum order of $75 or more. Just use the promo code DOWNTOASCIENCE10. Now that's beer delivery, down to a science.
The 3 Brewers
2041 Winston Park Dr, Oakville
Les3brasseurs.ca
289-813-2239
The 3 Brewers is part of a Quebec chain of brew pubs owned by Les 3 Brasseurs, and it offers a large interior space for casually dressed diners who love good grub and a good brew. The menu is French/German artisanal food, featuring such items as pretzels, sausages and flammekueches, an Alsatian plate-sized thin-crust flatbread adorned with meats, vegetables and sauces and baked on a pizza stone.
Lunches range from $15-$30 per person and dinners average $30-$50 per person.
The location has been in operation for eight years, and with warm weather the outside seats 80 patrons. Inside, there is spacious room for 90, a restricted number due to COVID-19 regulations.
The brew pub offers blonde, white and amber beers, as well as specialty beers created by the brew master.
But what sets The 3 Brewers apart is their beer-making workshop. Customers can consult with the brew master about the beer they would like to make. Then they meet again to create the beer. When it's ready, customers can bring in a group of up to five friends to drink the beer on-site. The process, which costs up to $250, makes 18 litres of the beer of your choice.
"We had one customer who wanted to make a Reese's Pieces beer," says manager Andrew Brand. "And it actually tasted like Reese's Pieces!"
Stonehooker Brewing Company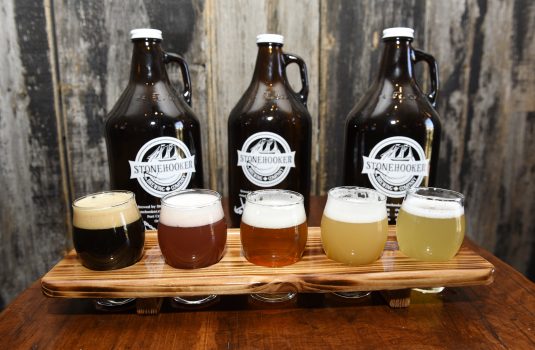 866 Lakeshore Road E., Port Credit
Stonehooker.com 
289-847-5000
This relatively new brew pub has a nautical flavour due to its tribute to Lake Ontario's "stonehookers," which were sloops whose sailors transported Dundas Shale from the north shore shallows of Lake Ontario during the 1800s to Toronto, where it was used for building construction. The stones were grey and slightly rounded, roughly the size and shape of a large hardcover book.
The industry ended at the end of World War I when concrete blocks came into use, and today its name lives on in approximately 18 craft beers made on site.
Founders Ross Noel, an IT specialist for 30 years, and Adam Cherry, a golf professional for 28 years, decided to blend their know-how and Cherry's home brewing experience to form Stonehooker, and despite COVID's impact, their business has been strong.
Chef Cal Sandford, 37, serves food to outdoor diners who sit in picnic tables in the front yard beer garden. He barbecues burgers, tacos, Korean-style short ribs and other finger foods for customers who lounge under the large umbrellas, accompanied by their dogs.
Like other top brewers, Stonehooker doesn't skimp on ingredients, Noel explains. "We use real mangoes or raspberries or vanilla beans in our brews," he says. "We let the ingredients sit and blend for four or five days. Our spicy raspberry beer has Mexican chilis added, and it's great in pairing with cherry goat cheese."
Stonehooker not only offers a wide variety of beers, it also has the best prices for food. None of the dishes served costs more than $15. The atmosphere inside is cozy and informal, with an arched wooden ceiling that resembles the inside of a barrel. This location is a beer aficionado's dream.
Tracks Brew Pub, 
60 Queen Street E., Brampton
Tracksbrewpub.com
905-453-3063
Finally, for fans who simply require a no-nonsense pint of English-style light lager or dark, served in a pub atmosphere, there is Tracks Brew Pub, off Queen Street tucked in the back of the old Brampton Knitting Mill building, by the railroad tracks.
The pub has been there for 38 years, and is owned by Roger Rajamoorthy, who was its first chef and who later bought the business. The interior is red brick with lots of dark wood, with the original cast iron mill wheels and pulleys still hanging from the ceiling. A raised room with a gas fireplace offers a quiet retreat for diners. Many tables are still sealed off due to COVID restrictions, but Rajamoorthy is confident business will return to normal within a few months. His downtown customers were mostly civil servants who now work from home.
Pub lunches range from $10 to $20 and dinners cost between $20 and $30. Old Mill is one of the house beers, a 5% dark English lager. The other beer is Tracks Lite, at 4.5%. Pints are $5.90. The brew pub also serves a large array of commercial beers. It's hard not to find something to like here; fish and chips is a favourite among patrons.
The onset of COVID-19 has made it hard for these establishments to plan for future holidays and events, so consult their websites for up-to-the minute details and menu options. Like all the small business ventures in our communities, they deserve our support. Not only do they offer a different taste for jaded patrons, the vast number of lagers, stouts, ales, sours and porters they create make perfect holiday gifts for friends and family members.
Craft brewers offer such an array of unusual flavours, certainly there's something to appeal to anyone's taste. Beer lovers have waited far too long for such selection, and we should make it our quest to try something new.