Special Online Feature by Carmelo Giardina
One of the most coveted brands in Ontario wine is making a comeback. Le Clos Jordanne, initially one of Ontario's best success stories in the Pinot Noir and Chardonnay varietal space, was all but dead just a few short years ago, but now it's back and wine lovers are swooning with joy.
After two short crops in a row, due to the very cold winters in 2014 and 2015, the decision had been made to do away with the brand in early 2016. And so, the 2012 vintage was its last, leaving other brands to swoop in to claim the coveted fruit from this terroir for themselves.
It left many confused. Why would a successful brand, one with such promise for the industry, be laid to rest after only a decade?
When the brand officially released its first wines in 2007, it was to great critical acclaim. The wine signalled the mantra that Ontario could undoubtedly compete in the ultra-premium wine market and that terroir truly mattered in Ontario too, and not just in Burgundy or Bordeaux.
The vineyards, hand-selected for their similarities in both their climate and the clay and limestone-rich soil to Burgundy's Côte d'Or, were planted with ultra-premium rootstock imported directly from Burgundy. The low yield vines were harvested using an unhurried approach — hand-picked, hand-sorted and moved using a gravity flow system that ensured careful handling. These techniques led to wines that truly raised the bar on quality for the Canadian wine industry.
Canadian winemaker Thomas Bachelder spearheaded the original project, building on the cool-climate, low-intervention, terroir-revealing winemaking techniques he had developed during years spent making wine in Burgundy and Oregon. Le Clos Jordanne produced only Pinot Noir and Chardonnay — using just the thin-skinned but regally perfumed Pinot Noir and luscious, yet mineral Chardonnay grapes, both with the potential to beautifully express the conditions in which they were grown.
Bachelder left Le Clos Jordanne in 2010 and continued to produce world-class examples of cool-climate wines in Oregon, Burgundy and Niagara, under his own label, Bachelder. His technique continues to showcase the personality of the region, with little winemaker intervention and extended time in the barrel. Now, Bachelder will return to execute the rebirth of Le Clos Jordanne, bringing with him his immense knowledge of this particular vineyard, his passion for the region and his unique, terroir-focused style.
I recently had a chance to speak with Thomas about this exciting return to Le Clos Jordanne.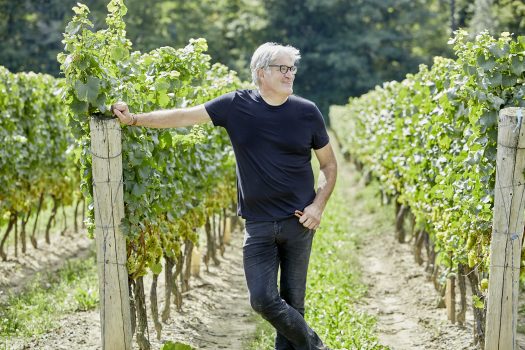 How does it make you feel to be making Le Clos Jordanne wines once again?

"In short, it feels fantastic. These particular vines and this region have always held a special place in my heart. After many years, to be invited back to continue the legacy of Le Clos Jordanne and bring the prominence of this vineyard back into the Canadian spotlight is very exciting – I can't wait for people to taste and experience what we've been working on."
What is it about the specific terroir of the Le Clos Jordanne property that has you (and so many others) completely mesmerized? Why is this such a special place to make wine?
Le Clos Jordanne arguably holds one of the top-sites in Canada for Pinot Noir and Chardonnay. If you're not familiar with the Jordan Bench, it's a beautiful micro-climate in the Niagara peninsula that, due to its proximity to the lake and the Niagara escarpment, has a surprisingly temperate climate – which is ideal for the cultivation of grapes. The soil, rich with limestone, adds a wonderful minerality. It's like a little paradise in an otherwise very cold part of the country. Le Clos Jordanne's vineyards are situated perfectly to take advantage of this unique, natural phenomenon and its distinct terroir produce wines with a sense of place, finesse and elegance.
Is there any particular difference in winemaking style (or approach) that separates Le Clos Jordanne wines from the others that you produce or does the difference entirely have to do with terroir?
I've always set out to let the terroir and the region reveal itself through each of my wines, with the goal of having them become true reflections of the places where the vines were grown. Le Clos Jordanne wines are beautiful, complex representations of the terroir of the Jordan Bench, and all the winemaking techniques we use are reflective of that.
In your opinion, is the wine just as good today as it was 10 years ago or has this gotten better with age?
The interesting thing about winemaking is that as the vines mature, and the roots grow deeper into all those layers of soil and rock, the wines become more complex and compelling – really taking on the profile of the terroir. 2017 happened to be a phenomenal year for winemaking in Niagara, so you can expect this inaugural vintage for the rebirth of Le Clos Jordanne to be something truly special.
Is the objective of Le Clos to still show similarities between Niagara and Burgundy or have we moved past all that now, focused on showcasing Niagara's unique capabilities when it comes to pinot and chardonnay? There are, of course, similarities that will continue to be highlighted but I think the more interesting aspects of winemaking are revealed in the differences between both regions. One unique element of Niagara wine is the beautiful minerality and pop from the region's limestone-laced soil that, over time, I'm hoping the rest of the world will come to appreciate and covet as much as I do.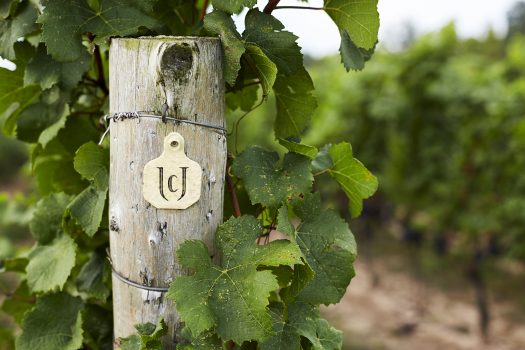 The Wines:
Le Clos Jordanne 2017 'Le Grand Clos' Pinot Noir ($45)
Rich berry fruit with some noticeable oak vanillin integration, this is a wine that drinks rich and smooth now but will be even better with a few years of age. It's quite focused and layered and hints at things to come with added complexities sure to hit peek performance come 2022.
Le Clos Jordanne 2017 'Le Grand Clos' Chardonnay ($45)
One sip and immediately you realize why this wine had to make a comeback. Such poise with distinguished flavour profile, including apples, lemon zest and a minerality never experienced before in previous vintages. These vines have dug deep and have been waiting to show off their best expression yet. There's even a saltiness on the palate that's just so lovely and adds to the beautiful complexity.
The 2017 Le Clos Jordanne Pinot Noir and Chardonnay will be released at Vintages LCBO in November 23rd and online at http://www.leclosjordanne.com