Recipe & Photo By Irene Matys 
Fall is one of my favourite seasons. The beautiful colours of changing leaves, warm cosy sweaters and all of the delicious squash and comfort food. This recipe was inspired by a favourite Cypriot family recipe called Yemista, which translates to "stuffed." This vegan/vegetarian dish is so flavourful and celebrates fall comfort food. Acorn squash and sweet onions have been stuffed and baked with lentils and rice with an aromatic flavour of cumin.
It's simple to make, can be enjoyed as a main or side and makes for a beautiful presentation on your fall table. If you prefer all squash, you can substitute the onions for an additional two squash. I hope you enjoy this recipe as much as my family does.
Serves 4-6. Prep and cook time 1.5 hours.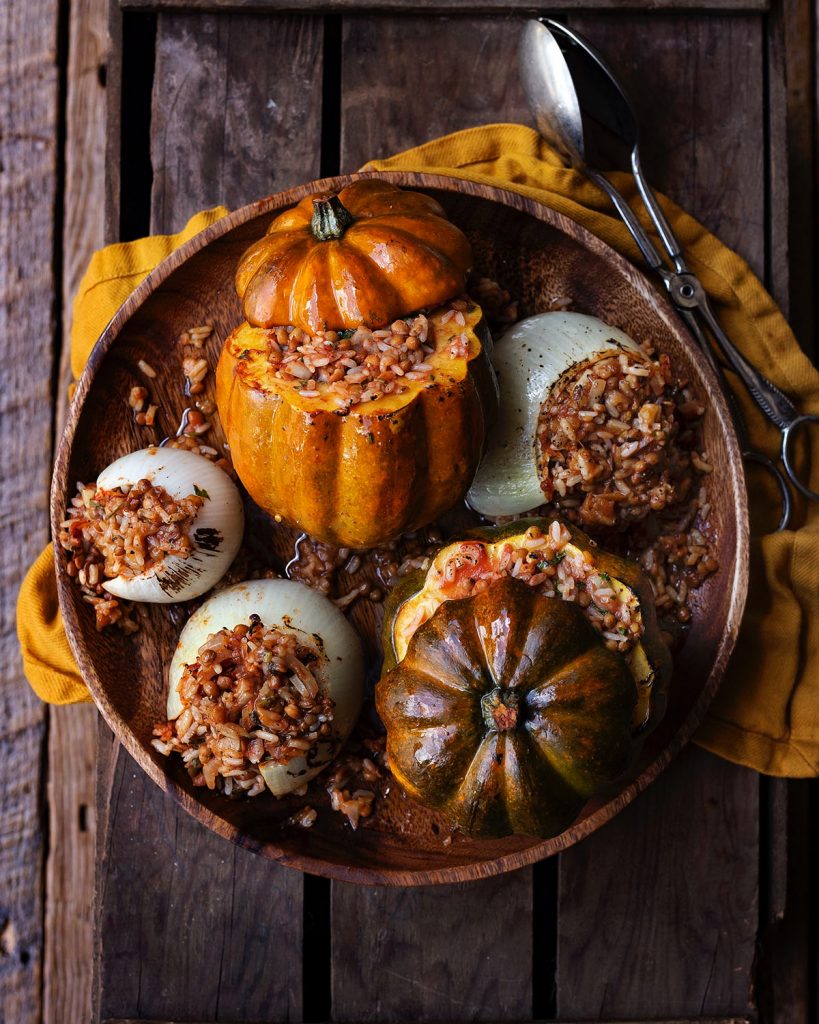 Ingredients
2 1 ó-2 lbs acorn squash
1 large sweet onion
1 540 mL (19 oz) can green lentils, drained and rinsed
1 cup long grain white rice
ó cup sweet onion, finely diced
ó cup fresh Italian fl at leaf parsley with stem, finely chopped
Zest and juice of 1 small lemon
1 cup tomato purée
5 tbsp extra-virgin olive oil
1 tbsp ground cumin
1 tsp salt
1 tsp fresh ground pepper
2 cups vegetable broth
Preparation
Preheat oven to 350F. Wash acorn squash and cut tops off a 1/4 inch to expose the inside of the squash. Using a melon baller or a spoon, scrape out the seeds. Set aside.
Peel onions and cut off bottoms and tops. With a knife, make a slice along the side right through to the centre. Carefully peel each, layer ensuring you keep the onion layers intact, about 4-5 layers. Finely chop the leftover onion from the centre and set aside.
To make mixture, in a large bowl combine, lentils, rice, 1/2 cup of chopped onion as well as the remaining chopped onion from the layers, parsley, lemon zest and juice, puree, 2 tbsp olive oil, cumin, salt and pepper. Mix all the ingredients well.
In a deep baking dish large enough to fit all the vegetables snugly, place the acorn squash in the dish and stuff them just to the top of the opening. Stuff onions with lentil mixture, ensuring you seal the cut side by overlaying the open sides of onion. Place them standing up in a baking dish with the squash, ensuring the onions and squash fit snugly together so the onions stay closed.
Gently pour 1/2 cup of the vegetable broth evenly on top of the openings of the squash and onions. Drizzle with remaining 3 tbsp of oil and pour the remaining vegetable broth in the bottom of the pan.
Place the tops back on the squash and cover pan tightly with foil.
Place in preheated oven and bake for 50-60 minutes or until squash and onions have softened.
Increase oven temperature to 500F and remove foil. Bake for an additional 10 minutes until vegetables are golden and slightly charred. Turn off oven and let stand for 10 minutes.
Place on platter and spoon pan juices overtop.
For more delicious recipes vist irenematys.com