The 'Prince of Indian Cuisine' brings his remarkable dining experience to Mississauga
By Barbara Ramsay-Orr
Food photography by Michael Ciurleo
Park any of your ideas about Indian restaurants at the door when you visit Farzi Cafe, the new and super cool restaurant in the Food District at Square One Mall in Mississauga.
This is a place that has taken traditional Indian cuisine and reinvented both the dishes and the experience. The results are entertaining and delicious, a delectable combination of modern fusion and traditional Ayurvedic influences.
Farzi is part of a popular chain of 19 Indian restaurants stretching from India to Dubai, Kuwait, Bangladesh, London, and now, for the first time in North America, in Canada.
Brainchild of Zorawar Kalra, aka 'the Prince of Indian Cuisine', the Farzi restaurants are redefining the Indian food and beverage genre, bringing Ayurvedic elements and global influences to each location. Kalrs has married the science of molecular gastronomy with India's spices and flavours.
The 4000 square foot space in the Food District is visually stunning, with high ceilings, an open concept and natural tones. There's grassy greenery, exposed brick, an olive tree with twinkle lights and cool shades of green, tan and grey. Most visually impressive is the long bar, curved and sinuous, with artsy domed lamps, blonde wood, a beige and grey marble surface and glossy green subway tiles on the back wall.
Arrive early enough to enjoy a few cocktails before your meal. Farzi has elevated the cocktail to a new level, using state-of-the-art devices like an ultrasonic homogenizer, centrifuges and rotary evaporators. Tinctures of herbs and spices are used to create bespoke cocktails, all served in different and whimsical drinking vessels, and many of them are themed to various astrological signs.
There are non-alcoholic cocktails as well and a comprehensive wine list with international and local vintages.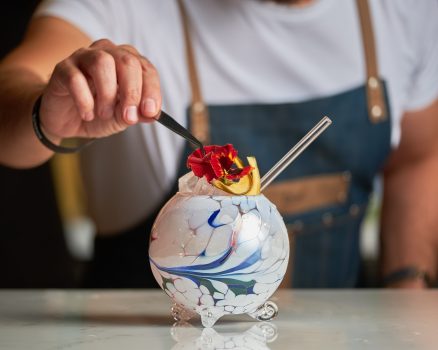 There has been serious attention to detail in the finishing touches at Farzi. Plates are a marbled grey-green, napkins a cool beige and the silverware is bronzed. Serving plates come in surprising shapes and imaginative designs and the servers wear blue shirts with striped suspenders and patterned bow ties. It's all perky and fun. There is a large patio with gas lamps and heaters and doors that will open completely to make the interior of the restaurant a seamless part of the outdoors. It will certainly be enticing in warm weather.
That playful and experimental ambiance reflects the culinary style of Farzi. Executive Chef Saurabh Modi, with 23 years of experience in the culinary arts, has come to Canada to helm the cafe.
"Indian cuisine," he tells me, "is evolving. Modern Indian food is way beyond the buffet and chicken tikka masala that many people expect. It is complex, layered and progressive".
The menu at Farzi proves his point. While dishes are evocative of traditional Indian specialties, each one is given a creative twist and an international hook-up. Paani puri, one of the most common street foods in India, is reimagined as little bubbles of jelly filled with a spicy savoury liquid, that explodes in your mouth. Surprising and tasty. Butter chicken baos and paneer popcorn are tantalizing starters.
Farzi Cafe describes itself as 'a modern Indian bistro' and to that end, many of the dishes put a playful spin on specialties from other cuisines. The Farzi version of arancini, the well-known Italian rice ball, is a careful blend of lentils, Indian spices and risotto, served with papadum rolls and a tomato chutney on a black rectangular plate. Prawn tempura are a heavenly blend of Japanese and Indian flavours, served with a kumquat relish, chilli mayo and topped with a lemon chilli foam. The ubiquitous CTM, chicken tikka masala, has been reinterpreted, appearing at the table in a miniature English telephone box. Inside are bowls of thick and spicy chicken tikka masala with a Cornish cheese naan. The presentation is playful, but the chicken tikka masala is seriously delicious, with a thick aromatic sauce and chunks of tender chicken. There are also several vegetarian and vegan options on the menu.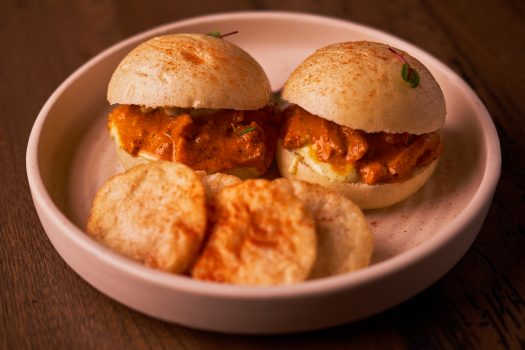 Dishes are usually small portions, served tapas style. Every dish has a clever spin, often incorporating molecular cuisine touches like foam and dry ice, but the spin does not override flavour.
"We don't play with authenticity," says Chef Modi. Farzi has found the sweet spot between dramatic presentation and great taste.
Whatever you do, leave room for dessert. For a bit of drama, order the Gulab Jamun 2.0, a celebratory traditional dessert, served with eye-catching flair. It requires two servers and some vigorous stirring, as condensed milk is whipped and frozen in the dry ice and then spooned over the warm gulab jamun. The finishing touch is a red rose, flash frozen in the dry ice and presented to one of the diners, who claps his hands over the rose, breaking the flower into little rose petal pieces that are sprinkled over the dessert. It's pure restaurant theatre, but the gulab jamun is authentically flavoured and delicious, measuring up to the presentation.
"People eat with their eyes," Chef Modi explains with a smile. "Farzi is not just about food or drink but about a whole experience, on an excellent level."
Another dessert to try is the Ras Malai Tres Leches, a traditional Indian dessert made with cheese, milk and almonds that has morphed into the well known three-milk cake Tres Leches. With a tip of the hat to Mexican cuisine, the dish at Farzi is a dessert of cheese curd balls soaked in clotted cream, saffron and pistachio, topped with carrot pudding in carrot cream. Or try a Chocolate Dirt Pile, much more delicious than it sounds, deconstructed chocolate 'mud' served with ice cream and hot chocolate and served with flair.
The cafe was busy on the night I dined there, with all tables occupied and a lineup at the door.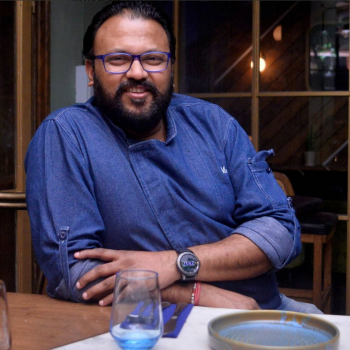 When I asked Chef Modi to recommend his favourite dish, he paused. "That's like asking me to choose my favourite son!" he joked. "I love the arancini, and the prawn tempura and the butter chicken – too difficult to choose one!"