By Laurie Wallace-Lynch
In the fall of 2008, Angela Liddon of Oakville started writing a blog to talk about her recovery from an eating disorder, something she had struggled with since she was 12 years old.  Her intention was to share her journey to health and tell others about the amazing transformation that a plant-based diet had made in her life. A handful of readers grew to one million readers a month over seven years and led to Angela writing three cookbooks and becoming a New York Times bestselling author.
"In 2008, I was working full-time as a researcher, and after several years of juggling university courses and various jobs, I was feeling burned out," recalls Angela. "My husband Eric encouraged me to find a hobby and shortly after I started my blog Oh She Glows. Little did I know that blogging would lead to discovering my hidden passions for plant-based cooking, photography, and writing! My relationship with food was rocky up until this point and I had been living off diet foods. I struggled with my disordered eating for over a decade.  so I began adding more plant-based foods to my diet and started to feel more energetic and balanced. Slowly but surely, I taught myself to cook different dishes and tried new-to-me vegetables and fruits. I fell in love with how I was eating nourishing plant-based foods and never looked back."
Once Angela started blogging, she was hooked, even obsessed, punching out 3 posts a day.
Angela admits that she is surprised as anyone by her love of cooking. "Growing up, I never really had any interest in cooking, aside from baking with my mom.  I didn't even know the basics, like how to roast a pan of vegetables or cook grains or even how to make mashed potatoes! Over a decade later and with a lot of hard work and practice—and fails—I am now the author of three bestselling cookbooks, and I have an award-winning recipe app on the blog."
Asked why she feels her blog resonated with people, Angela answers: "Readers often tell me that they love my vulnerability in sharing my struggles, and that I put so much effort into my recipes to ensure they work for others."
Angela took a leap of faith and left her day job in 2009 to open Glo Bakery, where she personally made 500 of her popular Glo Bars every day to ship to her customers, many of them followers of her blog.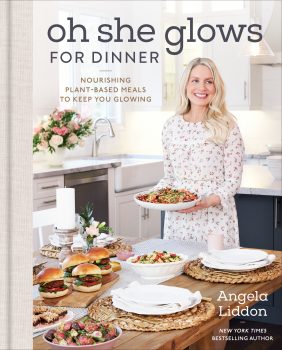 From blog to best selling author, Angela explains how the magic happened: "In 2010, I had recently finished in the top three of a food blogging competition called Project Food Blog and an editor from Penguin Random House Canada saw the competition and reached out and said she loved my work. She said, 'Have you ever thought about writing a cookbook?'  The first words out of my mouth were, are you kidding me?  I was in complete shock and it was one of those 'out of body' experiences I'll never forget. Writing a cookbook was on my bucket list, but I just couldn't believe that I would be approached by a major publishing house to write my own book."
Oh She Glows Cookbook was Angela's first book, published in 2014, followed two years later by Oh She Glows Every Day. In 2020, Angela released her latest book, Oh She Glows for Dinner, making this her third New York Times bestselling cookbook.
"Without a doubt, my biggest personal highlight has been becoming a mother to my kids," states Angela. "It's a wild ride with lots of ups and downs, but nothing beats it! My biggest career highlight happened in 2020 when we reached one million cookbooks sold!"
For plant-based diet skeptics out there, Angela suggests taking it one step at a time. "Start by incorporating one new recipe each week like naturally plant-based vegan curries, hearty soups or familiar dishes like pasta."
There is a perception that a vegan diet can be time consuming and expensive. True or false?
"A vegan diet can definitely be expensive if you are buying processed convenience foods or things like exotic superfood powders, but when you rely on pantry staples like legumes, beans, veggies and whole grains, which is my approach, it can be very budget friendly," says Angela. "I agree that eating plant-based does require a lot of preparation, but I have created many speedy recipes and meal prep plans in my new cookbook to help readers fit these meals into their busy lifestyles."
Angela, her husband Eric and their two young children live in Oakville. "We fell in love with Oakville and have lived here since 2011," says Angela.
Oakville offers plenty of choice when it comes to vegan restaurants and shops to buy food for a plant-based diet. "There is Lettuce Love Café, Dar Nabati, Community, Solasta and several others. For grocery stores, we are spoiled with Organic Garage, Whole Foods and Healthy Planet."
Angela is now focusing her time on The Oh She Glows Recipe App. "I am adding a lot of new recipes for our app users and planning new features.
For more ways to "get glowing" with Oakville's Angela Liddon, check out her blog at www.ohsheglows.com
Oh She Glows for Dinner: Nourishing Plant-Based Meals to Keep You Glowing by Angela Liddon is available at bookstores, published by Penguin, a division of Penguin Random House of Canada Ltd.