Waterdown restaurant offers traditional Italian cuisine with an Eastern flavour
By Peter Bailey
The first thing you notice when you walk into the spacious dining area of Kamoosh Bistro, Waterdown's new Italian eatery at 34 Main St. North, is the subtle but modern design of its interior. The emphasis is on comfort and simplicity, with muted tones that promise not to distract from the dining experience.
The name Kamoosh is a mix of "Kam," the name of the owner's brother and partner, and of "Koosh" Kahnamoui, partner and executive chef, who runs the operation with his wife Kim Jeffries.
"My wife and I designed the interior," Kahnamoui explains. "We wanted muted colours and a California feeling, with open shelves behind the bar. We also have an open kitchen with a huge window so customers can see how their food is being prepared. They get to see the pasta rolled and cut."
Kahnamoui, originally from Iran, got his start in the restaurant business at age 13, washing dishes in an Italian restaurant in Ottawa. "My Mom and Grandma were great cooks," he says, "and I learned from them and absorbed their passion for food."
The result of his years of experience is an emphasis on creating his dishes from scratch and infusing the Italian cuisine with a Persian influence, he adds.
"We originally had Koosh Bistro in Hamilton's Westdale," Kahnamoui adds. "We opened in 2009 and we were the first restaurant to bring fresh daily pasta production to the city. We're continuing that tradition here in Waterdown. All our food comes from local suppliers, organic farms, and we even make our own prosciutto. We also import some essential ingredients from Italy.
"I'm old school," he says. "I inherited a strong work ethic, and we don't take any short cuts. To me, the food has to be balanced in flavour and profile."
That means he takes care to mix sweet with sour, spicy with mild, contrasting flavours as well as textures in the dishes Kamoosh serves.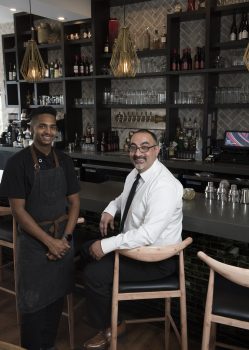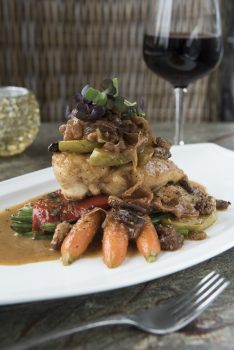 "We don't use frozen ingredients, and we butcher our meats head to tail," Kahnamoui says. "Our meats come from Woodward Meats and our cheese comes from Romano's Cheese.
"We're able to do much more in this location because it's bigger and we're closer to the local farms than when we were in Hamilton. And Waterdown still has that picturesque walkability that we had in Westdale."
Kamoosh Bistro is licenced for 77 diners, and in milder weather the patio seats 44 patrons. There are seven seats at the bar where customers can also dine in comfortable chairs. "There are no beer taps on the bar to spoil the view," he says. "They're in the back."
One feature of the bar is the wall of shelves that feature a library ladder. "I need it because I'm short," says Jeffries, who handles bartending duties.
Both Jeffries and her husband are proud of the Bistro's cicchetti, a form of Italian tapas. The dishes consist of smaller-portioned snacks for those who want a light meal to go with their glass of beer or wine. The result of the couple's hard work is a loyal legion of customers who come from as far away as Waterloo, Guelph and Oakville.
Ciccetti ranges in price from $5.50 to $12.50 per serving, with lunch averaging $20 and dinner $50 per serving with wine. Saturday and Sunday brunches begin at $12.
The featured special is the Orchard Chicken, consisting of chicken stock, prosciutto, dried apricots and raisins, served with butter, white wine, seasonal vegetables, candied pecans and horse radish shoots, for $35. Kahnamoui recommends a Rodney Strong Estate Russian River Valley Pinot Noir or a Sonoma Cutrer Russian River Ranches Chardonnay with the meal.
Sankar, 25, is a Mississauga native who now lives in Waterdown. He trained at Humber College, learning a broad range of cooking skills. He later worked at Earl's and at Le Germaine Hotel and La Societe in Toronto for several years before travelling through Asia with his girlfriend and enjoying a year as a chef de parti in Melbourne, Australia.
"I like to use fresh traditional Canadian ingredients and I prefer to prepare them simply," he says. "I don't like to over-complicate things."
"Stephen is an old soul," Kahnamoui says. "He has been here one year, and his work ethic is refreshing to see. He gets that from his family, and we have a great friendship. Our staff are like a small family and they are the pillars of the business."
He adds his restaurant can handle customers' dietary restrictions or allergies, provided they inform their server when ordering. Kamoosh Bistro also serves craft beers only and many VQA wines as well as wines from other countries.
The restaurant is fully barrier-free for customers who use wheelchairs, and the facility is also available for private functions. In addition, Kamoosh Bistro will also do off-site catering and even come to your house with meals and serving staff.
Sankar enjoys being chef in an up-and-coming location that is transforming the local dining experience. "This is a great addition to Waterdown," he says. "And there'll be more quality restaurants like this showing up.
"Enjoy the change!"
Kamoosh Bistro
34 Main Street North
Waterdown, Ontario L0R 2H0
(289) 895-7500
Parking
Street Parking – FREE
Monday – Friday 8 a.m. – 5 p.m.
2 hour limit
No time limit after 5 p.m. and weekends