By Barbara Ramsay-Orr
I am sitting in the upper level of "a tractor barn in the butt end of nowhere," as Svetlana Atcheva, the Winery Ambassador for Pearl Morissette Estate Winery, describes it. "We keep very much under the radar." The barn is an unadorned black rectangle with a bank of windows overlooking the farm, the windows the only clue that something other than tractors is here. There are no drive-in winery sales at Pearl Morissette. It is appointments only for tastings – and there is no winery shop. "Our tasting cellar is comprised of two barrels and a plank of wood," said Atcheva.
"The tasting experience, led by Melissa Marynissen, is all about the wine." There is no sign for the turn into the winery and restaurant, just the figure of a solitary cardinal at the entrance to the lane. If you know, you know. There are actually four parts to the whole of what makes up Pearl Morissette Estate Winery, but all of the parts share an intense desire to do things right, to produce wine and food of the highest quality and to celebrate the uniqueness of Niagara's bounty without regard for what is popular or what is on trend. Arrogant, perhaps, but all true success requires a certain stubborn arrogance.
And success has come to this ferociously independent endeavour. Selected as one of the best new restaurants in Canada by enRoute magazine, the restaurant was just named number four in this year's list of the 100 best Canadian restaurants, compiled by Jacob Richler. The Winery "It all started with the wine," said Atcheva. "Everything else is an idea that sprung from that." So, the vision of the estate's winemaker is central. A classically trained vigneron, Francois Morissette follows a low intervention method of producing wines and sees himself as guiding the wine from vine to bottle, rather than manipulating it.
Atcheva is Morissette's collaborator, and she speaks with intense passion about Pearl Morissette's core values and its vision. "We are committed to respecting our particular environment. We aim for our wines to stand shoulder to shoulder with the wines of the world, but not by imitation. So, we let our wines speak for themselves, developing in an old-fashioned artisanal way so the identity emerges without our intervention. We don't force the wines to conform to the taste profile of a German Riesling or a French chardonnay. "The grapes decide."
The production is small, but the wines have found devoted fans both nationally and internationally and they are often sold out. The winery is not often found in the LCBO. You can buy their wines online, after a scheduled wine tasting at the winery, in some bottle stores or at the new RPM Bakehouse in Jordan. The Pearl Morissette wines have been described as seductive, enthralling, rich, silky, joyous and textured but also as not for every taste.
Morissette does not make wine to suit every taste. He has a very definite vision of how wine should be made and how it should taste, and the centrepiece of his method is to intervene as little as possible. "Our human bias has no place in determining the character of the wine," Atcheva said. "A cool spring, or a late one, too much rain or too little, those elements will shape the wine. We can only prepare to be surprised. The 2020 season was gorgeous, 2021, not so much. The next one? Perhaps. "What the market wants is not what draws us. The challenge is to let the wines speak for themselves. The wines find their customers."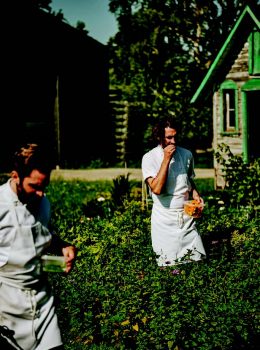 Farming and Foraging
One of the tenets of Pearl Morissette is to be gentle and restorative to the land while celebrating its richness. The regenerative agriculture efforts include a resident forager, Deirdre Fraser, who searches out unheralded gems in the area, supplying foraged herbs, mushrooms, field greens and berries that find their way into almost every dish on the menu of the winery restaurant. There is a strong effort to reduce the farm's carbon footprint, and much of the produce, herbs and fruits used in the restaurant are grown on the 1.5 acre regenerative farm. They raise Berkshire pigs, Galloway cattle, White Rock chickens and Muscovy ducks. There are also beehives and fruit trees.
Restaurant Pearl Morissette
The restaurant, like the wine, is not for everyone. If you are looking for a great steak frites or a slab of barbecue ribs, this place is not for you. If, however, you love a surprise, enjoy the complexities of flavours that can be created by gifted chefs and are willing to trust that those chefs will create a menu that will thrill you, then RPM is for you. Chefs Daniel Hadida and Eric Robertson work together to design, execute, and sometimes serve the dishes that celebrate what Atcheva calls, "the power and beauty of our rich agricultural area."
It is always a prix fixe menu, changing almost daily depending on what is in the garden or what the foragers or producers deliver. There are nine courses with an extra and optional cheese course, and all the ingredients in every dish will be locally sourced or nationally produced. Asparagus comes from Julie Johnson's farm, and the wild line-caught, butter-poached halibut is from the East coast. There is no chocolate, no vanilla, no olive oil, no avocados. If it isn't from somewhere in Canada, it isn't on the plate. The commitment is firm. Each course is small, with an attention to detail and quality that you will rarely find.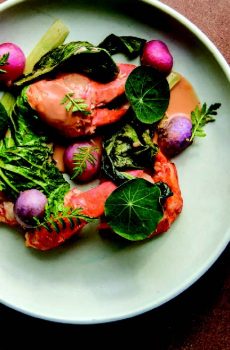 The roasted asparagus dish, served with pea shoots from the farm garden and a sauce made from caramelized whey from Upper Canada Cheese, just down the road from the restaurant, stood out. Also impressive was a black currant wood ice cream. Yes, wood. Prunings from the black currant bushes are steeped in the cream that is used to make the ice cream. The flavour is intense and satisfying. Served on an unexpected purée of parsnip and caramel, it was a brilliant and unique flavour marriage. Diners can order a wine pairing matched to each dish. For non-drinkers, or for the designated driver, there is a range of fresh juices.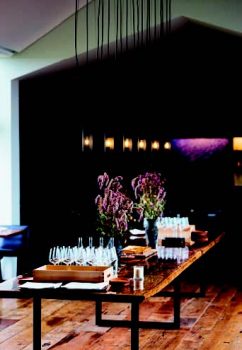 Chef Hadida is a bread master – his red fife sourdough, served with a sunchoke and toasted wild rice spread, is perfection. The dining room in the tractor barn is gorgeous, simple and elegant, with lots of light. In Le Pré, the airy outdoor section opens for the summer. There are bucolic views of the cows, the sky and the farm fields.
RPM Bakehouse
Chef Daniel Hadida's talented team of bakers have taken their bread-making skills and put them to good use in the newest endeavour, the RPM Bakehouse on the Main Street in Jordan. But this new spot is about more than superb bread. "It is all about relationships. We have found producers whom we trust, who think the way we do, and who share our holistic and regenerative ideals."
RPM Bakehouse functions right now as a grab-and-go place, though there is seating inside and out. As well as decadent bread, there are freshly made soups, quiches, specialty sandwiches, pastries and fresh juices. You can also buy Pearl Morissette wines here by the bottle. There are plans to expand its service to include traditional bistro meals as summer approaches. If you come on a Saturday, you will be able to shop at the small farmers market for fresh eggs, honey, seedlings, and preserves. And every ingredient and product are from carefully curated producers. "We are the public face of a sustainable food circle," Hadida says.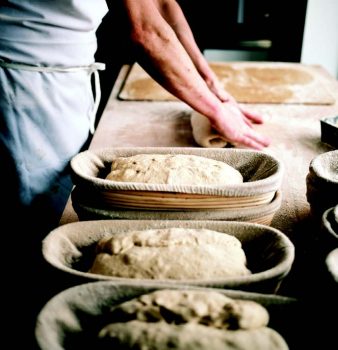 Despite the fact that Pearl Morissette Restaurant maintains a low public profile, its popularity is remarkable. It books up for months ahead. If you are interested in grabbing a table, open reservations are available to book on the first Thursday of each month. Pearl Morissette is one of those places that, were it in the French countryside, the Michelin Guide would single it out.
For more information visit pearlmorissette.com