By Barbara Ramsay-Orr
You know Piano Piano is going to be a good time before you get through the front door. The building on the corner of Thomas and Church Street is pink, with an explosion of flowers painted on the outside. A good omen, in my opinion.
The vibe continues inside. Staff are cool and casual in black tees and blue jeans, and the long elegant bar just begs you to sidle up for a pre-dinner cocktail. The flower theme continues with floral wallpaper in the entranceway and also lining a private dining booth. There's a small but big-enough patio, with overhead heating for chilly evenings. Wine bottles proliferate on a table by the patio door, waiting to be emptied, and the semi-dark interior feels super cool and hip. This is the place for a date night, for a quiet couples dinner or for a big table chatty-friends evening out. It's warm, welcoming and fun.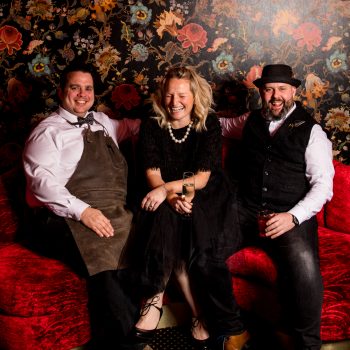 Which is exactly what chef and owner Victor Barry was shooting for.
"Each Piano Piano is a little different, from one restaurant to another," Barry tells me, "But we try to make each space welcoming, fun, enjoyable, and exciting. We want everyone to have fun and feel welcome. Each spot offers great value, beautiful decor, friendly service, and tasty and delicious food! It can be a birthday place, an anniversary place, and it's also a Tuesday night place. "
Barry, who has had a long culinary career, is probably best known for his Toronto restaurant Splendido, one of the last of the traditional high end multi course extravagant restaurants. He closed Splendido for better work/family balance in his life, and re-opened the more casual Italian iteration, Piano Piano.
The term 'Piano Piano va lontao' translated from Italian means 'If you go slowly, you'll go further'. "When I bought Splendido," explains Barry, "I was 26 years old. I was doing a lot, but I wasn't accomplishing a whole lot. The name 'Piano Piano' comes from Franco Provodello, whom I consider to be the godfather of the restaurant industry here in Toronto. He used to always stop me and calmly say, while I was running around doing a million things, and not really getting anything done, 'Victor – Piano Piano."
The Oakville location is the third Piano Piano restaurant, and Barry chose this location because he already had a strong following of devoted diners from here.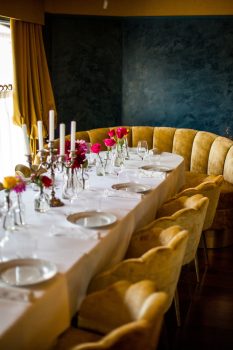 "Over the years, we've hosted a lot of guests into our Harbord location, and more recently Mount Pleasant, who aren't from the immediate neighbourhood. We noticed that Oakville was a common area where people were coming in from. It's a dream of ours to bring Piano Piano to lots of different communities, all over North America even, and Oakville felt like the exact right first place to branch out. I think the clientele is great, and I'm really excited to grow with the community and be a part of it."
Barry is an old hand in the kitchen. He started cooking in his uncle's pizzeria in Niagara Falls when he was 11 years old and started cooking professionally when he was 16 at the Prince of Wales in Niagara-on-the-Lake.
"From there I travelled around the world cooking, including a year-long stint in London, before ending up back in Toronto in 2005 at Splendido. I purchased Splendido in 2009 and turned it into Piano Piano in 2016."
His philosophy of food is simple. "My inspiration is delicious food. At the end of the day, I'm not of Italian descent. I learned how to cook in my uncle's pizzeria, who is from Italy, and Italian food is just delicious. Pizza is the favourite food of the entire world, and I've always loved pizza."
"My philosophy is attention to detail, but not attention to a rule. Things should be made to be delicious, and not from a set of rules."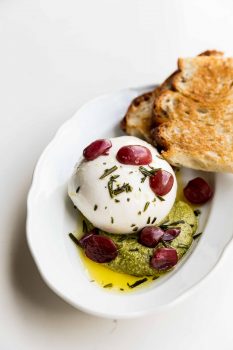 Barry works to find the best local suppliers. He has amazing local purveyors that he loves to work with and from whom he gets high quality foods. "Paula from Dolce Lucano, Afrim at Cheese Boutique, and Leandro from Famiglia Baldassare, who I think is the best pasta maker in all of Canada."
Like many dining establishments, the pandemic has had a serious impact. It was a struggle, but Barry stayed true to what Piano Piano has always offered and has tried to lean into it further.
"We've had a lot of time on our hands, which gave us the chance to develop and build out some other opportunities, like our frozen pizza program. People can now find Piano Piano pizzas at their local grocers all over Ontario, and we're working on making them available nationally."
"We've also created ghost kitchen brands under the name Victory Foods which has been a lot of fun with pizza, fried chicken, and burgers to start. We're really excited to build on that and create more." He's also excited to bring Piano Piano to new markets throughout North America.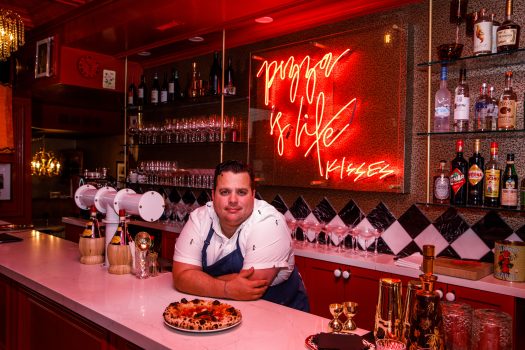 "We just opened Piccolo Piano Pizzeria on September 30 directly across the street from Piano Piano on Harbord, and it's truly an extension of what we do in our other spaces. We're serving small plates and light fare, alongside Neapolitan pizzas.  There are classic cocktails on tap, and an ever-changing wine list, designed to pair with our always revolving small plates. We want to create an atmosphere that's fun, loud, fast, and lively. The room will be high volume, high pace, and high energy. Guests can come have dinner and a few cocktails and be in and out in an hour and a half.  And the new space lets me keep my love affair with making wood-fired Neapolitan pizzas alive!"
Dishes at Piano Piano are fresh and generous. I loved the chopped salad, a bountiful serving with salami, olives, feta, grilled brussel sprouts, dandelion greens and polenta. I discovered that grilled red grapes taste absolutely wonderful with Burrata alla Campagnolo and toast. The pizzas are famous and the pastas are excellent. I had the tortelli con bolognese – delicious and filling.
Piano Piano is a good place for a casual night out and a comforting dining experience.
Wear your best designer jeans, and enjoy the vibe!