By Carmelo Giardina
Pinot gris (or pinot grigio as many still refer to it as) is a white wine grape variety that is made from grapes with greyish, white-red, pink and/or purple skins (it's no coincidence that the word gris/grigio translates to mean grey in both French and Italian).
In theory, wine bottles labeled as either pinot gris or pinot grigio are the same, as both are made from the same grape. In practice, however, these names are suggested terms that define two different flavour profiles – a bit of a 'grey' area, to be sure, and definitely not some written rule.
We generally know pinot grigio as the Italian-style – light-bodied and crisp, with pear, green apple and stone fruit fl avours – sometimes even fl oral aromas, such as honeysuckle. This is a style that has become very popular with consumers, especially since the late 1990s when the 'anything but chardonnay' movement was taking shape and restaurants seemed forced to deplete their cellars of chardonnay and instead chose to replace those bottles with pinot grigio – a wine that proved to be very consumer friendly for its neutral, straightforward flavour profile.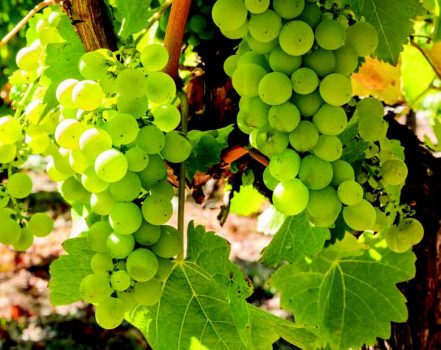 The French-style pinot gris, meanwhile, tends to be a wine that's richer and spicier and, if one chooses, can be cellared and aged.
Pinot gris from the Alsace region, in particular, is dry and very rich, which makes it ideal for serving with food. Although France and Italy are determined benchmarks for this grape, substantial plantings are now found in many other countries, especially Canada. In fact, pinot gris is British Columbia's most planted white variety and is second overall to merlot.
In Ontario, pinot gris is the third most planted and harvested white grape variety, representing nine per cent of total production as of the 2021 harvest, trailing only chardonnay and riesling. It is the fifth most planted overall (cabernet franc and merlot are just ahead of it). In each of Ontario's defined designated viticultural areas (Niagara Peninsula, Prince Edward County and Lake Erie North Shore), pinot gris thrives and can be quite noticeably different from one appellation to the other, but often is made in a style closer to Alsace.
One will find that even here in Ontario, both the French and Italian names are used, once again, often varying based on the intended style. They are typically dry or off-dry wines with a medium body and flavours and aromas of pear, honeydew or cantaloupe melon, lemon, and sometimes a little honey, with noticeable minerality and hints of baking spice.
Even the wine's colour can be visibly different based on winemaker interpretation. Many can take on a deep and shimmering gold colour, and some are a plainer straw yellow. Others can be almost copper-like or even blueish pink – really beautiful colours, and usually a more flavourful wine by way of its longer skin contact.
Pinot gris grapes also tend to be the most popular variety for producing orange wine or skin-fermented white wine. Overall, it's a wine that has truly come into its own over the last several years. And, whereas many Ontario consumers can still ask for and receive the traditional, more neutral flavoured 'pinot grigio' styled wines, more and more are embracing the texturally rich, distinctly flavoursome and terroir-expressive styles that winemakers seem to be having much more fun with – and tend to be labelling as 'pinot gris' as a way to identify it as a more liberated interpretation.
Ultimately, whichever name winemakers decide to put on the label, Ontario's pinot gris/pinot grigio wines are unmistakably different and are evidently worth discovering for yourself.
SELECTIONS
Rosehall Run 2020 and 2021 'Hungry Point' Pinot Gris
Having the chance to taste two separate vintages side by side is always a rewarding experience. The '21 vintage will be released later this summer, but only differs slightly from the remarkable 2020. Aromas of lemon zest, apple and a hint of pineapple lead to palate flavours of apple, peach and a splash of minerality. This, alongside a structured and hallmark Prince Edward County acidity, makes for a beautifully complex and food-friendly wine. Juice for the 2021 was put in 500L neutral French oak puncheons and aged on the lees for seven months prior to blending and bottling. The nose is still closed off at the moment, but by the time it is released, it will be right there with the 2020.  ($26)
Mastronardi 2020 Pinot Grigio
From Ontario's southernmost appellation, in Essex County, this is a style more suited to the name pinot grigio – although the fact that the winery's owners and winemakers are Italian could be a telling factor of the intended style. This is a crisp and lively expression, with good acidity and plenty of flavour profile. It's citrusy, yet I can also detect notes of apple, pear and some minerality. There's a lemony finish to it. A good choice to pair alongside most seafood dishes or lemon-herbed chicken. ($15.95)
The Organized Crime 2021 Pinot Gris
Seemingly immune to the rather challenging harvest conditions of 2021, this copper coloured pinot gris from Niagara's Beamsville Bench sub-appellation seems to deliver year after year. No wonder this wine has such a cult following. To extract that signature colour and aromatics from the skins, about half of the fruit is allowed to macerate for 24 hours of skin contact. The result is a wine with a lifted nose of pear, nectarine, cantaloupe and citrus. The body is rich yet balanced by natural and vibrant acidity, presenting wonderful citrus flavours, especially nectarine, melon and ocean spray. The finish is minerally and clean. ($21.95)
Redstone 2020 Pinot Gris
Another selection from the Beamsville Bench, it's important to show how this wine can contrast even those from its very same sub-appellation. From a superb 2020 Ontario vintage, the nose is not exactly telling, but after allowing this to open up in the glass, one discovers some peach and pear, with some floral aromatics (think honeysuckle). The palate is dominated by refreshing mineral and saline notes, with subtle flavours of citrus, orange and mild grapefruit. Some may consider this to be a mild expression, however I really enjoyed its clean and fresh angle – focusing less on intense acidity and allowing the fruit to express its terroir. ($26)