By Danielle Leonard
Photography by Brandon Barré
It's a drizzly fall day when I arrive at the 1 Hotel Toronto located on Wellington St. W. and a short distance from the entertainment district. Grumblings about the dreary weather instantly dissipate, however, when I enter the new hotel's lobby. Natural wood décor, soft lighting, chic furnishings and an abundance of living plants creates a Zen-like vibe that I immediately connect with. The biophilic designed hotel seems to perfectly balance luxury and sustainability, urban design and nature's innate beauty.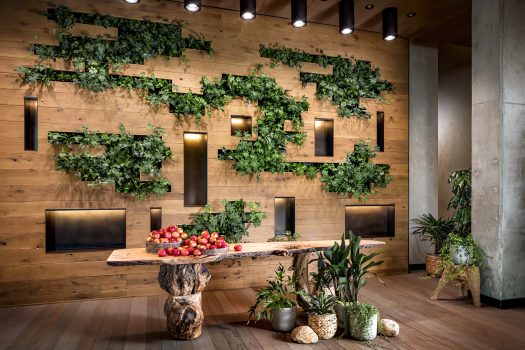 The 1 Hotel Toronto, which opened in early August this year, is the sixth property in the 1 Hotels brand portfolio, and the first location in Canada. The nature-inspired brand is dedicated to cultivating the best of sustainable design and architecture, relying in no small part upon local artists, builders, chefs and farmers. I needn't look too hard to discover the touch of local artisans in almost every aspect of my stay here.
A striking wood carved table that catches my eye as I check-in is one of more than a thousand hand-crafted furnishings in the hotel by Toronto-based Just Be Woodsy. The woodworking studio collects and reclaims fallen trees to transform them into one-of-a kind pieces. This second life ethos is evident throughout the building, including under my feet: the lobby's floor hails from the wooden remains of a barn that was torn down in Blyth, Ontario.
"Bringing nature indoors is the premise of every one of our hotels," explains marketing director Hailey Manning. "More than 3,300 living plants populate the interior. We have gardeners who come in daily to care for them."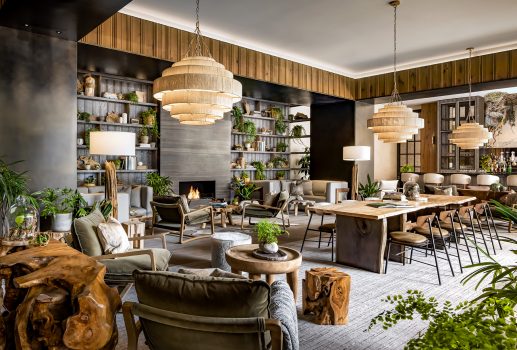 The lounge located just to the right of the front entrance is aptly called Flora. It exudes a chic woodsy atmosphere that combines thoughtfully curated bookcases, natural wood accents, fireplaces and lush plants. The wow factor is a stunning installation above the bar of foraged flora artfully designed by Toronto floral design company, Timberlost. Ample table and lounge seating make this a perfect space for remote work by day and sharing cocktails by evening.
My hotel room, while staying true to the sustainability vibe, offers a more modern aesthetic than what I've seen elsewhere in the hotel. A cream palette with light wood accents creates a clean, Scandinavian style setting. Small details like drinking glasses made of recycled wine bottles, a chalkboard in lieu of a notepad, a re-usable water bottle and a yoga mat are all nice eco-friendly touches that make 1 Hotel distinct.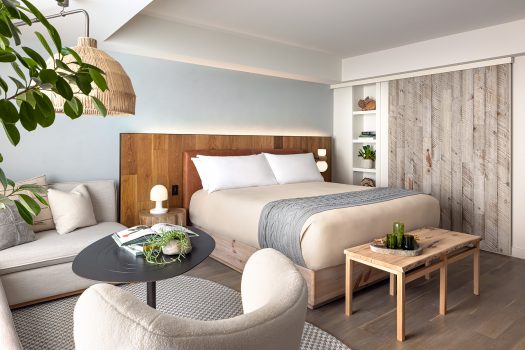 I return to Flora after dinner for an aura reading. Yes, that's right – an aura reading. 1 Hotel Toronto has a calendar offering a variety of happenings, including funky experiences for the spiritually curious which fits with the upscale hippie vibe and is refreshingly unique to the Toronto hotel scene.
Coincidentally, tonight is the equinox and, in celebration of this celestial event, the hotel is hosting a sound bath featuring crystal bowls and meditation to relax the mind and body. As a yogi and meditator, this is right up my alley and I can't think of a better way to spend my evening. Programming is updated monthly with enough variety to suit many tastes – not just yogis – including harvest dinners, HIIT classes, a run club and live music. I recommend checking this out before booking a stay to take advantage of interesting options.
For dinner, I visit 1 Kitchen – the all-day restaurant that serves breakfast, lunch and dinner as well as in-room service. It' upscale diner meets safari; a staggering number of plants are arranged throughout the space alongside booths and small dining tables with strategically mismatched retro chairs. Natural light pours in through a wall of windows facing Wellington St. For dinner I enjoy an appetizer of delightfully crispy sweet potatoes and, for an entrée, cod from Fogo Island, Newfoundland that's perfectly cooked alongside a medley of local vegetables.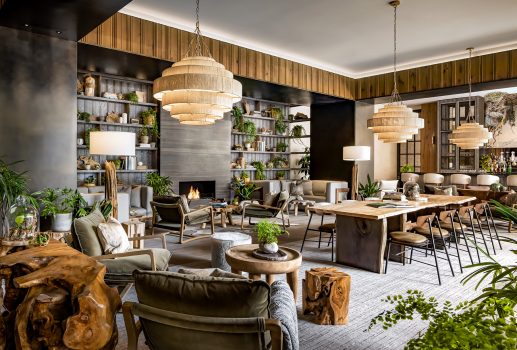 I'm not surprised by the freshness of the meal; there is a seasonal garden pavilion on site that supplies a selection of crops to the restaurants. What can't be sourced here is found almost exclusively through local vendors. In fact, 90 per cent of the restaurants' menu ingredients are sourced from within 100km. In spring 2022, the hotels' signature restaurant, Casa Madera will officially open. This upscale restaurant will serve coastal cuisine influenced by Mexico and the Mediterranean.
For an end-of-day cocktail, I make my way to Harriet's, the swanky rooftop restaurant bar. On a clear night, the bar would open out to the starry sky with outdoor heaters keeping the guests comfortable. Tonight, with the retractable roof on, the large windows still offer a picturesque view of the Toronto skyline. Harriet's has a more urban, electric feel than elsewhere in the hotel. Patrons can enjoy small plates, an open concept sushi bar and bottle service.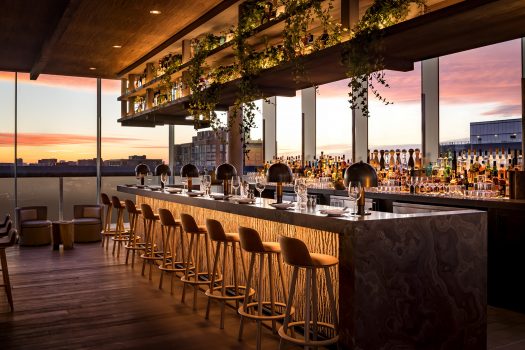 An overnight stay at 1 Hotel Toronto is the perfect urban retreat – delectable food, impeccable service, upscale digs and, most notably, a nature-inspired space that is unlike any other hotel in the city. Indulge yourself in this luxurious hotel, and feel darn good about it, too.