By Laurie Wallace Lynch
When Tammy Noxell's son Colby Coles was 14, he mentioned that he'd like to learn how to scuba dive, Tammy tucked the idea away and, the following Christmas, surprised him with scuba lessons at a local dive centre in Burlington.
"I think Colby had seen a show on scuba diving on YouTube and that got him interested," says Tammy. "You should have seen the look on his face when he opened the course book and saw our payment registration for scuba diving lessons. His reaction was priceless!  At first, I was just going to book lessons for Colby, but then I thought it would be a wonderful thing for us to do together. I am a single mom, and this would be a way to spend more time with him."  Though, she admits being somewhat nervous at first.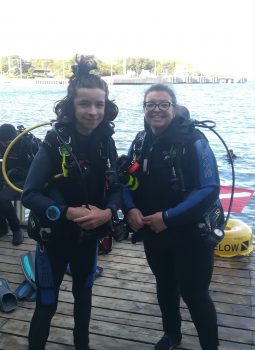 "I was a little overwhelmed by the thought of breathing underwater, but I pushed past it," admits Tammy. "The instructors were right there with me, encouraging me that I could do this. Colby was also amazing, he would say 'you can do this mom.' Many teens feel it's not cool to hang out with their mom, but this turned out to be a really cool shared experience. We've always been close, but the dive experience has brought us even closer together."
For divers who are curious, but also leery, about learning to scuba dive, Brad Snyder, owner and course director of Float N' Flag Dive Centre in Burlington (where Tammy and Colby took lessons) recommends the Discover Scuba Diving course. "The Discover Diver experience gives you a combination of classroom and in-pool scuba experience where you get to wear all the scuba gear and swim around in a pool for two hours with dive instructors. It's an introductory course to see if diving is right for you."
Scuba diving requires certification by one of the training agencies.  Float N' Flag belongs to the Professional Association of Diving Instructors (PADI). The PADI Open Water Diver Certification is the world's most recognized scuba credential. Once completed, divers have met standards that allow them to dive recreationally up to 60 feet deep with another certified diver and can scuba dive almost anywhere in the world. The three phases of the course include Knowledge Development (in class or eLearning), Confined Water Dives and Open Water Dives.
Tammy and Colby signed up for the PADI Open Water Dive certification course. The educational part of the program is designed for student divers to understand the basic principles of diving and safety and a test must be completed prior to starting the in-water portion of the course.
The second part of the course involves a weekend of in-water instruction in a pool. "The first day is spent mostly in shallow water where we practice skills like buoyancy, while the second day is spent in the deep end of the pool where we do mini dives," says Brad.  "The third part of the course involves four open water checkout or training dives which we do in a lake or a quarry." Through this, he says divers earn their certification as open water divers who can dive up to 60 feet below the surface when accompanied by another certified diver.
Tammy and Colby's first open water dive took place in Gulliver's Lake near Hamilton. "The first time in open water I was experiencing a bit of anxiety and thought, 'oh my gosh, I can't do this,' but I practiced my self talk and the instructor was right there to help. I had never been underwater like that before and it was a surreal experience."
The mother and son team were soon hooked on scuba diving. "We joined the local group dives as well as some Drive N' Dives in the Niagara River, Collingwood and Tobermory.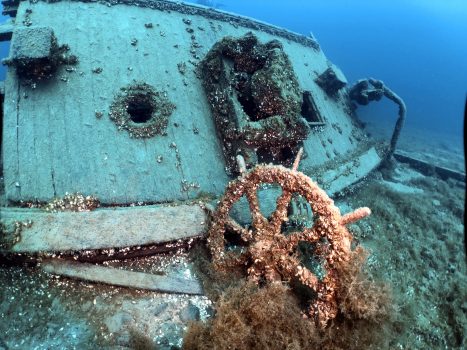 "We soon discovered there are other families with teens who dive together," adds Tammy. "We also signed up for the Advanced PADI Open Water Dive course. The first time I went down to 72 feet was pretty amazing. I have gotten surprisingly good at managing my anxiety. I just take a couple of deep breaths and tell myself I can do this. Once I am underwater, I feel good, and my fear goes away. Being with staff makes me feel secure and they taught us well in terms of managing certain situations. It really is a cool experience when you realize you are breathing underwater. This experience has taught me that you can do anything once you put your mind to it."
This past Christmas, Tammy surprised Colby with a weeklong trip to the Bahamas to try their new skills in a more exotic locale where they will 'liveaboard' a sailboat and dive off the boat.
"My biggest takeaway is being able to spend time with my son. I am really proud of how well Colby has done with diving," says Tammy. Her son is now considering taking an underwater photography course. "It could be a hobby for him, or perhaps could lead to a job. It gives him goals and a sense of adventure."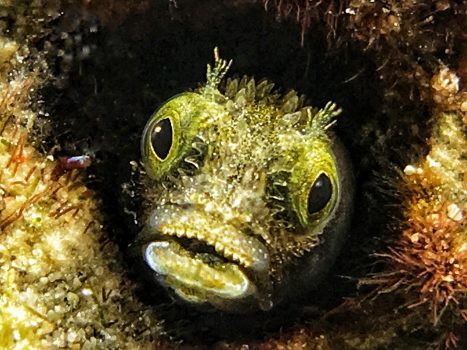 Plan your next diving excursion
To help you plan for your next scuba diving expedition, we talked to diving expert and owner of Oakville Divers, Robert Shannon. Raised by parents who had a dive shop in Mississauga (which his brother subsequently took over), he has been diving since he was six years old. Since 1988, Shannon has been providing scuba diving instruction in Oakville, as well as top quality dive gear.
Local diving
Contrary to what many people may think, there are plenty of scuba diving hot spots here in Ontario, according to Shannon. In fact, he has a boat in the Oakville harbour that he uses to take his students for dives at a nearby shipwreck in Lake Ontario. With proper gear, including a dry suit or wet suit, such dives are possible every season of the year, including the winter.
"People are actively diving all year long here," says Shannon. "If you're nice and warm, you'll do more diving. Buying a dry suit keeps you warmer. It uses air as an insulator, and you can get lock on dry gloves for extra warmth." Most of the major dive sites are three to four hours drive from the GTA, according to Shannon, including Brockville and Kingston. A favourite spot is in Tobermory, where Canada's first national marine park is located at the northern tip of the Bruce Peninsula. Jack McKrimmon, who started diving age of 22, made that his first excursion after becoming PADI certified at Oakville Divers in 2016.
"It's spectacular diving," says McKrimmon. "There are so many historical shipwrecks at different depths and you have tropical visibility, so on a good day, you see 100 feet."
If you prefer to head south for warmer temperatures, here are some recommended destinations that are ideal whether you choose to dive daily or a couple times during your stay:
Bonaire
While any of the Caribbean islands will offer remarkable diving experiences, Bonaire is a top favourite among divers with more than 85 official dive sites, of which 54 are shore dive sites so chartering a boat isn't necessary. "It's like you're in an aquarium," says Shannon. "Aquarium fish are everywhere."
Bay Islands of Honduras
Suitable for all levels of divers, the islands offer sloping reefs, whale shark sightings and shipwrecks. "The boat ride from the shore to the dive sits and short, which is nice," says Shannon, explaining that at some destinations, boat rides can last several hours. However, he cautions to remain on the islands, only, and stay off the mainland for personal safety.
Cozumel
The Mexican island in the Caribbean Sea offers towering coral, caves for exploring and an abundance of exotic marinelife underwater. "The channel between the island and mainland is one long continuous reef," says McKrimmon. "And there's a current so you can go down and float along the current and enjoy really long dives."
Make it fun and safe
Shannon offers some useful tips for new divers to ensure your diving vacation is both enjoyable and safe.
Wear a wetsuit. Even though the water temperatures are warm, if you're diving twice per day every day of your stay, you can feel cold even in Caribbean.
Wear a dive computer that you can rent or purchase. It calculates how much dive time you safely have remaining which can prevent decompression sickness, also referred to as "the bends".
Buy high quality mask and snorkel if you plan to dive regularly, rather than rent. This is a more sanitary option and it ensures you have properly fitting and functioning equipment.
Get dive insurance when you travel. Diver Alert Network (DAN)  – one of biggest ones – have different programs, cover covering options like hyperbaric chamber treatment, hospital charges, search and rescue efforts and lost diving equipment.