by Carmelo Giardina | 
The Douro Valley, located in northern Portugal – about an hour and a half from Porto – is thought to be 'heaven on earth' to wine lovers. It takes but one visit to understand why this might truly be the best and only way to describe this place.
Characterized by the seemingly endless rows of vines that scale rolling green hills and the famous Douro River that cuts through the middle, the Douro Valley is beautiful, serene and a global agricultural treasure. As the oldest demarcated winemaking region (established in 1756) and a UNESCO World Heritage Site, wines made here – especially Port wines – owe their distinctive character to the region's unique association of climate, soil, grape variety and winemaking tradition. Simply put, the sense of place instilled in its wines cannot be replicated elsewhere.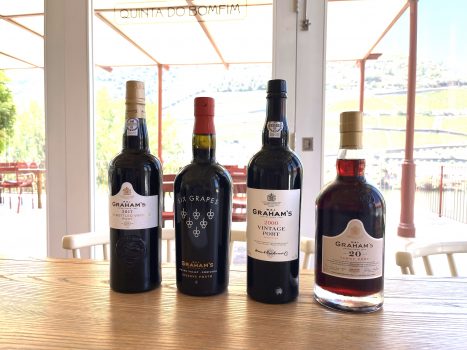 Today, there are 300 wine estates in the Douro Valley situated within a series of small towns and villages. One of these villages is Pinhão, a pretty little town spectacularly located at the confluence of the Douro and Pinhão rivers. It's a sun-soaked, sleepy place for most of the year but bursts into life in autumn during the annual grape harvest.
Besides being a place where the soil and climatic conditions are considered to be perfect for growing grapes, Pinhão's very pleasant riverside location makes it a great spot for a relaxing stopover, especially for enthusiasts of Portugal's increasingly popular food and wine scene.
One of the finest Douro estates, Quinta do Bomfim, is sited in Pinhão and was acquired by George Warre for Dow's Vintages in 1896. The name of the property is derived from Vale do Bomfim, 'the well-placed valley', as the area around the village was then known. In 1912, Andrew James Symington became a partner in Dow's and made Quinta do Bomfim his Douro family home. Since then, generations of Symington Family Estate winemakers have worked the vineyards and enjoyed stays at this beautiful property.
The Quinta do Bomfim winery is exclusively focused on producing the top Ports for Dow's, but here one can taste and buy many Ports and wines made by the Symington Family. After all, this is a family that now owns four of the leading port houses – Graham's, Dow's, Warre's, and Cockburn's – as well as a portfolio of Douro wines consisting of Quinta do Vesuvio, Quinta do Ataíde, Altano, and Prats & Symington (a widely acclaimed joint venture that produces Chryseia and Post Scriptum).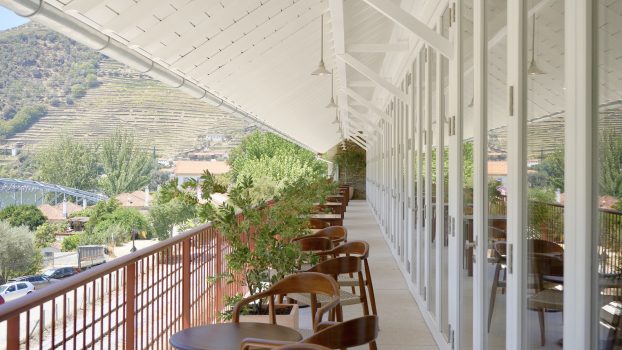 My visit to the fabled Quinta do Bomfim estate this past summer was my second visit since 2018. A tasting of mainly Graham's Ports on this day proved to be a magical experience. Highlights included a flight of 10-, 20- and 30-year-old Tawny Ports that sang with such joyous concentrated flavours, becoming more and more refined as I tasted from 10- through the 30-year-old. A Single Harvest Tawny from 1997 was chewy-soft on the palate with a finish that held firm and flavourful, and the 2000 Vintage Port was masterful with its vibrant, fresh aromas, caramelized fruit flavours and a toasty nut finish. Proof that Vintage Porto is a solid investment.   
Additional highlights included a 2012 and 2017 Late Bottle Vintage Port from Dow's and Graham's respectively, and another special bottle from Graham's called Six Grapes – a Reserve Ruby Port that's profoundly aromatic with cherry, fig pie and nuts that complement richened flavours of red fruits, raspberry pie and almonds.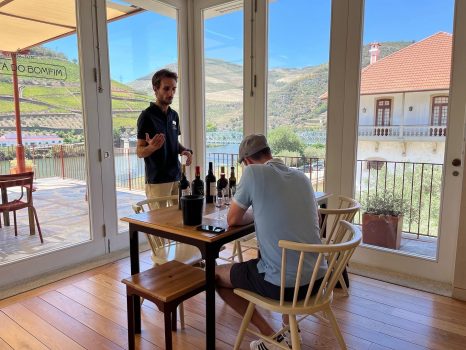 More than any other wine, Port offers endless opportunities for pairing with food – but is also perfect for drinking on its own, traditionally towards the end of a meal. A lunch at the winery's on-site fine dining restaurant, Bomfim 1896 with Pedro Lemos, was a wonderful way to extend this visit, taste more wine and properly cap off a memorable afternoon.
Diners and wine lovers experience an authentic, wood-fired taste of Douro – accompanied, of course, by a generous selection of Portuguese wines, including rare Vintage Ports and Tawnies straight from the Symington cellars. All dishes are cooked over wood with ingredients sourced from the best Portuguese producers to celebrate the heritage and gastronomy of the Douro Valley.
Both the dining room and terrace offer outstanding vineyard and Douro River views. And in a nod to the old Douro tradition of gathering around the hearth for a meal, the open kitchen invites diners to observe every step of the wood-fired cooking process. It's no wonder that Portuguese wines – Port especially – are regarded as some of the most civilized and sociable of wines, making any occasion feel extra special, whether a quiet evening by the fire, an informal gathering of friends and family or a sophisticated meal.