Spend a weekend, stay a month at The Laundry Rooms
By Rebecca Dumais | 
When you first hear about The Laundry Rooms, you'd probably think it's exactly that – some stark, utilitarian place with coin-operated machines to, well, do your laundry. Except it's not. This series of boutique residences go beyond fluff and fold, though yes, each room has a laundry closet.
The Laundry Rooms were created as a solution to the growing collision of extended-stay business and leisure travel. It's "not a hotel, and definitely not your cousin's AirBnB either," according to the website.
The concept was formed after an organic meeting on the patio of The Diplomat restaurant in Hamilton, where four friends who had worked together in different capacities, met.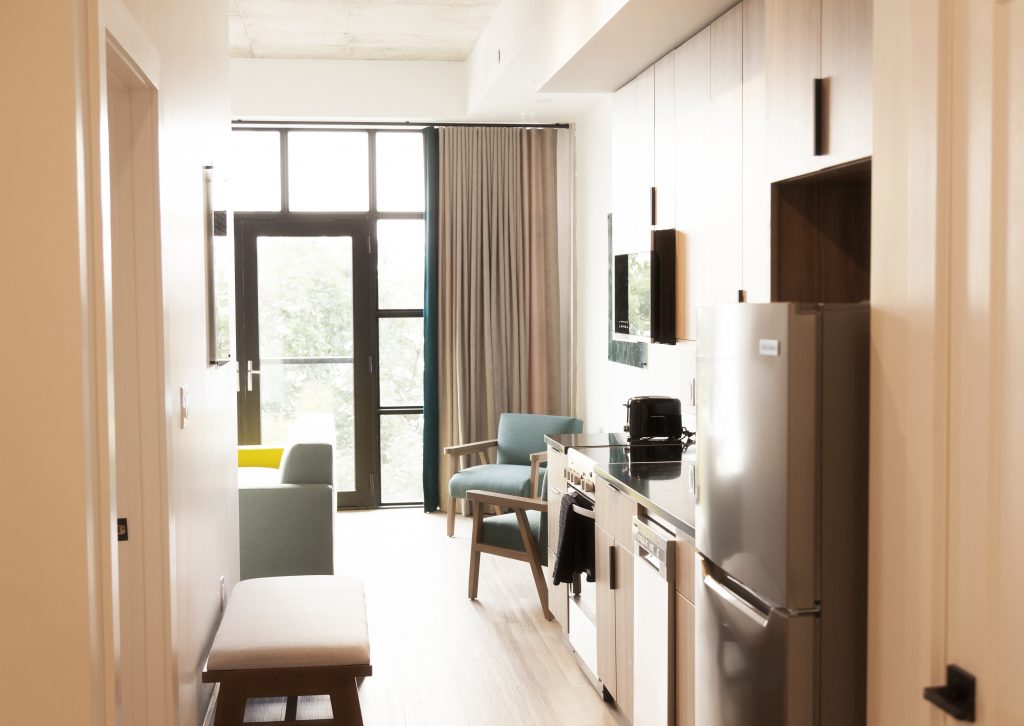 The Laundry Design Works, a design, branding, placemaking and marketing company, already had established The Laundry Room, which was a single suite above their studio space, but the idea burgeoned for something beyond – to pluralize the space. "They came together with an idea of creating a way to 'stay different' – a solution offering the comforts of home or an AirBnB (kitchen, living room, multiple bedrooms, pet-friendly) with the quality of service, standards and professionalism of a great hotel," explains Erin McCluskey, Creative Director of The Laundry Design Works.
The group of investor partners is also comprised of Matthew Opferkuch, (hotelier and operations), Equal Parts Hospitality (food and beverage) and HIP Developments (condo development, community and placemaking).
The first was established in Waterloo, with additional locations in Kitchener and Cambridge. The second to open, which I experienced, is downtown Hamilton at 18 Augusta Street. Barrie and London locations will open soon.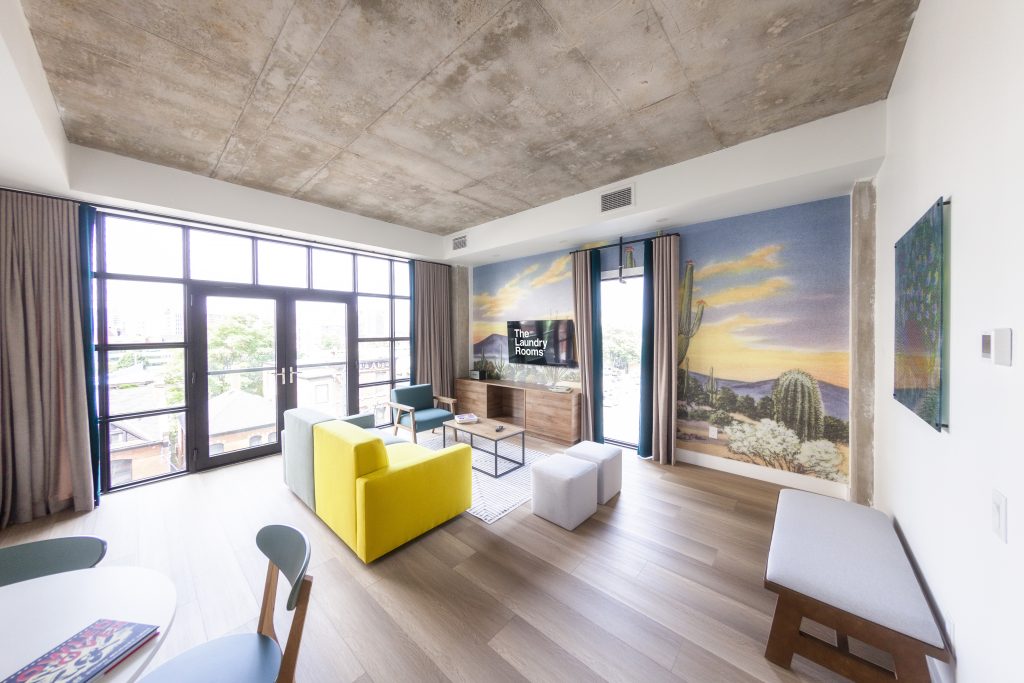 You might be wondering why these particular towns and cities (aka secondary markets) were chosen. McCluskey says that they're viewed as cities just outside of major hubs (think Toronto), "but they still have a lot of exciting things happening. These cities are often growing, evolving, establishing their hyper-local scenes, and are busy places of business. We recognize that the people within these communities would also embrace a boutique, hipper alternative to the standard hotel chains."
The average stay is 35 days, which has given the team and its investors proof that there's a demand for this brand of stylish hybrid lodging model.
Each location offers everything you'd need for a weekend or a month's stay: fast Wi-Fi, smart 4K TVs, lots of natural light, coffee makers, pet-friendly policies, secure parking, separate bedrooms, and fully stocked kitchens. Bring a load of gourmet groceries and cook in the fully stocked kitchen. I cheated and brought a frozen flatbread pizza from The Platter Company and paired it with a glass of red wine. So good.
If you'd rather take advantage of the amazing food opportunities nearby, the recently opened Plank Restobar is on the ground floor at Augusta Street. In addition to its small plates, great music, beer, wine and bourbons, they have plans to open the Plank Rooftop Patio this summer (incredible views of downtown Hamilton included).
Cosy pubs and quaint coffee shops are close by, and a 10-minute walk gets you to the downtown core.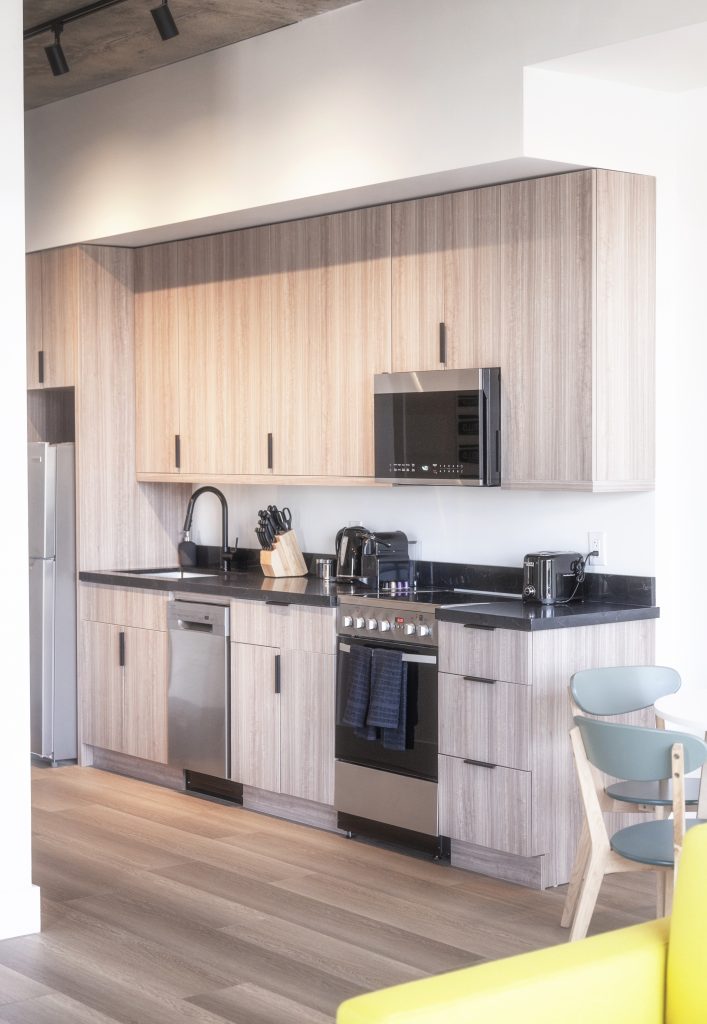 McCluskey says there's a continuous search for great buildings in the best neighbourhoods. "The neighbourhoods are really the key to driving our decision of where to place our brand," she explains. "We look for neighbourhoods with great coffee shops, restaurants, walkability scores, and hubs for business and culture. Visually, we thought the bones of the building on Augusta were incredible." The building was constructed by Core Urban.
The Waterloo Laundry Rooms opened during the start of the pandemic. "And, as you can imagine we were all nervous," says McCluskey. "We learned a lot from this experience, namely that the demand for a unique product in the accommodations market was there – one that was colourful and quirky, one that was pet-friendly, had natural light, full kitchens, and multiple bedrooms." What guests also spoke highly of were the general managers who operate and service all the suites the same way as a five-star hotel.
The result was a completely booked out first location and five-star reviews during a global pandemic. "If we learned anything from this, we learned that the market is thirsty for more unique ways to travel that offer them the flexibility they need – in terms of duration, space, and service."
What makes a great stay is the atmosphere – in the entire hotel and the room itself. "Wherever possible, we design the furnishings and fixtures in the rooms ourselves," notes McCluskey. "We have a fantastic furniture manufacturer in the GTA that helps us bring our visions to life."
Fabrics are sourced from a Canadian supplier and manufactured locally. "We want the furniture to align with the brand DNA – not just an ordinary couch, but something that elicits a response and makes people smile – we see the furniture as an opportunity to inject some colour and personality into the spaces." About 75 per cent of the furniture is designed and made in Canada. "We would love to be 100 per cent one day."
Collaborating with other local designers is also important. "The lights in the bedrooms were designed by a local company called Shelter Bay, and we worked with Rob Southcott to come up with a design to use at Augusta," she says.
However long you stay, you'll experience the realization of a goal: "to offer a sense of place, rather than a 'hotel anywhere'," says McCluskey. "For example, we feature Nathan Carson, a local artist throughout the space. One of the wallpapers is made up of old ticket stubs from concerts at FirstOntario Centre, and another is a scan of a vintage Hamilton postcard."
For more info visit Thelaundryrooms.ca