By Linda Barnard
To discover the best of Northern Ireland, take a drive on the wild side. The sea-hugging route along the Causeway Coastal Route is a dramatic journey that's rightfully listed among the world's greatest and most-scenic road trips. As with the rest of Northern Ireland, you'll eat very well along the way.
The 200 km trip along a two-lane road from Derry-Londonderry to Belfast — with diversions to visit picturesque villages and Game of Thrones filming locations like the Dark Hedges  — follows a route road rich with folklore, history, castle ruins and magnificent natural wonders. Can you ever get tired of bright green fields with black-faced sheep and fat cows, rugged coastline and clifftop views of sublime crescent beaches?
Do it yourself if right-hand driving isn't a concern. Or hire a car and driver, which comes with the bonus of a knowledgeable and entertaining person behind the wheel, like we had with exceptional Blue Badge guide Billy Scott.
We followed a meandering route, driving north from Dublin in the Republic of Ireland to the Mourne Mountains and the town of Newcastle, past the Sperrin Mountains to Derry-Londonderry, then up along the coast and finishing up in Belfast, enjoying Northern Irish hospitality as we went.
How to pick my best meal in Northern Ireland?
It could be the local-caught fish at Harry's Shack, an upscale beach joint where I dithered between whole lemon sole and Kilkeel hake before deciding on Shacked Pale Ale-battered, saltwater cured haddock, fat chips and mushy peas.
I was greatly impressed with the creative and delectable six-course tasting meal from visionary chef-owner Gareth McCaughey's The Muddlers Club, a hip restaurant down a sketchy-looking Belfast alley.
You don't need to be in a big city to find exceptional, forward-thinking cuisine, as we discovered at Brunel's in the small seaside town of Newcastle.
Northern Ireland is the home of great bread, like chewy sourdough loaf at homey Ursa Minor bakehouse and vegetarian restaurant in Ballycastle.
We spent a peaceful hour near the hearth learning to make traditional Irish soda bread during a cooking class in Bronagh Duffin's colourful Bakehouse teaching kitchen in Bellaghy. Using her granny Maggie's recipe, we marked the top of our loaves with two deep cuts "to let the fairies out."
Or maybe it was the chewy, flour-dusted bap I bought from a vendor to eat as I wandered around Victorian-era St. George's Market in Belfast.
No matter what bread you favour, it's even better when generously smeared with rich, deep-yellow Northern Ireland butter.
Will your winning drink vote go to craft cider made from heritage apples and champagne yeast from third-generation growers at Long Meadow Cider in County Armagh? Or will it be the Earl Grey tea-kissed house gin crafted for guests at 120-year-old Ardtara Country House in County Derry?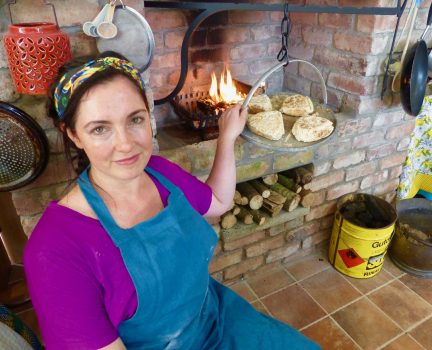 It's no surprise to learn that Northern Ireland was awarded the Best Food Destination at the International Travel and Tourism Awards last year.
A generous breakfast is almost always included in a hotel or country inn stay. Start the day with a famous Ulster fry: eggs, bacon, sausage, baked beans, black and white pudding, potato bread and soda bread quarters, called farls. Porridge comes with a good pour of thick, pale-yellow cream. Perhaps a splash of Irish whiskey on top?
The emphasis is on local foods, from meats and game, wild-caught seafood and craft beers, to the native floury potatoes mashed with spring onion to make the traditional side dish called champ — served with a generous pat of butter melting on top, of course.
Located in the northeast corner of Ireland and part of the United Kingdom, Northern Ireland has a well-known modern history. The retributions, conflicts and sectarian violence that began in the late 1960s, known here as The Troubles, kept most tourists away, especially from Belfast and Derry-Londonderry.
People here speak openly with you about their experiences during The Troubles if you ask, sharing stories of roadblocks, searches and living in a time of fear. Murals in Derry-Londonderry's Bogside neighbourhood, site of the 1972 Bloody Sunday shootings (there is also the Museum of Free Derry, known as the Bloody Sunday museum here) and along Belfast's Falls Road and Shankhill Road, tell visual stories of The Troubles.
The 1998 Good Friday Agreement brought peace. Tourists followed, discovering Northern Ireland has great beauty and a warm welcome to share. Game of Thrones sealed the deal, as fans arrived to see where some of the beloved HBO series was shot, while increased spending on business travel promotion in recent years has also paid off.
The fascinating Titanic Museum in Belfast, which opened in 2012 on the site where the great ship was built, is rightfully a huge tourist draw.
We began the coastal route part of our visit in Derry-Londonderry with a pleasant hour strolling the wide walkway tops of the 17th-century stone walls that encircle the only walled city in Ireland. Views stretch across the city, including the Peace Bridge and a new mural featuring the characters from the hit Netflix comedy Derry Girls.
Back on the road, the ruins of medieval Dunluce Castle inspired thoughts of long-ago royals and myths, while a tour of the Old Bushmills Distillery in the pretty town of Bushmills unlocked the secrets of making Irish whiskey, topped off with a tasting.
There are two must-see wonders on the coastal route: Giant's Causeway and nearby Carrick-a-Rede Rope Bridge.
We got to Giant's Causeway, the most-visited tourist site in Northern Ireland, at the perfect time, late in the afternoon after crowds had thinned.

"A lot of people, I suppose, during the darker history this little island, were quite apprehensive about coming (to Northern Ireland)," said Giant's Causeway guide James Neill, as we walked down a paved road from the attractive new National Trust visitor centre, past high cliffs towards the sea.
That's changed. About one million people come to see the Giant's Causeway each year. (Insider tip: Go before 11 a.m. or after 4 p.m. to beat the herds, especially from cruise ships.)
We rounded a bend and the stretch of 40,000 massive basalt columns rising from the rough sea in near-perfect geometric hexagons came into view. Some were flat stepping stones, others seemed like undulating waves of tall pillars, all created by volcanic activity some 65 million years ago.
"It's probably one of the most magnificent and special views you'll ever see in your life," said Neill. He wasn't exaggerating.
At Northern Ireland's only UNESCO World Heritage Site, visitors are welcome to climb and scramble all over the stones, or climb up to sit to admire the view.
Folklore says the causeway is the result of an ancient rock-tossing fight between Irish giant Finn McCool and Scottish giant Benandonner.
Parts will be familiar to Led Zeppelin fans as the album cover artwork on the "Houses of the Holy" disc.
Carrick-a-Rede Rope Bridge is about a 20-minute drive from Giant's Causeway. Stop on the way at Ballintoy village and then drive down to the picturesque harbour. That's where I met brothers Liam and Aiden Reid, who were about to head out on their small white boat the Emerald Isle to check their lobster and brown crab traps.
Had it been a good season? "Aye, oh aye," Liam replied. Their catch would be sold to a broker who sends them on to restaurants in Ireland and Europe.
I spied their little boat later from a viewpoint high above Carrick-a-Rede. On a mild, sunny day, this is the kind of green and rocky wild place along the sea that travellers dream about when they picture Northern Ireland.
Fishermen strung a flimsy rope bridge from the cliffs to tiny Carrick-a-Rede Island more than 350 years ago to fish for salmon at the isolated spot on the Antrim Coast.
Today the rope bridge is much sturdier with steel cables, but it still bounces and sways as you walk across, making you feel slightly brave for making the crossing 30 meters above the churning sea. The views are breathtaking, especially from a cliff overlook behind the bridge.
The walk up is a bit challenging and the rocky climb on the island side means you'll want to wear sturdy shoes and use the rope handrail for support.
I was looking forward to seeing Belfast, but I was also wistful at leaving this wild and beautiful part of Northern Ireland.
As we travelled, I asked people what made Northern Ireland food different from the Republic next door.
They talked about unique local products like Young Buck raw milk blue cheese and the impossibly creamy Triple Rose from cheesemaker Ballylisk in Armagh.
Long Meadow Cider's Catherine McKeever said many of the products in Northern Ireland come from family businesses, like theirs. The lobster fishing Reid brothers point to the Ulster fry with two kinds of bread, potato and soda farl as a unique dish.
I think Bronagh Duffin said it best when she explained why she runs her cooking school, teaching a variety of classes, including one devoted to traditional Northern Irish recipes. "It's how I express myself and express my love to family and friends," she said.
We talked as we mixed the soda bread and patted out the round loaves. "Down south it's (round) oven bread, but up here we cut it into quarters. It's called farl: Irish for quarter," she explained. Her granny used to cook them on a griddle over the kitchen fire, something Duffin still uses.
Baking was her childhood happiness.
"For people in this area, with The Troubles, it was quite difficult growing up in the '80s and food was a healing thing for a lot of people, or some comfort and sense of family," Duffin said. "Food is the one thing that helps draw people together. We have a very strong sense of family up north, which is different to the south of Ireland. Family was all we had."
Linda Barnard was a guest of Tourism Ireland, which did not review or approve this story.
Learn more
Go to tourismireland.com
Where to stay
Slieve Donard Resort & Spa, Newcastle, Co. Down
Ardtara Country House, Upperlands, Co. Derry
The Causeway Hotel, Giant's Causeway, Bushmills
Ten Square Hotel, 10 Donegal Square South, Belfast
Where to eat
Brunel's Restaurant, 32 Down's Road, Newcastle, Co. Down
Harry's Shack, 118 Strand Rd., Portstewart
Bushmill's Inn, Bushmills. Co. Antrim
The Muddlers Club, Warehouse Lane, Belfast
Howard Street, 56 Howard Street, Belfast