By: Lisa Evans
Since March, the home has become the place for work, study, dining, fitness, entertaining and well, just about everything. Spending more time at home than ever before has caused many of us to look at our homes through a new lens and wonder whether it's time to make some design changes.
Canadian interior designer Brian Gluckstein, owner of Gluckstein Home and designer of the Princess Margaret Lottery Oakville showhome for the past eight years, cites four areas of the home that will he believes will be permanently transformed by the COVID health crisis.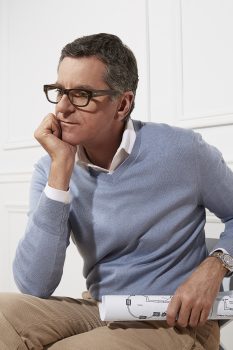 Home Office
For many employees, working from home was the biggest change of the pandemic. "We've proven that you can work from home," says Gluckstein. While some offices have reopened, many employees may choose to work from home permanently.
When designing a home office space, Gluckstein says the most important thing is to create separation between the workspace and the rest of your home.  Using your dining or kitchen table as your home office means that the work ends up spilling into your daily family life. "Before, there was a beginning and an end to your workday. When you're working from home it creates a blend," says Gluckstein.
An unused bedroom with a door is the best option for a home office, but even if you don't have a spare bedroom, Gluckstein says you can still create a separate home office space. If you have a dining room you're not using much, you can create an eating area in your kitchen and transform the dining area into a work space, or carve out a designated office space in your basement.
Home Gyms
Months of gym closures caused fitness enthusiasts to bring their workouts into their homes. "We've learned from COVID how to adapt and so many shows and apps are showing us how much we can use from home to do our exercise, and it doesn't require a ton of space or equipment," says Gluckstein.
Gluckstein included a home gym in both the 2019 and 2020 Oakville Princess Margaret Lottery Homes and says home gyms will become a desired feature in homes long after the current health crisis has passed.
In-Home Entertainment
While we previously travelled outside the home for entertainment, the pandemic transformed our homes into our movie theatres, bars and restaurants.
Gluckstein says in-home entertainment will become more important now than ever before as people are staying closer to their inner circles. "People are still cautious (about going out) and I don't think that's going to change quickly," says Gluckstein.
Wine fridges are a simple add-on that makes casual entertainment at home more enjoyable. In-home movie theatres are also becoming popular. Gluckstein incorporated an in-home movie theatre in the design of the 2019 Oakville Princess Margaret House and says these are likely to become a popular remodel with people choosing to stay home and entertain their close circles of friends.
Mud Rooms
With greater awareness of how viruses spread, many have become concerned about viruses living on packaging. With the increase in online shopping has come a surge in packaging arriving to the home and a need to store that packaging outside of our living areas.
"The stuff in the box has been in there for days so you don't have to worry about that, but it's the exterior box that's been handled many times that you have to think about," says Gluckstein, who sees mudrooms as no longer just for shoes and coats, but as spaces that can house larger recycling bins to avoid bringing cardboard boxes into our homes.
*Photos provided by A Plus Creative