An Oakville family transforms a quaint church into their dream chalet in Ellicottville, N.Y.
By Kelly Putter |  photos by Jack Curran
If the walls of this Ellicottville, New York church-turned-chalet could talk there would undoubtedly be much joyous chitter-chatter combined with a share of sorrow and tears.
For 80 years this quaint white clapboard church on Park Square housed Cattaraugus County villagers who worshipped at its altar and who gathered within to celebrate marriages and christenings as well as to eulogize and mourn their dead. Built in 1892 as a Methodist church, the church would later welcome United Church congregants in the early 1970s after a merger between the Methodist and Presbyterian churches. By the mid 1970s, however, the building turned completely secular as it was revamped into three residential apartment units.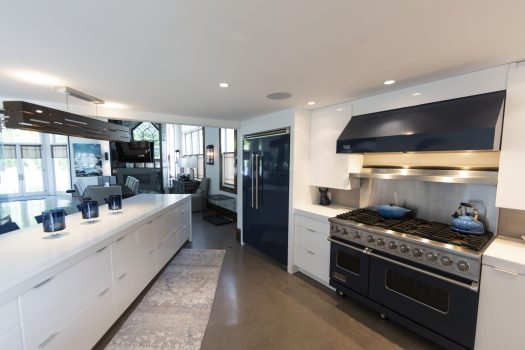 "The guy who works for me was married in that church," recalls Philip Vogt, the Ellicottville builder who helped Vanessa and Mark Barr transform the multi-residential building into its current single-family vacation home design. "He was 67 when we were working on the building and he had been married in it decades before when he was in his twenties."
That it is still standing all these years later is a testament, ironically perhaps, to a Canadian family who knew they wanted a vacation home in the heart of this wee Western New York town known as a playground for outdoor adventures, restaurants and great shopping. While skiing and snowboarding are tops in popularity here, the village is also rife with activities for golfers, hikers and anglers.
"This place was for sale for many years and my husband was constantly saying we should buy that church and I thought no, but it turned out fantastic," says chalet owner Vanessa Barr, who lives in Oakville with her husband and their three children. "We definitely wanted to be in the village for the great bars, restaurants, live music and night life. Here, we are steps away from all of it."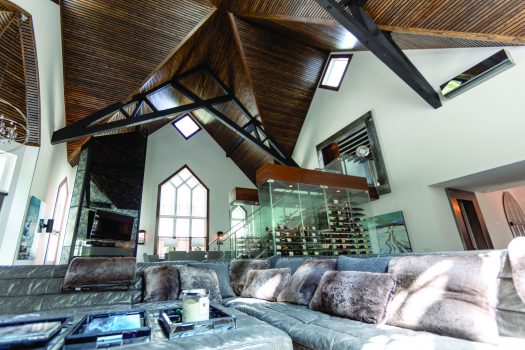 Canadians are not an anomaly here in this village of about 1,600. According to Vogt, some 50 per cent of the town's homes are owned by Canadians. Vogt is used to his neighbours north of the border. After the U.S. economy nosedived in 2008, all his customers in the ski village were Canadian.
While thoughts of renovating a property from afar may send people running, the Barrs approached the job with aplomb, knowing their builder and Oakville-based architect Bill Hicks and decorator Margo Haines all had top-notch reputations.
The telephone and computer played integral parts in how they communicated.
"We did a lot on the phone," recalls Barr of the year-long restoration which took place over 2013 and 2014. "It was pretty smooth sailing and we had a good relationship with Phil as well as Bill and Margo."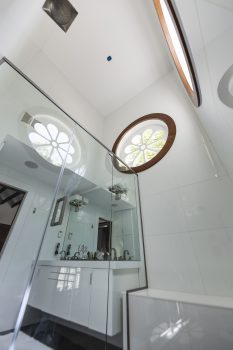 One of Hicks' first redesign plans involved lifting the structure to install a livable nine-foot-high basement. They hired one of only two Upstate New York firms that actually do that kind of work. Since the building is a designated heritage structure, there are restrictions on changing the chapel's exterior so the couple knew down was the only way to go for extra space. The basement, which includes two spacious bedrooms, each with built-in bunk beds, would prove to be the largest cost of the renovation.
The chalet is a comfortable mix of warm dark woods with contemporary furnishings and accents, original lancet-style windows and a striking angled ceiling that captures your eye from any location. The work on the 30-foot-high ceiling involved many hours of labour which included applying a black-painted plywood to the various angles of the ceiling. Linear three-by-three pine slats of wood, stained to look like walnut, were adhered to the plywood. The ceiling is the brainchild of Haines, an Oakville-based interior decorator and stylist, who is also a friend of the Barrs.
"I saw this really cool wall installation at a design showroom in New York City," Haines recalls. "I knew as soon as I saw this treatment we could use it on the church ceiling to harmonize all the different angles it possessed. Not only did it give added architectural interest but it helped with the acoustics. It was no easy feat for the builder but the effect in the long run was well worth it. It's a really cool space. You know you're walking into a church and it's like wow. There is a lot to look at."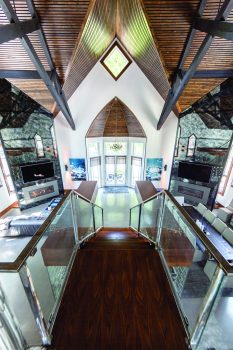 One such item is an extraordinarily unique see-through wine cellar that sits in the centre of the church on both sides of the staircase. Encased in glass with metal and wood accents, the wine storage is both practical as it houses the family's wine collection, and aesthetically pleasing as it pays a contemporary nod to the home's unique contrast of styles. "I wanted to incorporate as many interesting objects, finishes and pieces in the church to play on what a unique space it is," explains Haines. "I wanted to see shine and reflection, thus the cladding of the two soaring fireplaces in the smoked mirror." The staircase leads to a loft complete with one master bedroom and ensuite bathroom; its shower is ensconced in the church's bell tower. The steeple is adorned on two sides with quaint Gothic rose windows.
From the outside the structure still looks very much like the church that was built over a century ago. In an effort to preserve its birthright, the Barrs replaced the siding and the windows, keeping their original shape right down to the number of window panes in each window.
The vacation home would prove to be the perfect getaway for the Barrs, both skiers, whose three daughters all snowboarded competitively when they were younger. "It takes just two hours and 15 minutes to get there," says Barr. "If you want to ski or snowboard, it's a great alternative to Collingwood."