By Sherri Telenko
Here's what every good set designer knows: lighting is key to setting the stage for a grand entrance. And grand home entrances require more than front door illumination. Landscape lighting from driveway to threshold not only makes a property safer, but prettier. Curb appeal extends beyond sundown.
"People spend a lot of money on their homes and landscaping, but that all disappears after dark," says Don McQueen of Nite Time Décor. "It's amazing what a difference an architectural lighting design makes."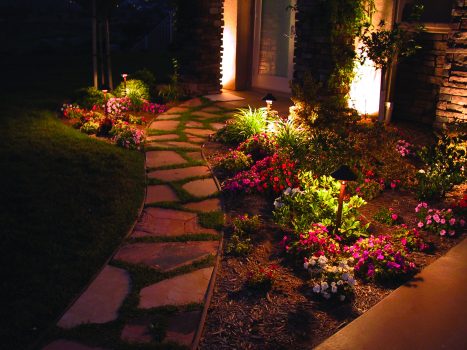 McQueen has been lighting homes in the West of the City region for 20 years. There's more to the process than meets the eye.
"What's important is to see the effect, not the source," he says, emphasizing there's a difference between landscape lighting and architectural lighting. "Many people are technically proficient at lighting the landscape of a home. But designers, like those on our team, look at the design of the house as well when creating an architectural lighting plan."
True, outdoor lighting can be functional, illuminating the driveway edge or garden paths with a series of small soft light fixtures, but architectural lighting enhances the outside design of the property. For example, a spotlight projects a dramatic distribution of light straight up tall structures such as columns or trees.
Wall washing — lighting projected over an entire surface — creates shadows and texture as light dances over uneven surfaces such as limestone or brick. "Something plain in the day can look spectacular at night," McQueen says.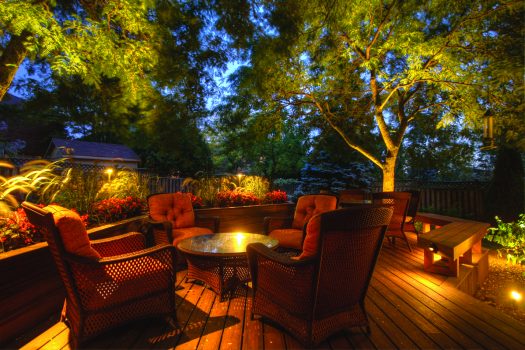 Furthermore, aboveground well lights provide big impact for dramatic effects illuminating fountains and larger spaces.
Down lighting is commonly used in structures like pergolas to highlight the plants below, but it's more spectacular imitating the moon. Yes, the moon. "We do this by putting fixtures on high tree branches facing down," McQueen says. "Adjusted correctly, they filter through the branches and leaves simulating moon light, especially if it's a warm white used."
Finally, if you crave that tiki light ambiance around the pool or fire pit, Nite Time Décor has those too, though in weather-resistant metals, not rattan. Tropical-inspired, these cone-shaped decorative downlights have a removable wick, which you fire up on party nights.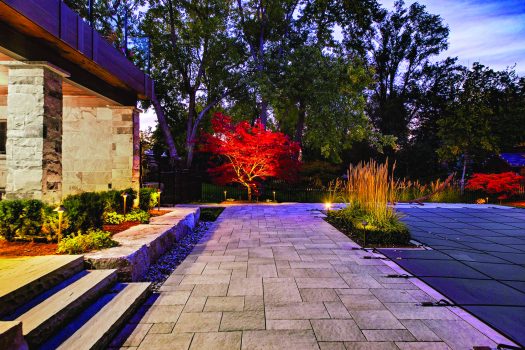 Designing outdoor landscaping or architectural lighting is the first step; maintaining it is an ongoing second step. According to Nite Time Décor, lighting systems require annual attention because they're exposed to dirt, rainfall, snow and ice.
"We clean and re-aims lights, cutting back plants that might have grown over," McQueen says. "LED lights last for up to 10 years — we make sure the system looks as goods as the day it was installed."