Classic contemporary design
This newly renovated Burlington home needed a refreshed landscape to complement its stunning new look. Having sold their cottage, the homeowners wanted to extend the living space to the outdoors by creating an oasis for relaxing and entertaining from morning to night. The new design made such strategic use of the backyard, that the homeowners expressed shock by how much bigger the yard looked compared to previously.
Maximizing space
The backyard is designed with a modern linear layout to maximize space that connects areas for dining, lounging, cooking and sunbathing. The rectangular pool features a sheer descent water wall, eloquently finished with a stunning piece of artwork.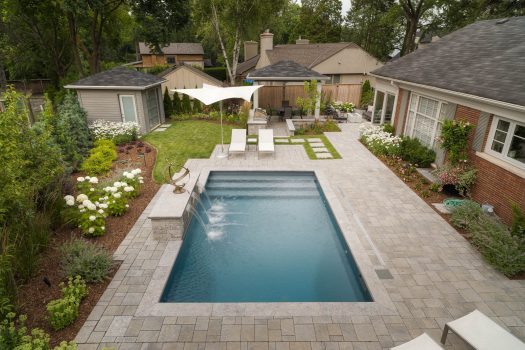 Al fresco dining
A custom pergola with heating and lighting makes for plenty of entertaining from early spring until late fall. Dining al fresco is a cinch thanks to the built-in barbecue and natural stone island, with an outdoor fireplace for late night conversations.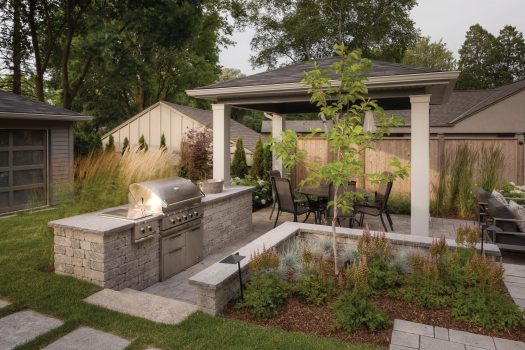 Stylish storage
A stylish backyard shed was custom built to store the pool equipment. The contemporary design features an overhead garage door.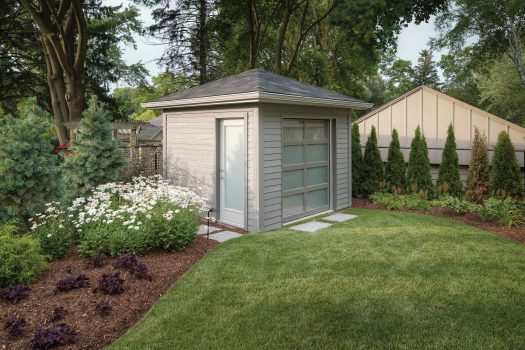 Stunning walkway
A new walkway and raised front porch using a combination of natural stone and a classic precast paving stone boast a contemporary classic look that matches the home's architecture. A beautiful mix of flowering shrubs, evergreen shrubs and perennials create a stunning array of colour. Strategic lighting highlights the garden and walkway in evenings.