Into the night
An outdoor paradise should be enjoyed long after the sun goes down which is why lighting is so essential. A gorgeous landscape design can be as functional and beautiful in the late hours of night as it is during daylight. With strategic use of lights beautiful architectural details and landscape features can be illuminated to create a stunning transformation from day to night.
Illuminated backyard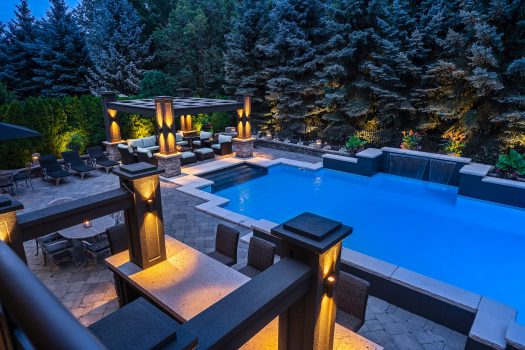 Sitting areas and bar areas are natural places to light as these are where homeowners and guests already gather. In this photo, lighting is also used to illuminate the exterior of the pool while upward lighting highlight surrounding landscape.
Light the way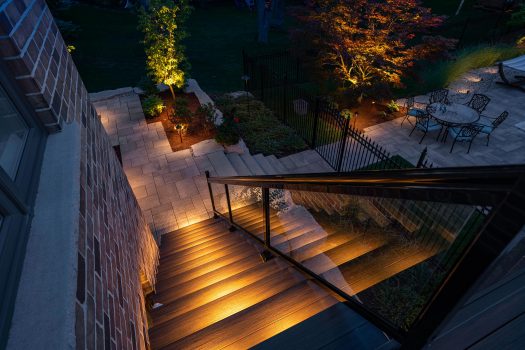 When lighting stairs, it's important that every step is illuminated. The eye is drawn to what is lit, and therefore consistent lighting prevents missteps. This staircase is a visually stunning feature that also ensures safe passage from the home's interior to exterior, even in the dark.
Gathering space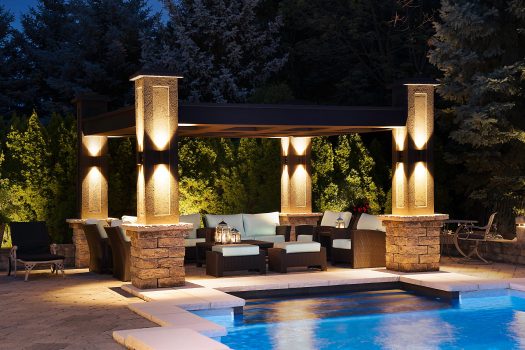 When the day is done and it's time to relax, most people prefer to enjoy a warm evening outside, even after the sky darkens.  This seating area offers the ideal setting surrounded by columns that are lit by wall sconces sending light upward and downward in a "V" shape, creating a decorative and functional design.