By Danielle Leonard
There comes a time for many homeowners when the big family home no longer feels necessary. The energy once dedicated to raising a family starts shifting to personal interests that had long been set aside. As these lifestyle changes take root, downsizing makes sense – especially when it equates to greater freedom.
With today's empty nesters facing more options than ever, the question on where to move can be tough to answer and depends on one's vision of the ideal retirement (or semi-retirement) lifestyle. Does it include more financial freedom? More travel? Less home maintenance?
Downsizers also want the same standards of luxury they've grown accustomed to. Space, they're willing to sacrifice, but quality and design? No way. West spoke to four experts in the field who are raising the bar in luxury living with customizations that are befitting of the modern downsized lifestyle. The real estate developments they represent all showcase beautiful interiors, custom finishes and the latest in digital home tech. Yet there are differences that make each living experience unique for discerning homeowners transitioning into the next life chapter.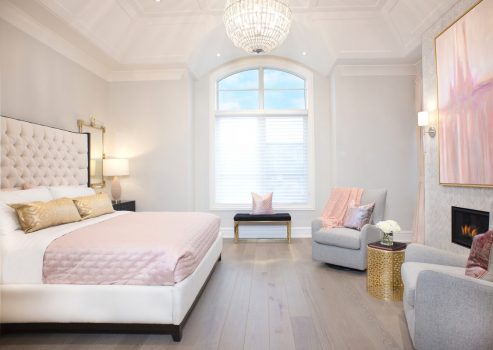 Wine Country
The Niagara greenbelt has become a beacon for retirees who want to say good bye to the noise, crowds, and traffic of urban living. Its serene countryside, surrounded by vineyards and forest, is balanced by a close proximity to the GTA, St. Catharine's and Niagara Falls. This is where Lucchetta Homes is developing Davis Heights – a community of 36 luxury bungalow townhomes overlooking the Niagara escarpment that caters to the downsizing homeowner.
"It's an opportunity to get away from the high square footage and cost of the GTA without compromising luxury," says Kim Kopyl, director of sales and marketing for Lucchetta Homes. The homes are custom designed for adult lifestyles featuring unique elements like main floor masters, large principal rooms with 15 foot ceilings, and a formal dining room with a vertical glass wine cellar that's perfect for entertaining.  Comfort features are paramount in the home, including enlarged doors and hallways, heated floors, fireplaces, raised vanities and walk-in showers with quartz seating areas.
The stunning interiors of Davis Heights homes exemplify what would be expected in a luxury Toronto home. Lucchetta solicited the expertise of well-known Toronto interior designer Raphael Gomes Interiors to help achieve this. In fact, the designer has curated two move-in-ready, fully furnished units, one of which features luxuriously appointed dual master bedrooms (one for the missus and one for the mister). 
Davis Heights is the perfect location for residents seeking relaxed, easy living among like-minded, similarly aged individuals who want to be part of a thriving social community in a breathtaking setting.
Lucchettahomes.com/community/davis-heights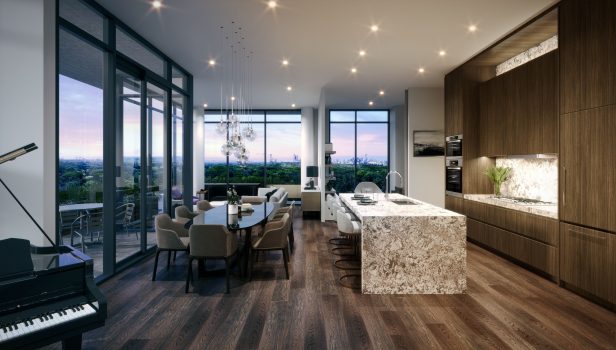 Urban Lifestyle in Port Credit
Not all downsizers want to escape the downtown bustle. Port Credit in Mississauga – an urban pocket along the shores of Lake Ontario and a 20-minute GO train ride to Union Station – offers the ideal location thanks to a new development by Edenshaw called TANU. The 15-storey condo building will boast a diverse array of luxury living spaces comprised of four penthouses with private rooftop terraces, 204 condos and six townhomes. 
"We wanted to create a mix in the TANU community," says Dave McComb, president and CEO of Edenshaw. "Everything we do is about building community and encouraging people to gather using our extensive amenities." The plan is working. Several families are purchasing units to accommodate all three generations. Parents, grandparents and grown kids will each reside in their own condo. This alternative to the in-law suite means upscale living for everyone in their own space.
Minimal home maintenance, like most condo developments, is a hallmark of TANU. It will offer a full concierge service as well as amenities that are in line with the modern day lifestyle, such as a car share program, pet spa and a business centre for remote work. When describing TANU's demographic, McComb prefers the term 'right sizers' rather than downsizers. It's about finding the right mix of location, size and luxury to suit each resident's personal wishes.
TANU is an ideal option for the discerning retired and semi-retired homeowner who wants to maintain the urban lifestyle without the ongoing household maintenance, while living among a diverse community of retirees, professionals and families in the vibrant setting of Port Credit.
Edenshaw.com/community/tanu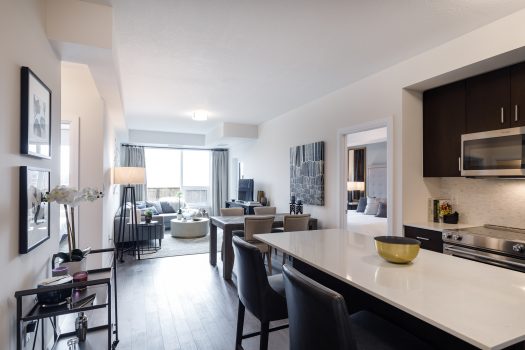 Luxury for Rent in Oakville
Home, condo… how about a third option? Renting. This is what sets the Taunton Luxury Apartments by Branthaven Homes apart from other downsizing options. Located in upper Oakville, the full-service, luxury apartment building is a great alternative to the escalating costs associated with home ownership and big condo communities.
For retirees, that means more financial freedom thanks to the elimination of costly down payments and mortgage or condo fees, as well as no landscaping or upkeep costs. All this, without sacrificing luxurious interiors in a prestigious neighbourhood that's conveniently close to parks, shops, the new Oakville hospital and major highways. Residents can enjoy all the benefits of a concierge service, two guest suites, a pet spa, private dining and bespoke bar, extensive fitness centre and access to a rooftop terrace.
"From a lifestyle and financial perspective, renting can be liberating and financially freeing," says Steve Stipsits, president of Branthaven Homes. Because the Taunton Apartments is a tenured property, renters will not be forced to vacate on short notice – something that happens all too often with condos should the owner decide to sell.
The community at the Taunton is well suited to empty nesters, professionals and snowbirds seeking a condominium lifestyle with the freedom of renting in the beautiful community of Oakville surrounded by convenient amenities.
Thetauntonapartments.com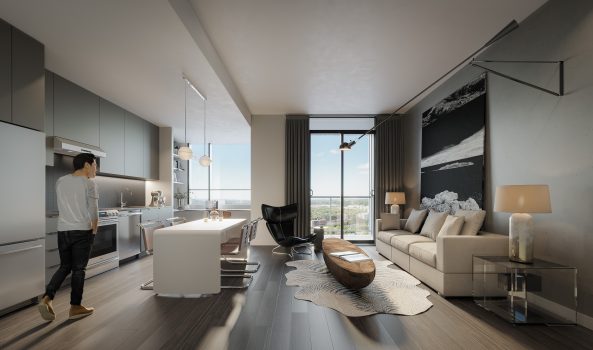 Downtown Burlington
Travel a little further west to downtown Burlington for a bustling community to complement an active lifestyle. A thriving arts scene, charming downtown boutiques and a beautiful lakefront make this area an ideal place for empty nesters who want an abundance of options right outside their door. Gallery Condos + Lofts by Carriage Gate offers just that with its luxury modern suites that boast open concept layouts designed by Tom Pearce Interior Design.
Transitioning from a spacious home to a condo can be an adjustment, however the Gallery units maximize usable space with features such as oversize terraces with gas barbecue connections in the tower suites. The lofts boast soaring ceilings and barn style doors . Sophistication, also, is evident in all finishes and designs from custom cabinets and vanities to quartz countertops.
The maintenance-free lifestyle offered at Gallery means more time to pursue personal interests. Its yoga studio and spa-inspired pool are conveniently at the ready for residents seeking regular fitness. In fact, staying active is easy with nature trails outside the doorstep and the bustling downtown only a short stroll away. 
The Gallery Condos + Lofts is a great community for empty nesters and professionals seeking a maintenance-free lifestyle to enjoy all the charm of a small city with tremendous opportunities for an active lifestyle.
Gallerycondosandlofts.com