By Danielle Leonard
This year's theme for Earth Day is Restore Our Earth. It's an urgent call to undo the damage we've inflicted on the earth's resources and return much needed balance to the natural world. What can we do as individuals? Here are five concrete ways you can help contribute to the earth's health by learning about new technologies, being a more conscientious consumer and altering diet.
Less packaging waste
Loop offers zero-waste versions of everyday essentials from top brands like Häagen-Dazs. When ordering a product, you temporarily pay a 100% refundable deposit to borrow the packaging and Loop will professionally clean and reuse it once you're finished. Products are delivered to your doorstep in a reusable tote and when you're done put it back into the tote and schedule a free pick up. Loopstore.ca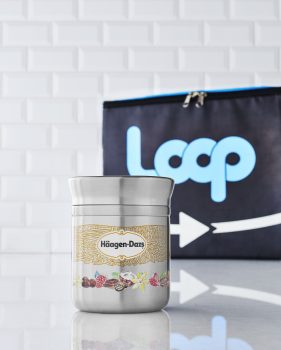 Loop is part of global recycling organization, TerraCycle, which offers zero waste grocery service in Canada and across the globe. Its Zero Waste Boxes can be purchased for difficult-to-recycle waste not recycled through regular municipal recycling, including office supplies, pet food packaging, e-waste, coffee capsules, baby gear and many more. Terracycle.com
Reducing carbon
Elon Musk is offering $100 million (U.S.) in prizes for technologies to remove carbon dioxide from the atmosphere. Canadian company, Carbon Engineering, based in Squamish, BC, is at the forefront of this amazing technology. It has developed a Direct Air Capture technology that captures carbon dioxide directly out of the air around us. This can help counteract today's unavoidable CO2 emissions, and remove the large quantities of CO2 emitted in the past that remains trapped in our atmosphere. The company is now engineering the largest Direct Air Capture (DAC) plant in the world – it will capture one million tons of CO2 directly from the atmosphere each year, with a plan to build facilities worldwide that will capture one million tons of CO2 per year each – equivalent to the work of 40 million trees.
Its goal is to have the first plant ignite an industry by demonstrating that megaton-scale Direct Air Capture technology is feasible, available, and affordable. You can show your support by visiting its website and add your name to its supporter list to help signal the demand for climate change solutions. carbonengineering.com
Shrink your foodprint
A foodprint measures the environmental impacts associated with growing, producing, transporting, and storing our food. Check out the Earth Day EcoFood Guide that offers ways to alter your diet to help fight climate change. One significant change is by shifting toward a more plant-based diet. Leading environmental organizations and international institutions say this one of the most important actions the public can take to reduce climate destruction, deforestation, species extinction, and global hunger. The United Nations calculates that we could feed 3.5 billion more people by growing crops for human consumption on land currently used to grow animal feed. Check out the guide at earthday.org/campaign/foodprints-for-future
Help our pollinators
The bees need our help! It's not hard to help these and other essential pollinators thrive. Seeds of Diversity is a not-for-profit organization that recommends eliminating the use of pesticides and, because habitat loss is another stressor responsible for the decline of our pollinators, plant for them. It's simple. More native plant diversity equals more native pollinator diversity. Start by research each plant before buying to avoid planting invasive species. Look for "Grow Me Instead Guides" for your province. Find a variety of helpful local resources at seeds.ca/pollination/resources
You can also help track the health of our bees by signing up for the Bumble Bee Watch. Bumble Bee Watch is a collaborative effort to track and conserve North America's bumble bees. Sign up to take photos and record your sightings. Bumblebeewatch.org
Electric drive
Driving an electric car can save you between $1,500-$2,000 per year on fuel and maintenance, and, in Canada, it can reduce your vehicle's emissions by as much as 90 per cent.
Learn more about this new technology and whether it's time to purchase one for yourself. Plug'n Drive is a non-profit organization committed to accelerating electric vehicle adoption with a mission to maximize their environmental and economic benefits. Since 2011, Plug'n Drive has established itself as a Canadian leader in the electric vehicle industry and an unbiased source of information about electric cars, charging stations and the electricity sector.
Visit the Electric Vehicle Discovery Centre in North York (once COVID restrictions lift).
The world's first experiential learning Facility dedicated to electric cars is a one-stop-destination to test drive a wide variety of the latest EV models from leading manufacturers. Plugndrive.ca