By: Kelly Putter
There is a duality to everything Beamsville-based artist Floyd Elzinga touches. It shapes his art and his thought process.
During his early career, Elzinga's creations centred on functional pieces such as candle holders, mirrors and tables. Today, his often larger-than-life three-dimensional sculptures, installations and relief work reflect ideas pulled from agriculture and nature: portraits of trees, broken landscapes, peeling back the earth. But he always struggled with the age-old debate of making art for money versus creating work that he loves.
"People would say I love your art and I would say that's not my art, that's my artifice," explains Elzinga who even named his company Artifice to reflect his view. "I saw my work as a means to an end. I had higher aspirations for my creativity and for what I could make. It wasn't crap, but I saw it as craft and that's not what I wanted to do."
At 50, Elzinga is now comfortable with the contrast of ideas that once plagued him. Add to that the fact that the metal artwork company he's operated for nearly 25 years now employs three workers who help fabricate Elzinga's sculptural designs. They are sold to buyers from Norway to Mexico.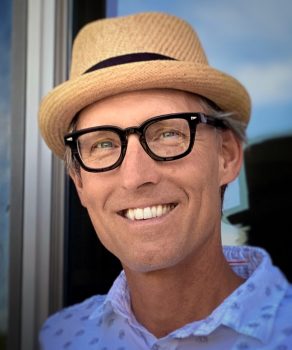 "I don't draw distinctions between art and craft anymore," says the married father of two teenage sons. "You can like two different things and pursue them without negating the other."
Raised by Dutch immigrant parents in Jarvis, Ontario, Elzinga was drawn to the juxtaposition of art and nature even as a child. But at Sheridan College, a teacher's crushing appraisal of his work sent Elzinga packing. He immersed himself in an international exchange program that took him to Pakistan during the Gulf War. There, he considered studying forestry but friends insisted he pursue his aptitude for art. He would obtain a fine arts degree from the Nova Scotia College of Art & Design.
Elzinga began making functional art out of scrap metal in a studio on his parents' dairy farm. He started selling his wares at local craft shows. That blossomed into larger gift shows such as the One of a Kind Show in Toronto. He eked out a living but found the competition from China tough to take. By 2005 Elzinga was tired of the grind so he decided to close shop and work in a factory. Fortunately, he had an epiphany: Elzinga would begin targeting art lovers with money to spend because they loved the visual appeal of his work, not the fact that it functioned as a paper-towel holder.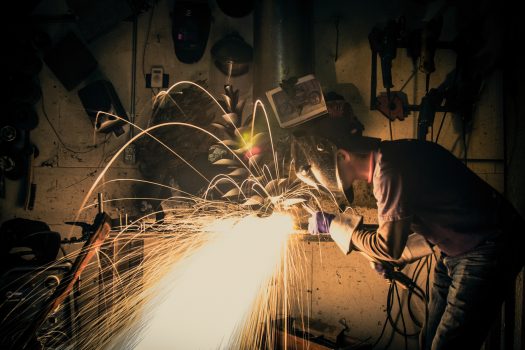 "I thought I'd reinvent myself but it took a while," he says. "Where before the upper limit for my work was $1000, it was now $10,000. But the having 'made it' moment was when I stopped making things I didn't like and started focusing on sculpture and artwork."
In 2005 his giant steel pine cones went viral. Requests for his work started coming from France, Russia and the UK. His oversized steel zipper, part of Elzinga's agricultural work that explores the notion of peeling open the earth, found its way to public galleries in Portugal and Minnesota. He currently has two major installations in Viet Nam and at Heathrow Airport in London.
People often ask if he's tired of making metal pine cones but their natural beauty provokes constant wonder. A conceptual artist at heart, Elzinga admits he's like a kid when finding a pine cone on a walk.
"I'll bring it home and put it on a shelf.  Nature made such a beautiful little thing. It has 20 or 100 seeds and all those seeds are potential trees and the idea of that potential in this spiralling systematical scaled object in your hand, well I love that. And it's mobile. I love that."
Elzinga's son slagged him recently for not knowing Arlene Dickinson of Dragon's Den fame. She had liked Elzinga's work on Instagram. But celebrities and the world's bougie set don't faze this artist, who is more captivated by nature than name.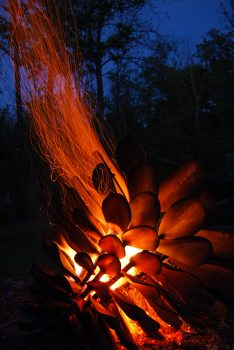 "I'm more honoured when some guy at Dofasco buys my stuff," says Elzinga, "because if you're rich, you can buy anything. But if you're not, you chose to buy one of my pieces and I'm way more honoured and flattered by that."
When the COVID-19 pandemic struck in March 2020 Elzinga he might be finished as an artist because focus everywhere was on essential workers.
"I was going to cry myself to sleep," he recalls. "There's the view that art is frivolous. That's what I grew up believing. It's not essential. I thought, we're going to start making ventilators in the shop, I don't know. How will we become meaningful in this new economy? But a few weeks later, people started saying art is so essential at this time more than ever. People need beauty in their lives. They need to see and feel things that resonate with them on a deeper level."