By Danielle Leonard
Photography by Geoff Shaw
After one year since opening Beaux Florals in Burlington, owner Brock Stacey paints a clear picture of how things have progressed through this pandemic period: "Fucking crazy. Absolutely wild," says the tattoo-clad 35-year old as he adjusts one of his stunning arrangements. Not your traditional florist, Brock is on a mission to redefine florals, or perhaps more aptly put, remove the definition altogether and expand how people perceive the typical bouquet.
His signature style is as evident in his wildly asymmetrical arrangements as it is in his appearance – a cream coloured fedora is perched on his head (he owns a closetful of them which he's collected through travels) and his arms are wrapped in tattoos.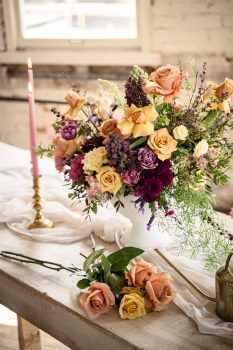 "Florals are so much more than flowers. It's art," says Brock. "You'll never see a traditional round arrangement from me. I've pushed to doing things my own way.'" It's clearly worked out for the fledgling business that opened its doors shortly after COVID emerged – he was on The Marilyn Denis Show in early spring. If anything, says Brock, flowers have become more essential because of their inherent ability to nurture connections, especially during this time of isolation.
"There aren't a lot of things you can instantly give that brightens someone's heart or their home." It helps that a beautiful bouquet remains an affordable luxury no matter what's going on in the world. For many, it's become a regular part of their routines – even picking up a new arrangement every two weeks to keep fresh florals in the home. In fact, it's not unusual for Brock to find men waiting outside Beaux Florals before opening to pick up an arrangement for a wife or girlfriend.
Fostering connections is built into the foundation of the business and is what Brock attributes to his success. When he began Beaux Florals, he'd been at a crossroads in his career. After running a hair salon for 10 years, Brock was seeking change. He'd been contemplating leaving the business for years and even co-owned a restaurant in Muskoka before realizing it wasn't his cup of tea. However, it was during this period that he developed an appreciation for florals.
"I was foraging flowers off the side of the highway and bringing them into the restaurant, just playing with arrangements and experimenting." He brought this new interest back home and was soon selling bouquets outside of his door just as the pandemic was making headline news. By Mother's Day, his work was in high demand and he had to learn everything he could about flowers and running a floral business. That's not to say it was all daisies and butterflies for the entrepreneur.
"I'm the type of person who, when things go bad, you've got to figure things out," says Brock who admits it wasn't easy to let go of a restaurant and lose the ego while figuring what his next chapter should be. "To sulk and make it poor me is never something I would do. I take things as a learning and if you're not learning every day then there's a bigger issue."
Once he decided to focus on flowers, Brock reached out personally to local growers and quickly discovered how supportive the community was.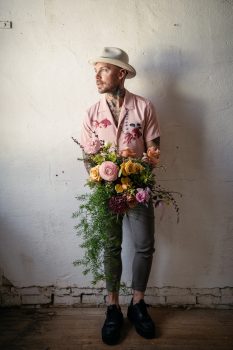 "They're all friends of mine now," says Brock. "If I ever need something, they will help me out." He brings this same sense of openness and trust to his customers with a style that, he believes, doesn't fit into any one category or target any one type of person or gender.
"Naturally, flowers have a feminine vibe, but I want to change things up. There's a masculine element to it, too and that's what I want to bring," he says. "It brings people together."
With a new studio opening in Dundas this fall, Brock has no plans to slow down. He's been told by industry veterans that he's done in one year, what most people do in 10. With year two just beginning, there is little doubt that Beaux Florals has just begun to really blossom.