by Kelly Putter |
Without sounding too weird and horse whispery, Katie Larsen feeds her soul by helping retired racehorses navigate into their next stage of life. You could say her life has plenty of horse-powered purpose.
"I live for it!" enthuses the 34-year-old Oakville resident. "Whenever I rehome a horse, I experience euphoria. This might sound weird but when I'm assessing a horse, I feel like they know I'm there to help them and some even give me the (knowing) look."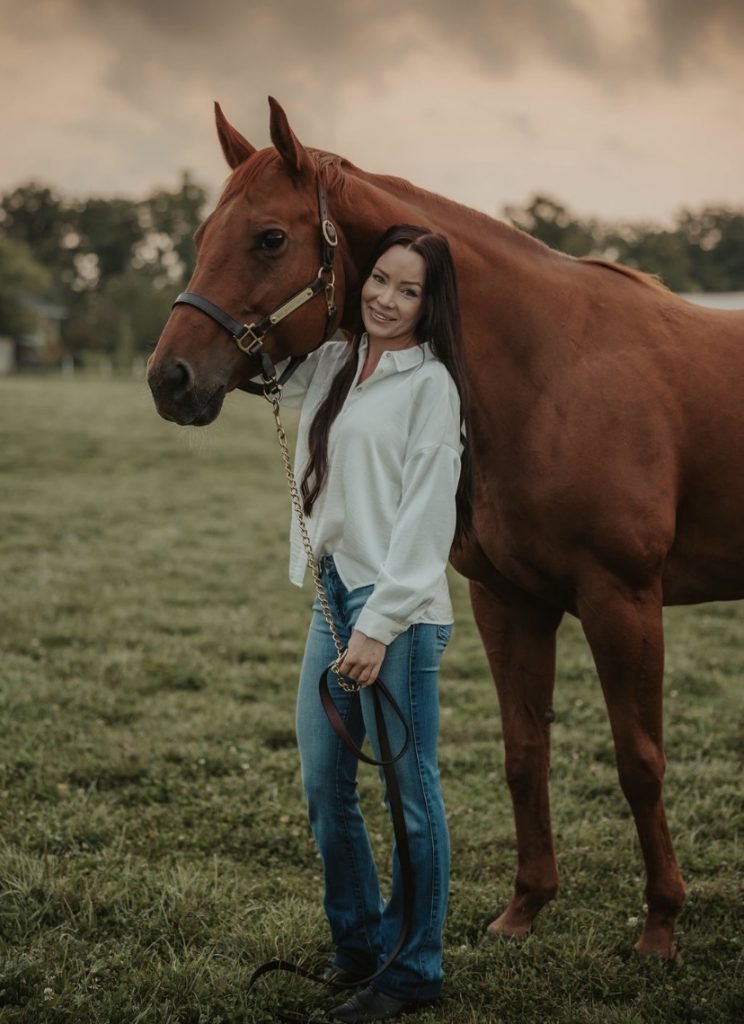 Thanks to plenty of get-up-and-go plus the wide reach of social media, Larsen has established new homes for nearly 700 horses since 2017. Last February, she rehomed 85 horses. The day before we spoke, she located new owners for 11 former thoroughbreds. "It's an insane amount," she admits. "Thoroughbreds are making a comeback in the equestrian world. They are very athletic, have great stamina and people are starting to recognize that. Not everyone has $75,000 to spend on a ready-made show horse and, in my opinion, thoroughbreds are braver and have great big hearts. Whenever I post a horse, the next thing you know it's 'ding, ding, ding' in my inbox."
Larsen operates her business Southern Belle Thoroughbreds (SBT) from her home, where she acts as an agent or broker, facilitating the purchase of retired racehorses between buyer and seller. The horses Larsen deals with are exclusively from Fort Erie and Woodbine racetracks. Before sale, they are visually inspected and jogged to ensure they're physically sound and healthy. Photos of the horse are posted on Facebook, Instagram and other platforms along with a description that includes Larsen's feedback and thoughts about the horse. Her evaluation also covers information about the horse's personality. Is it sweet or is it more hyper? Additionally, she includes information about past injuries, racing history and how the horse carries itself.
As an acting agent on behalf of both the owner or trainer and the buyer, Larsen oversees the adoption from start to finish. She ensures all questions are answered, contracts are signed, payments are made and that the horse is picked up from the racetrack and transported to its new home.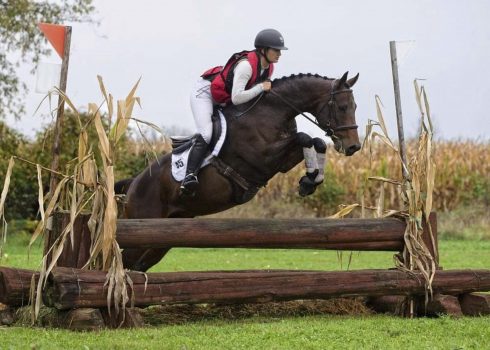 Larsen has rehomed horses mostly within Canada and some in parts of the United States. It's fortunate right now as the horses are currently highly sought after and there are a good number of them available, owing in part to the poor odds they're up against from the get-go. "Often racehorses go on to be show horses as only about 10 per cent of those bred for racing will make it," she explains. "Sometimes they're just not fast enough or maybe they get hurt. Often a racehorse's life starts at two and maxes out at six or seven years old. But horses live up to 30 years, so they have many years in which they can go on and serve a purpose and have a job."
Typically, racehorses can enjoy second careers in a multitude of disciplines that include western pleasure horses, dressage, polo or possibly as show jumpers, hunters or three-day eventers, a type of equestrian triathlon that's part of the Olympic Games.
Since horses each have very individual personalities, Larsen doesn't sell to just the highest bidder. She tries to find a good fit. Her vetting process involves talking to potential buyers to find out what it is they're looking for. Word of mouth often works well. A contract signed by the buyer helps ensure the animal's welfare, protecting the horse against compromising situations and ensuring that Larsen is informed should the new owner decide to resell the horse.
"We want to ensure no auctions and no slaughter," says Larsen. "I've never had a horse end up in a situation like that. Slaughter is very feared in the horse industry but it happens because the racing industry is fast-paced and horses come and go quickly. Trainers are offloading horses and they worry about making sure the horse goes to a proper place and not a meat wagon."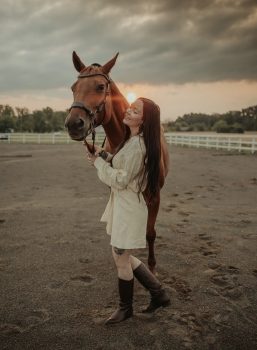 Pricing for rehoming also safeguards the longevity of the animal. Larson earns a percentage of the sale price. The horses sell for between $3,000 and $5,000, while those buying horses for meat tend to pay $400 to $600.
A one-time equestrian rider who dreamt of being a top-level show jumper, Larsen struggled with keeping up with the high cost of the hobby. Following a career as an A-circuit competitor, she took a break from horses but they kept calling her name. Five years later, she decided to purchase a former racer. Mia Bella Amore, known by the race name Golden Missile, was facing retirement with only one win in six career starts and earnings of about $12,000. She and Larsen hit it off and their relationship would serve as the pathway to her eventual work at Fort Erie as a licensed exercise rider of racehorses. That, in turn, laid the groundwork for Larsen's rehoming service. The name Southern Belle Thoroughbreds is a tribute to her horse, Bella.
As a testament to her success, Larsen managed to quit her loan management job with a major bank after a 10-year stint. She recently took on Purina as a sponsor, offering equine nutrition consultations to every horse adopted through her service. Larsen also works full-time at Woodbine where she gallops racers six days a week as an exerciser for various trainers at the track.
Assisting Larsen with rehoming is exercise rider Chelsea Clouter, a Woodbine Racetrack employee whose wide-reaching connections helped especially in the early days of SBT.
She hopes people don't see her rehoming business as antagonistic to the industry of horse racing. Larsen is currently an active owner of her very own racehorse, Ya Beauty, who competes at Woodbine.
Larsen is aware of how fortunate she is to be working with animals that nourish her spirit. She cites a rough patch she experienced in her early 20s and how horses helped pull her out of her funk. "I feel like I owe them," she explains. "They're very peaceful animals and they have healing energy. Horses are used for therapy all over the world. I have a connection with horses and always have. I'm just not able to stay away from them. And I know how lucky I am."
Larsen doesn't like to use the word rescue to describe the work she does through SBT. That's because she believes it implies they're being 'rescued' from a difficult situation, when in fact the horses at the track are very well cared for. Her service fulfills a specific need to rehome the animals because most trainers and owners don't have the luxury of time to source and vet potential adopters.
"I take huge pride in being that person that can help them find a soft place to land," she says. "The horse world is a very glammed up industry but it's important that people see there are a lot more horses on the backstretch than what you see on TV. And every one of these horses deserves somewhere to go once their career at the track comes to an end."
For more information visit Southernbellethoroughbreds.com