By Danielle Leonard
Photography by Graham Paine
When Judah Hernandez founded Black and White Media in 2014, he fulfilled a passion that began as a high school student when he attended a film school in Florida. After graduation, however, he chose to pursue another love – soccer – and played professionally for several years. In 2010, with his soccer career over, Hernandez immigrated to Canada and settled in Oakville. It was here he dipped his toe back into the movie industry as an actor and eventually found his place behind the camera where he has remained ever since.
"Although I'd been getting some cool acting roles," says Hernandez. "I missed creating the content." The passion for film that was nurtured in his teens came full circle in 2014 when he teamed up with Wendy Donnan to start the Oakville Film Festival and simultaneously founded his own production company.
For a long time, he says he was a "one-man band" and is thankful for those early years wherein he wore the many hats of an entrepreneur. These days, Hernandez works with a tight knit team of likeminded experts who share his company vision and goals.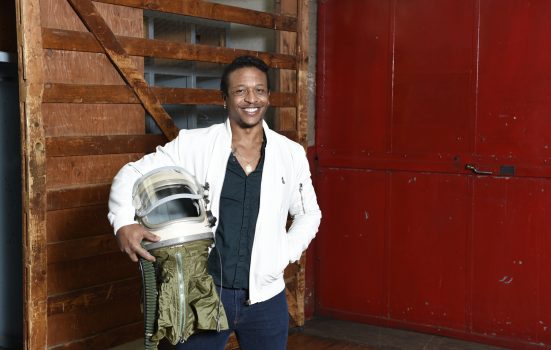 "No matter what's going on in the world, I have this wonderful team around me and the sky is the limit," explains Hernandez. Black and White Media specializes in creating videos for small to large businesses and developing strategic digital marketing campaigns. Until the pandemic hit, a significant portion of its business was dedicated to covering live events for clients such as Shopify and the Town of Oakville. Of course, all that changed in March 2020.
The company pivoted to offer services in livestreaming and virtual events, starting a sister company to address the burgeoning need for videoconferencing. As the pandemic situation continues, Hernandez notes, more and more companies that had held off on marketing in the hopes of a quick return to normalcy, are now ramping up their marketing campaigns again. This is the right tactic according to Hernandez, who believes connecting with your audience with the right message is as important as ever during these unique times.
"Video is connecting with people from wherever you are to anywhere else in the world," says Hernandez. "Especially during this isolated period with people stuck at home and less human connection, video fills in a lot of that gap." Helping to ascertain and craft that message is at the heart of what Black and White Media does.
"With every client I spend so much time getting to know them. The video is part of their identity. Some want a sense of humour to be the front face, some need to be more serious, some more cinematic," says the producer. "So many emotions can be pulled out of a video."
With live events likely on hold until the national vaccine rollout is complete, many organizations are embracing digital events or a hybrid model that combines live and online streaming to connect with their audience. Hernandez believes that live events, as we once knew them, will not return fully until at least 2022, even if we come out of lockdown long before that.
The pandemic has, ironically, upended his own film aspirations. When the Toronto International Film Festival (TIFF) had to significantly reduce and retool its offerings, his first feature film, which was under consideration, never got its premier. Hernandez remains hopeful, yet.
"My passion has always been film, first and foremost," says Hernandez. "What I'm really hoping for is that this major script that I'm working on now gets approval and we can start filming in 2022."
He attributes much of his success to the amazing communities in the west GTA that have embraced him since moving to Canada. "I've been here 10 years but being able to start a film festival, start a production company and work with the Town of Oakville makes me really proud to be a part of this community."