By Jenna Mohammed 
Every business has to start somewhere. For some it's the home office and others a commercial space. For Chervin Kitchen and Bath, the company started humbly in a garage attached to a farmhouse in Wellesley, Ontario.
That was in 1991 and, 30 years later, Chervin now has a team of 120 employees that operate out of a 70,000 square-foot plant in Hawksville, Ontario and showrooms in Waterloo, Muskoka, and Oakville.
Chervin Kitchen and Bath CEO, president and founder, Kevin Bauman and his wife Cheryl always had a vision of manufacturing kitchen cabinets. "Although, that's not how we initially started," explains Kevin. "We began making whatever our customers wanted as long as it was made of wood." This included anything from screen doors to furniture to cabinets.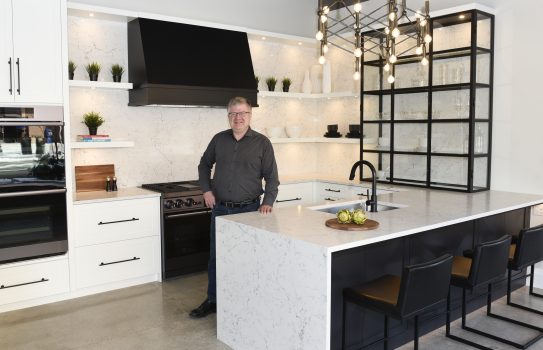 Today, the thriving business manufactures and fully installs custom millwork. From kitchens to bathroom vanities to laundry rooms, home offices, home bars and much more. Any cabinetry you need, the Chervin team can manufacture it from Waterloo Region.
The process is straightforward and hassle free for those interested in custom work. "A typical process will include a visit to our showroom, an in-home design consultation, high quality, photorealistic 3D renderings and floor plans to help you visualize your space," Kevin explains. The final steps include cabinet production, delivery and on-site installation.
The Oakville team at Chervin Kitchen and Bath has many years of industry experience. The team comprises of two designers, one preliminary designer who works on all 3D renderings, and a showroom consultant.
Chervin designer, Paula Lang, says there are many colour trends, wood finishes and surfaces that are quickly becoming popular for 2021. Clean-lined designs and contemporary finishes are highly sought-after. Quality quartz countertops in matte finishes are popular too.
As for colour, different shades of green can create a modern, sophisticated space, like olive and hunter green. For a more retro feel, clients can opt for bluish-green and mint. Light wood inspired by Scandinavian design is quickly becoming more popular for all interior trends, not just kitchens, Lang explains.
"Hardware is becoming more of a focus than before," says Lang. The 'jewelry of cabinetry' offers a great way to dress up cabinets.
Whether one is looking for an entire home cabinet makeover or a simple reno for the bathroom or kitchen, Chervin Kitchen and Bath can make anyone's vision come to life. The manufacturing team of 120 members work together to bring the 'Golden Means of Perfection' with a commitment to putting clients first and going above and beyond.
For more information about Chervin Kitchen and Bath, visit chervin.ca.