IRENE MATYS IS A FOOD STYLIST WHO GOT NOTICED
By Matthew Strader
It's a farm, to table, to television, to Manhattan success story. Yes, that sentence typically stops at two, but Irene Matys isn't stopping anywhere. The Oakville-based food stylist, chef and photographer is just getting started. And with the demand she has received without even trying, who knows where her career will take her.
Her family are landed immigrants and refugees from Cyprus. They were farmers in Cyprus, forced to flee to Canada during difficult political times in the 1970s for an opportunity for a better life. Arriving with little, they struggled, utilizing charitable missions and soup kitchens to survive. And with their hard work and support from family, they thrived. But with deep gratitude to Canada, and so, approximately seven years ago, the family decided to give back.
"My passion has always been farm-to-table cooking and a career in culinary. Growing up, I always spent time in the kitchen with my mom helping with meals from the garden we grew and cooking for the family. In 1979 when my father opened a pizza place, it was there where I realized my true passion of cooking for people. Even though my love was the kitchen, I respected my parents' wishes for me and went to school and pursued a career in business. I spent 18 years working in the financial industry, ending it in 2010 at Manulife Financial – directing the Advisor Services team – to raise my girls. Life was blessed for our family – we had our health, we were established financially, and I was able to have the opportunity to take time to raise my girls. It was then that dad said it's time to give back, that we owed it to Canada for all that it has done for us. With my passion and love for farm-to-table cooking the decision was easy. What better way to give back then supporting a local farm and its farmers. I joined on with Plan B Organic Farms in Hamilton volunteering my time to the farm work where needed, but my real passion was the farm kitchen.
This is where I celebrated the harvest by creating seasonal lunches for the farmers, employees and volunteers. I am happy to say, it has been seven years with my farm family. That ended up blossoming."
Matys always had a love of styling food. Now, she had a palette, and an excuse. Farm fresh harvests were on her counter daily and she began to create. When her food, and its look, received rave reviews she was thrilled. But those reviews soon turned adoration into curiosity, and people began to wonder where they could find her secrets. A person who is simply not capable it seems of doing anything halfway,
Matys began to do more with her food creations. She wanted to document her food, but instead of simply relying on a phone and a quick click, Matys trained herself in photography. She began documenting her creations, her work on the farm, and her general love of food and healthy living. What stood out however, was her eye for design. And that talent caught an eye. "I began sharing in season local recipes on Intstagram, and that's when it exploded. The Marilyn Denis show found me there, on social media. They reached out, and I started my career in food styling. It blossomed to Marilyn saying I would be great on TV, and I soon became an on-air Food Styling Expert on the show."
And while it would seem the Marilyn Denis show was taking a chance on an unproven expert, they instead however, can be credited with discovering a rising star. Matys' food styling talent is evident not just in the quality of her recipes, plating and photography of food. It is evident today in the demand for her services.
Irene is a recipe writer for the LCBO Food & Drink Magazine and works with a number of high profile brands for recipe development, food styling and photography. Recently her talents took a trip to the big time. Approached by a Mediterranean restaurant in Manhattan prior to its launch, again, she was the subject of a social media success story. They discovered her talent on Intstagram, where they loved her recipes, food styling and photography.
"They asked me if I would be interested in working with their chef and the restaurant team to develop a new menu, food style and photography. It was definitely a pinch me moment and an honour to have been part of such a contribution for a restaurant in Manhattan."
Next, she has even more exciting announcements on the horizon, but business deals prevent her from announcing. Her passion of local farm-to-table, food styling and photography remains, she said, but like everything she has done before, she continues to practice and excel.
Follow her journey on Instagram, @irene_matys, sit back, set a plate and wait to see what's in store next, her next creation, the next design she shares. Who knows what's cooking?
Food Styling Tips for Backyard Entertaining
Featured on the Marilyn Denis show for her food and food styling expertise, Irene Matys has given us some general tips for entertaining. With beautiful weather here and the short window of Canadian summers, it's time to take things al fresco. Whether a family dinner, a gathering with friends or a celebration, these are some of my food styling tips to help you put together a beautiful table. For me food is comfort, it's nourishing, it's happiness and most of all, it brings us together in a special and delicious way. The table is where we connect, share stories, and make memories. I am a true believer that we eat with our eyes and the aroma and taste are what stays with us.
Fresh local in season ingredients The most important tip for me, is plan a menu that includes as much local as possible. Using fresh in season ingredients not only adds vibrant and beautiful colours to your dishes and table but it also will give them the best flavours.
Fresh herbs for decorating your table
Substitute flower arrangements with fresh herb bouquets such as fresh mint, basil, dill, parsley, thyme, rosemary or oregano. They bring beauty to your table, give a delicious aroma and are edible. Add jugs of water with cut lemon or lime, encourage your guests to flavour their waters and even season the dishes they are enjoying, adding them to their salad, pasta or main dishes. Even adding mint or basil to desserts or fruits.
Plating your dishes
Use a variety of light platters, plates and wood boards to present your food. Different shapes and sizes make for beautiful presentations. Mixing and matching the colours and textures of your food adds to its appearance and flavor. Consider using complementary colours for both your ingredients and table décor. Serve salad ingredients on wood boards and let your guests create their own salad variations. Ensure the ingredients are balanced so everyone around the table has access to it.
Serve a few varieties of dressings in clear vessels. Ensure you label the dressings so your guests know what you are serving. Use creative ways to serve food, like topping appetizers on baguette or crostini for easy pick up and give them a variety to taste.
Foods with bland colours can be made to look more exciting and tastier with the addition of bright, interesting garnishes. Garnish is magic but ensure the flavours compliment. For smooth foods, consider garnishing with something that adds texture.
Garnishes should always be edible and add to the flavour of the dish. Edible flowers, citrus zest or wedges, infused oil, chopped herbs, cream or sauce and even whole spices are common garnishes. Do not overcrowd your serving plates with food so they don't look cluttered. It is more appealing to the eye and less is more.
Irene's Summer Harvest Horiatiki Salad Bruschetta Recipe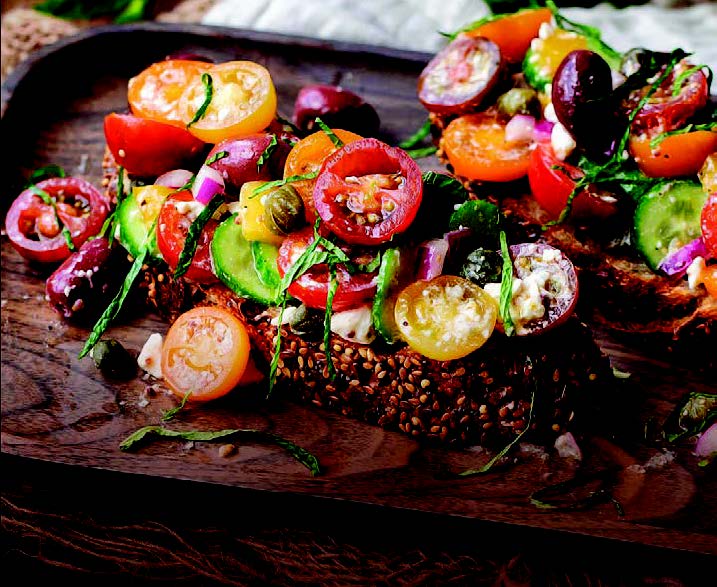 Summer is the perfect season to enjoy the beautiful harvest of our local farmers. I am sharing with you one of my favourite simple recipes that's absolutely delicious and perfect for al fresco gatherings. This bruschetta stems from my Greek Cypriot roots and growing up, Greek salads were always on our family table. Today, I share this with my own family. I am always looking for creative ways to get my girls to enjoy Mother Nature's jewels especially when in season.
Horiatiki in Greek translates to village salad, a rustic dish, made simple with a few quality ingredients. Fresh tomatoes, cucumbers, bell peppers, onions, feta and olives are all tossed with a caper lemon vinaigrette and garnished with fresh mint. Giving it a bruschetta twist with local sourdough seeded bread makes for a great summer appetizer and lets face it, us Greeks always need to have a side of bread with our meals. My family loves it served this way and I guarantee you, yours will too.
Ingredients:
1 ½ cup halved heirloom cherry tomatoes
¼ cup finely diced red onion
1 mini cucumber thinly sliced in rounds or ¼ cup English cucumber, finely diced
¹/³ cup finely diced yellow, red or green bell peppers
¹/³ cup small kalamata or black olives, pitted
¹/³ cup crumbled sheep feta
4-6 slices rustic sourdough bread cut ½ inch thick olive oil for brushing
¹/³ cup thinly sliced (chiffonade) fresh mint
Lemon Dressing
¼ cup extra virgin olive oil
2 tbsp fresh lemon juice
½ tsp grainy mustard
1 tbsp capers (optional)
Salt and freshly ground pepper to your taste
Instructions
Preheat grill to medium-high heat. Oil grill to avoid bread from sticking. Brush each side of bread with oil and grill one minute on each side or until grill marks form. For the dressing, whisk all ingredients together until creamy and then stir in capers, season with salt and pepper. In a large bowl, add tomatoes, onion, cucumbers, peppers and olives. Toss with dressing and gently stir in feta. Place bread on platter and divide salad on each slice evenly. Garnish with fresh mint.