By Allie Murray
When at a crossroads in life, inspiration can come from anywhere. For Courtney Downman, this moment arrived while studying art fundamentals at Sheridan College, where she felt unsure about what to do when she finished the one-year portfolio-building certificate. It was then that a classroom across the hallway sparked her interest.
"Just by chance, my favourite class, which was Three-Dimensional Design, was across the hallway from the glass studio and it always drew me in every time I'd go to that class," she said. From that mysterious room across the hallway, the Oakville resident found her passion.
She enrolled in the Craft and Design program at Sheridan College with a specialization in glass. While studying at Sheridan, she  received four awards and was also selected for a student summer residency scholarship at the Harbourfront. To be awarded with these while still in school was not only gratifying, but solidified that she had found her calling.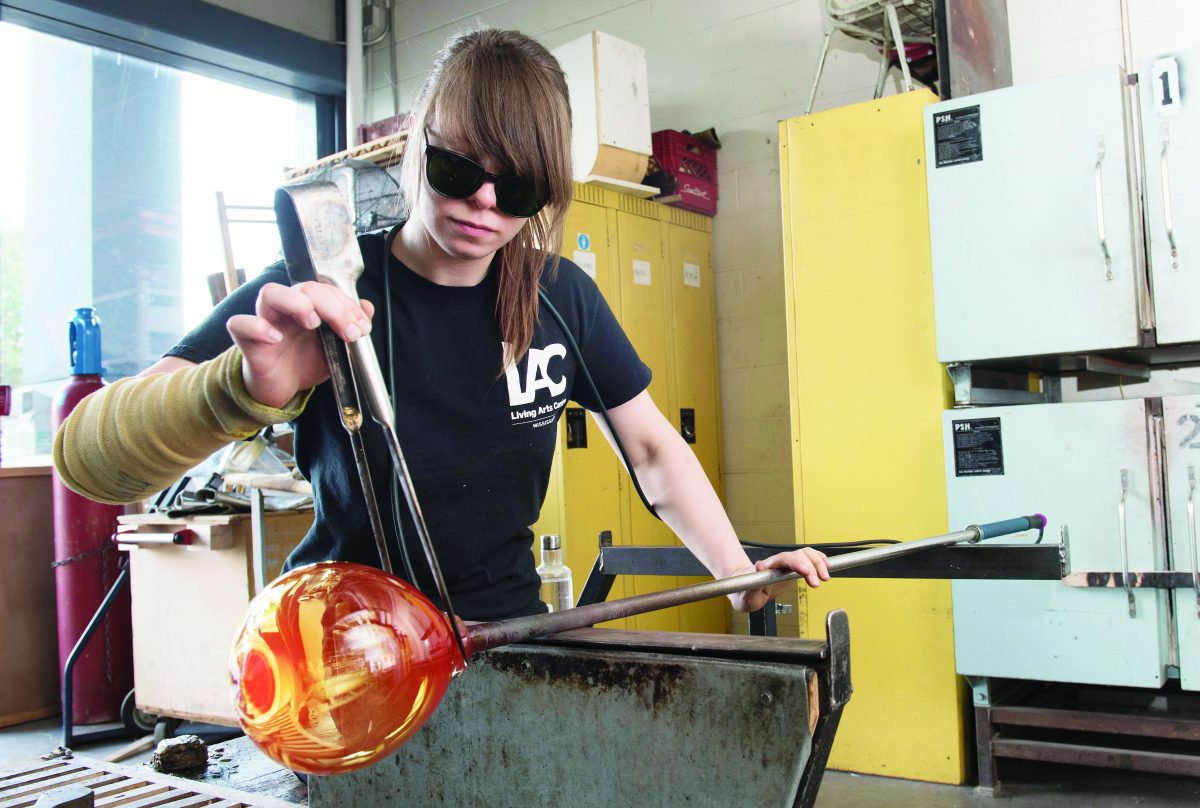 Using a big furnace to carefully craft her colourful glass pieces, Downman feels inspired by the process of creating.
"A lot of the work that I make at this point came out of trying to achieve one thing, and then making a mistake, which sort of inspired a completely new idea," she said.
She works to craft textured pieces, rounded like a bowl but with sharp detailing along the top, and around the carved glass. Ranging in all sorts of colours, Downman's processes of glass blowing is intricate and delicate.
The process of glass blowing utilizes a ceramic pot inside a big furnace to hold the melted glass. Using a blowing pipe to gather the material and wet newspaper to shape the glass, the furnace and ceramic pot are working to heat the glass while the artist moves it around and shapes it.
Since graduating from Sheridan, Downman has had a lot of success with her art and is currently working as a resident artist at the Living Arts Centre in Mississauga.
The most rewarding experience for Downman was the biggest project she has worked on since graduating from Sheridan — the Artist Project at the Exhibition Centre in Toronto.
"It was really great to feel like I belonged amongst such amazing other artists. It's also a show where the price to exhibit is a little bit higher, so you kind of know that everyone around you is at the same level, which is pretty cool," she said.
For upcoming shows, Downman is working to create new things. From new items to new price ranges, she has plans for future events.
"I've also been working on developing new series, as well, so that I have more of an accessible price point. I'm going to try to have a bunch of different ranges of the different work that I create."
As far as the future goes, Downman has a lot of goals and plans when it comes to her glasswork, with the main one being to continue following her passions of creating.
"Glass is very expensive, so as long as I can continue to produce and sell the work that I'm making in order to keep creating, that's really my only goal," she said.
Downman has enjoyed the work she's done, with her most popular style being her carved vessels, which she creates by carefully carving the already cooled down glass to create texture and add sharp edges to the piece.
For more information, visit courtneydownman.com.