By: Kelly Putter
This self-taught Oakville furniture artist has a dirty little secret about her creative process that might surprise you.
Ildiko Horvath doesn't worry about whether one shade complements another or how a Napoleonic blue French armoire will look sitting next to a side table painted in Scandinavian Pink. No matchy-poo for this Hungarian-born piano teacher-turned-furniture painter. In her book, colours are meant to intermingle and feed off of each other.
"There is no such thing as too much colour," says Horvath, whose work can be viewed on various social media platforms as well as her website www.restored4u.com. "I'm not afraid of colour. Nothing in my home really matches but it still works."
To describe her work as funky doesn't do it justice, though funky it clearly is. But it's also uplifting, imaginative, striking. Maybe even a bit cheeky in the way she applies colour to breathe new life into time-worn, in some cases, forgotten pieces, many of which have good lines to begin with. There is a wee trick to tying together disparate pieces, though.  Horvath recommends using one common element, whether that's a pillow or a flower or artwork, to connect seemingly unrelated items.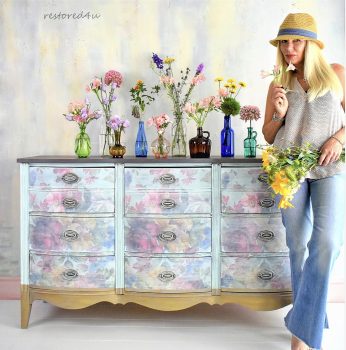 "I have come to see the pieces I do as works of art and they give me pure joy," she says. "I'm always looking for interesting pieces and something I can see my personal stamp on. I get inspiration from everywhere: nature, old paintings, ceramics, gardens, colours. I'm a very colourful person and I imagine furniture art in colour."
Horvath immigrated to Canada 22 years ago after meeting a Canadian realtor in Hungary. The pair married and they have a 22-year-old son. But as a new mom who felt her English-language skills needed improvement, Horvath needed work that didn't involve verbal communication. She found it in paint. One piece led to another. And the next thing you know Horvath was hand-picked as a painter-in-residence by Annie Sloan, an internationally recognized expert in decorative paint and colour who invented Chalk Paint and continues to run an international décor paint empire. A pop-up shop dedicated to Sloan's products opened last year in Toronto.
"It's a big deal when she picks you because your name becomes known worldwide," explains Horvath. "It's a big deal because she has an international following. That happened in September 2017 to January 2018 and during that time she showcased my pieces on her website."
Known as an ombre-paint expert, a technique in which colour moves from light to dark or vice versa, Horvath uses many creative methods such as an aged patina finish, colour blocking and decoupage to achieve her finished pieces. Chalk Paint is an easier paint to work with as its drying time is short and you don't need to sand or use a primer. Because Horvath is an intuitive artist, who enjoys her freedom, she prefers to work on pieces that inspire her rather than do custom work.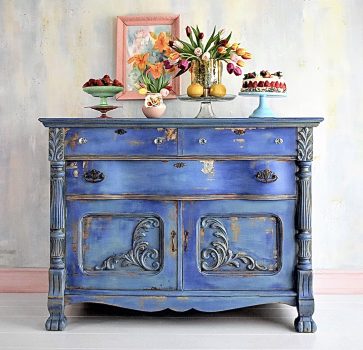 Her eye and sense of style have served her well. Also a self-taught interior decorator, Horvath won contests years ago in House and Home magazine and her decorating talents were featured on HGTV. To this day, she continues to employ a creative approach that might best be described as laissez-faire.
"When I finish a piece and it doesn't sell right away I put in my room and it always works because I don't try to match colours and I don't try to decorate so hard," she says. "Just have faith and confidence that it works. There are no rules. Follow your heart. That's what I do."