By Kelly Putter
In a lifelong career built on publicly sharing thoughts and feelings through music, Rik Emmett approaches his latest work, his most personal yet, with passion, humility and just a hint of healthy angst.
At 68, the former Triumph front man's latest pet project is an autobiographical collection of modern verse titled Reinvention Poems, a telling that attempts to make sense of his life's loose bits while going toe-to-toe with emotional heavy hitters such as a eulogy for his late brother and a poem that honours his grandfather who fudged his age at 17 so he could get a chance to hold a bayonet in WWI.
For Emmett, who's worn the mantle of singer, songwriter, guitarist, college music teacher and magazine columnist, writing is second nature. With five or six decades as a lyricist, he points out that poetry isn't all that different. Still, some reservations did creep in.
"I had been a rock star so I was aware there may people saying, oh please, what a dilettante!," Emmett says from his home in the Shoreacres neighbourhood of Burlington. "What I like about writing poetry is it gives me more creative license without going into boring details about contracts or arguments with booking agents. There's a creative aspect to my life that I have always had to reinvent myself and find what gives me a sense of self worth."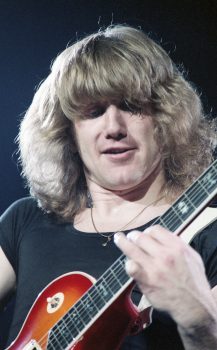 The collection of poems was released in September 2021, two years following Emmett's retirement from touring the 20 indie albums he produced over the years as a solo artist. That same year he also left his two-decade career as a music instructor at Humber College.
Perhaps best known as the guitarist, lead vocalist and songwriter of Triumph, a hard-rock homegrown trio that released 16 albums between 1975 and 1988, Emmett would leave the band, citing a number of differences, in search of a career as a solo artist. Rounding out the group was Mike Levine and Gil Moore. Hit songs include Lay It On The Line, Hold On and Magic Power. Triumph received numerous music awards in Canada and the U.S.  The band was inducted into the Canadian Music Industry Hall of Fame in 2007, into the Canadian Music Hall of Fame in 2008, and into Canada's Walk of Fame in 2019.
Emmett is accustomed to speaking his truth. He also plans to give his life story more leeway in a memoir. He's been raking through some 5,000 pages of single-spaced posts from fans that have written to him over the years on his website, www.rikemmett.com. "I was the kind of guy who if I got posts that moved me, I'd sit down and write back," says Emmett, who still writes to fans pretty much daily. "The longevity of Triumph, I think I've figured out. You make yourself available to these folks. The band always had an organic connection to the people in the seats."
A recently released documentary about the trio called Triumph: Rock and Roll Machine also served as a means for Emmett to take stock of his life. Therapy at different points has also helped. "I had a lot of deeply buried stuff because I had a life of good luck, lots of success, lots of money but all of those things bring different kinds of pressures and you pay a price," says the Toronto native who with his wife of 45 years has four kids and four grandchildren. "I missed a lot of first steps and first birthdays, parts of my kids' lives, especially my three daughters, where I wasn't around. I could write cheques for my kids' private schools. Great. But at a certain point as they got older, they'd say I didn't want your money, dad, I wanted you. That drove deep."
Therapy also helped as he experienced the hallmarks of an identity crisis as his aging body struggled to perform like the young rock star his fans knew and loved. Hitting those really high notes, for instance, grew more and more difficult. "My therapy led me to have humility about how life works so I wasn't believing my own press or believing the cartoon images other people take from this."
Emmett eventually managed to reconcile with his Triumph band mates thanks in part to a push by his brother Russell, who died from cancer in 2007. Near the end of his life, as he was taking stock, he asked Emmett to promise him that he would work on resolving his issues with his former band members. "Promise me you'll try and I went, 'Okay, I'll try,' recalls Emmett. "He was asking, can you find a better man inside yourself? It was not an exercise in ego but in humility. It worked out in the end. It made fans of the band happy. It was hard for me but I think I am a better person for it."
Published by ECW Press, Reinvention Poems is available where books are sold.