The founder of Chalk Paint shares tips and DIYs to brighten your days this spring
Can you provide some tips for keeping busy during this time at home?
Painting is absolutely the best form of DIY – a coat of colour not only transforms the look of your home, but it's also wonderfully soothing to pick up a paintbrush. Finding a creative outlet can make a huge difference to one's wellbeing during these worrying times. If you are able to get your hands on a tin of Chalk Paint®, then now's the time to start painting those walls or transforming a piece of furniture. Contact your local stockist for supplies.
What have you personally been up to?
My new hobby is Instagram Lives – oh my goodness, I love them. I've been doing an Art Quiz on @anniesloanhome every Friday at 7pm. Unfortunately, not a great time for those in Australia to join in Live – but you can watch back and join in the quiz for 24 hours after. It's been brilliant blowing off a bit of steam and staying in touch with the Chalk Paint community. Otherwise I've mostly been busy with my existing hobbies of reading, painting, and obsessing over Chalk Paint projects on social media.
What have you found surprisingly positive about this experience?
Due to my age, I am observing strict self-isolation precautions so it's important to be grateful for the positives during this time.  I've had a lot more leisure time to focus on projects around the house which I have perhaps otherwise been ignoring, but as something of a social butterfly and feeling responsible for the livelihoods of all my Stockists the general feeling of helplessness has been very difficult. The weather here in the UK has been glorious and I'm extremely grateful for that, it's been a blessing to have time to observe and enjoy my garden.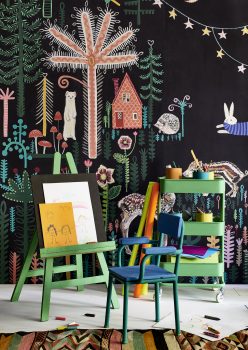 Do you have fun painting ideas for WEST readers?
For me, painting is how I de-stress. I will be turning to Chalk Paint therapy during my self-isolation, using Chalk Paint leftovers to paint insides of drawers, picture frames, side tables, everywhere. Even the smallest details can make a difference if you've only got a little leftover paint from a past project. Whether it's adding a stripe or two to your jugs and vases, or stencilling your trays and tables, the simplest splashes of colour and pattern can breathe fresh life into your home. If you're looking for something to keep the children occupied, try getting really creative with some fruit and vegetable printing – it's not just for potatoes! Try using some lemons, limes, peppers, okra, or whatever you have available in the kitchen, to add some fun prints to napkins or an old tablecloth. Perhaps your makeshift home office could use some love – add a splash of colour to promote energy and enthusiasm as we settle into this new routine.