By Danielle Leonard
When the outdoors is gloomy, it helps to be surrounded by things that make you feel good. And, with most of our time spent in-house through the winter months, this is the obvious place to invest in designing an atmosphere that sparks happiness and contentment. Celebrity designer Sarah Richardson, best known for her popular HGTV shows in home design, wants to make that task a little simpler with her new collection, launched in October 2020, in partnership with Canadian manufacturer Palliser.
"I can't underestimate the power of surrounding yourself in an environment that makes you feel good," says Richardson who has heard many clients admit, after redecorating, that they would never have imagined how good it is for the soul to wake up in a space they love.
If the new year has sparked inspiration to update your living space, Richardson offers some valuable expertise to get you started.
Flexible and functional
As a mom, Richardson instinctively knows the importance of combining function and practicality with beautiful aesthetic. Her new collections include furnishings that perform double duty, including cocktail tables with storage drawers and compact desks that fit anywhere in the home.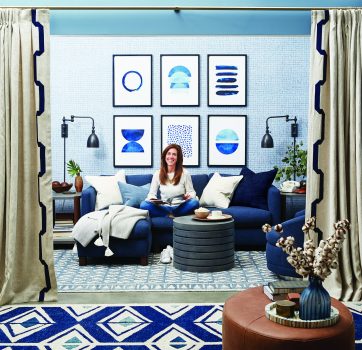 When Richardson and her team began to design the collections pre-pandemic times, there appeared to be little demand for multipurpose furnishings. She recalls clients claiming that they no need for desks in their home, yet Richardson persisted with her vision. When her collections launched in October 2020, the world had become a very different place, and the role of the home, as well.
"We were thinking about the flexibility of people demanding more from the home without knowing how relevant that would be," admits Richardson.
Before you buy
When considering a purchase, be sure to review the furniture from all angles. With so many open concept homes, Richardson recognized that her collection's pieces should look good from every angle.
"I want to be able to place any of our furniture in the middle of a room and see it from any direction," says Richardson. "This is important criteria that I've learned about from the homes we've designed. For over 20 years we've designed real homes. We don't design for show rooms." She also recommends taking your time; don't buy the first thing you see.
"Do your research. These are investments so you want to make sure you get it right."
Get happy
The goal of Richardson's new collections is, ultimately, to help people live in style and to love the homes they live in.
"I honestly believe if you are lucky enough to be able to create a home that suits your personal taste and style, it's something worth pursuing," says Richardson who emphasizes that her new collections were designed to provide high quality, great design and value at an affordable price point. She recognizes that the abundant selection now available to homeowners (online and in stores) can be overwhelming. The four Sarah Richardson collections – Shore, Annex, Vista and Boulevard – each represent a different lifestyle point of view. This is intended to help people connect to their style point of view.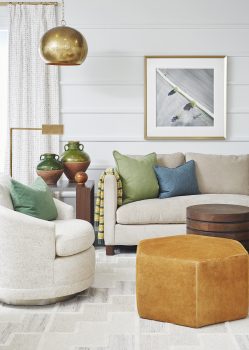 She cautions against relying on the latest trends and, instead, trust your own taste and style. And, she says, never buy something because a friend loved it or someone else told you to buy it. Richardson has worked with many clients who end up unhappy with furniture purchased on someone else's recommendation.
"I think everyone could trust themselves a little more and give themselves a lot more credit," Richardson says. She attributes this trait to much of her success over the years. "I don't second guess. I trust my instincts and my gut. It has served me over time."