By Sherri Telenko Photography by Denise Grant
The recipient of the Governor General's Lifetime Artistic Achievement Award opens up about her forthcoming album, Inuit roots, and the path toward reconciliation.
In the mid-nineties, Susan Aglukark introduced most of Canada to the Inuktitut language, and that's significant. On her twitter profile, Aglukark describes herself as a "life long student of my own culture."
In conversation, the iconic Inuit singer/songwriter is more earnest: "I feel strongly we have to go back to the stories that were kept from us," she says on a call from Canada's far north. "Let's go to the original healers, engineers, creators and artists – incredible people who made a life from themselves in the North before colonization."
For Aglukark, who grew up in Arviat, Nunavut, the creative process, healing, and cultural exploration are all carefully intermixed. The three-time Juno Award winner became a Canadian household name after the release of her 1995, The Child featuring the single O Siem. Drawing on her Inuit cultural roots, a love of her first language Inuktitut, Aglukark cultivated a 25-year career in music, public speaking and community service.
In 2005, she was named to the Order of Canada and in 2016, received a Governor General's Lifetime Artistic Achievement Award.
All from her home in Oakville. That's right, for the past 16 years, Aglukark has lived and worked in her husband's hometown while running a music business and studio north of Toronto. Several times a year, Aglukark returns to Nunavut where she grew up.
"I left the North, because I had to," she says, "When I moved to Southern Ontario – first Ottawa, then Oakville – I had two careers. I was working for the government as an Inuktitut translator, and I was studying for a pilot's license." One year, after moving to Ottawa, meeting people and singing, things changed direction.
Twenty-seven years later, Aglukark is independently releasing a tenth album called The Crossing, early in 2020.
The Crossing refers to the Bering Strait land bridge that originally brought Inuit people to North America. The album is Aglukark's response to the current political and social climate. "It is my perception, though I hesitate to use that word, of what reconciliation looks like and how it can be attained."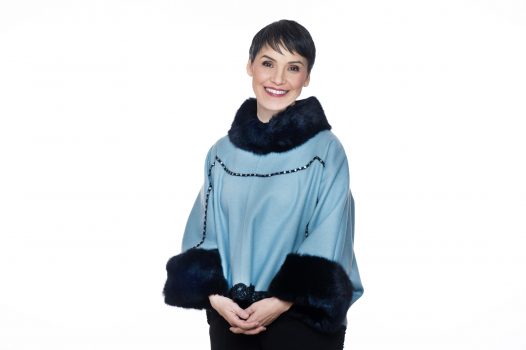 Reconciliation begins from the right place, she says. And for her, that's prior to first contact. Aglukark reached as far into history as research would take her to develop both The Crossing songs and the multimedia stage show accompanying her live performances. So far, 10 are scheduled for 2020.
Since 2012, Aglukark parlayed her personal experience healing through the creative process into a non-profit called the Arctic Rose Foundation. The foundation focuses on mental health needs of Inuit youth and children by developing programs that nurture creative, physical, spiritual and psychological growth.
"The foundation will first see if a need is met in a community," she says. "Then figure out how to meet that need." For instance, the issue can be as simple as meeting basic needs – healthy food, clean clothes and hygiene – to developing leadership programs with local high schools helping keep kids in school.
Recently, Arctic Rose Foundation was able to secure funding to hire an executive director, allowing Aglukark to focus on research. "It was very important we hired a person who understands the dynamics of the community they are working in," she says. There are no umbrella solutions – what works in one community might need to be revamped in another.
Aglukark will spend 2020 in two unique communities: Southern Ontario promoting The Crossing and Arviat, Nunavut expanding the reach of the Artic Rose Foundation. Watch for an Oakville performance soon.