By Stephanie Hounsell  
Photography by Graham Paine
People have many misconceptions about what it takes to live an eco-conscious life. That it's all or nothing. That it's expensive and inconvenient. And that it couldn't possibly be compatible with living a beautiful life that celebrates the finer things.
It takes one step into The Kind Matter Company to realize that style and being good to the environment can definitely go hand in hand. And it takes one conversation with store founder Laura Newton to learn that so many of the other so-called barriers to living a lower-waste life actually don't exist.
At each of the store's two locations, in Milton and Oakville, customers find beautiful, hand-made products. There are no gaudy plastic bottles here. Instead, there's simple beauty in the clear and amber-coloured glass bottles and touchable, natural textures. The stores certainly reflect Newton's motto: Sustainable living with style.
"I wanted to show people that you can do better by your health and the environment just by being more mindful about what you bring into your home," she says. "It's not about living without, it's just about being more intentional with your purchases."
The eco-friendly, no-waste and low-waste boutique offers products for every area of the home, from kitchen to bathroom. Reusable bags and pouches, stainless steel lunch containers, baby items and bamboo toothbrushes all allow for waste-free living. There are also gift items and luxuries such as bamboo and cotton towels and scarves, artisanal candles and handwoven bowls. Clothing includes rompers and kimonos.
All items are designed to last. Newton sources local and Canadian-made products that are made by hand and ethically produced. Most are made in small batches, many by women entrepreneurs — something close to Newton's heart.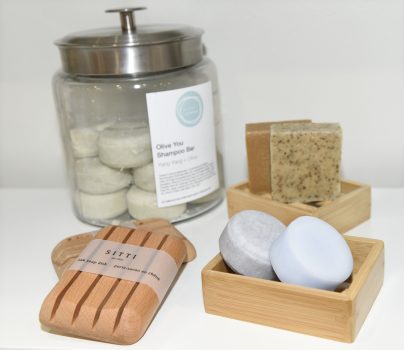 One of The Kind Matter Company's main features is the refillery, where customers can bring their own containers — anything from a mason jar to an empty shampoo bottle — to refill with a variety of body care products and cleaners. There's everything from hair products, lotions, toothpaste and serums to toilet bowl cleaners and dishwasher tablets.
None of the products are tested on animals, they're toxin-free and either fragrance-free or scented with essential oils. And customers get what Newton says is a superior product.
Newton started The Kind Matter Company online in 2018 and opened the downtown Milton store, 15 Martin St., in Carriage Square, last year. Its success led to the opening of the Oakville location, 282B Kerr St., in Kerr Village, in February.
"We've seen a lot of people completely transform the way they live their life, which is super satisfying. That's really what it's all about," she says.
Living a life that respects the environment is a journey, not a destination, Newton adds, and she's happy to help people wherever they are. She's transparent about her own family's lifestyle — and, no, it isn't zero-waste. "It isn't one size fits all, and everyone is going to have a different starting point and also a different capacity for how many new things they can take on at one time," Newton says.
To those who don't know where to start, Newton recommends assessing where most of their waste comes from. If they see a large number of bottles in the shower and are tired of constantly buying more, maybe the refillery is the place to start. If they notice all the plastic wrap in the fridge, they might want to start with some beeswax wraps or linen bowl covers.
Newton's own journey started after the birth of her eldest daughter, who's now 15. She had all sorts of allergies and skin problems, like eczema, and when Newton found herself filling an assortment of prescriptions, she wondered if there was a better way.
Like Newton, some customers initially come from a health perspective — perhaps a skin irritation — more than an environmental one. "(They) aren't necessarily saying, 'I need to save the world.' They're like, 'I just need to save my husband's hands.'"
At first glance, living more eco-consciously can seem more expensive. But Newton urges shoppers to consider a few things. First, when you buy a quality item, it's going to last longer. And when you buy intentionally, you buy less in general. Higher-quality beauty and cleaning products last longer because there's less water content, Newton says, and you'll probably take care to use only what you need. Finally, "What is it worth to know that what you're putting on your body and the bodies of your family members is actually safe?"
She adds that the smallest, least costly changes can make a difference when millions of people do the same. "That, as a collective, really does make a big impact."
And that, she says, is the heart of the matter.
For more information, visit www.thekindmattercompany.com.