NiteTime Decor helps families celebrate Christmas by lighting up their lives
By Peter Bailey
The holiday season can be a very stressful time for Canadian veterans and their families, and no one knows that better than Don McQueen, president and owner of NiteTime Decor and Nutri-Lawn Irrigation in Burlington.
McQueen – who has one younger brother in the regular forces and one in the reserves – is also president of Christmas Decor. He's keenly aware how families can miss a loved one who is serving his or her country overseas during the holidays. "I could see what both my brothers' families went through over Christmas," McQueen explains. He and his wife have two children and four grandchildren, and he was moved to help others who missed loved ones during the season.
Christmas Decor helps a household selected with the aid of the Military Family Resource Centre in Hamilton by decorating and lighting the outside of their home during the holiday, free of charge.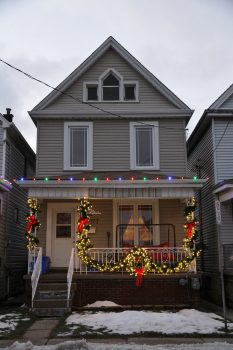 The family may have a member deployed overseas, or have someone who was killed in action, or someone experiencing post-traumatic stress, or someone who was injured while deployed.
Since 2009, Christmas Decor has helped 18 families by donating outdoor Christmas lighting from December to as late as February. "My employees do the work," McQueen says modestly. "I just line up the families."
His 12 employees, who include office staff, are happy to do it, he says. "It makes them feel good, and the usual response we get from veterans is, why would they want to do that for me?"
McQueen says it's his way of saying thank you for their service, and he and his staff find themselves getting as emotional as the veterans' families.
One of the families touched by his gesture is that of Sean and Polly Maher, of Stoney Creek, and their two grown sons. "Sean is a military veteran of Bosnia in the 1990s," says Polly, 51. "He's been dealing with PTSD ever since."
"In 2018, Don came by the house after we'd been chosen. He looked at our house and said 'Here's what I think I can do.'
"His people put lights all around the house and put up a wreath with a yellow ribbon. Families get to keep that wreath. He also lit some shrubs outside the house. The neighbours said it looked lovely."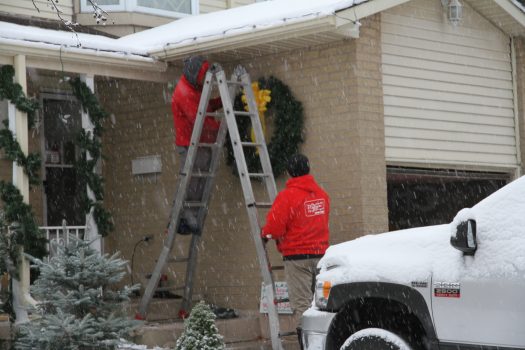 Polly has worked for the past 10 years as a family peer support co-ordinator helping veterans and their families to deal with stress. "I was able to take this crappy part of my life – Sean's PTSD – and make someone else's life easier. All of us have lived through the experience."
"We were very grateful to be chosen," she adds. "Don and his company are thinking of veterans' families. Many others are not. But it's the right thing to recognize the sacrifices military families make; the absences, the injuries, the moving around due to transfers, children having to switch schools and make new friends, spouses having to switch jobs."
"When vets come home, they are not the same. When Sean came back, I had a lot of grief. How could I support my spouse, my two kids and work at the same time? I depended on family and friends, at the time. Fortunately, there are now organizations to help us deal with the problems."
This year, Polly's sons will decorate the family home, putting up the yellow wreath that Christmas Decor gave them to help restore the sentimental feelings the family felt once more in 2018.
Her advice for the coming season is simply, "Be kind. Remember our veterans, be thankful for their service and help out a veteran's family if you can. They likely will not ask for it, but even shovelling their sidewalk would be appreciated.
"Show them you care."