By Dana Krueger
Awesome Aviators: dashingly iconic
One style of sunglasses that will always be on trend is the aviator, easily the most well-known and still sought-after style of eyewear since they were created in the 1930s. Bausch & Lomb originally designed the teardrop-shaped lenses to help combat pilots protect their eyes from the intense sun during flight. Demand for them by the general public came after photos surfaced of prominent General Douglas MacArthur wearing them during World War II. They would be rebranded as Ray-Ban Aviator and the rest is history.
It is a wise style investment if you're thinking of purchasing Aviators, as they'll never go out of style. Today, Aviators' classic teardrop shape come in a multitude of colours, mirrored lenses and wraparound styles. Plus, they're practical and functional – tempered glass covers the entire range of the human eye and prevents as much light as possible from any angle.
Aviators complement all face shapes, but they especially look fantastic on square- or heart-shaped faces, since they give the illusion of elongating the face and can round out a strong jaw line and soften facial features.
No matter which style of aviator you choose make sure that the bridge fit is perfect (the proper distance between the lenses and your nose). Too small a bridge and the sunglasses will sit too high; too wide and they will sit too low. Make sure you try them on before purchasing and get assistance from store staff for the perfect pair.
Wardrobe wise, Aviators can be paired with basically anything. Dressy, casual – whatever the style, put on a pair of aviators and you'll always look good and this applies for both men and women. Add aviators and you'll instantly embody a cool and sophisticated air.
Fun Fact: When the movie Top Gun featured Tom Cruise and cast members sporting Aviators, sales of Aviator sunglasses rose 40 per cent!
Stylishly Oversized: classically retro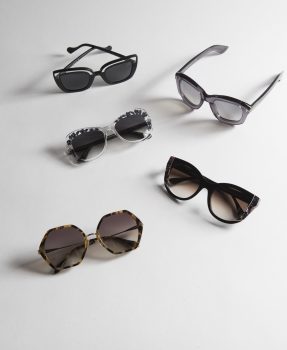 Oversized sunglasses have taken over the fashion world by storm and have become increasingly more popular due to their ability to add instant chic! It all started in the 1960s when Audrey Hepburn sported them in Breakfast at Tiffany's and Jackie Kennedy wore them to keep a low profile. These two fashion icons would forever change the eyewear industry.
If you ever feel the need to go incognito or are having a less than perfect hair day, then oversized sunglasses will be your new MVP. They'll give you an abundance of confidence and instant movie star allure. They're a perfect go-to to look effortlessly fashionable.
Oversized sunglasses come in a variety of different sizes and frame thickness, as well as multiple shapes including square, round, rectangle and trapezoid. Classic black or tortoise shell is always a good choice, but oversized means you can go bold – so don't be afraid to experiment and have fun!
If you're concerned about finding the right pair of oversized sunglasses to suit your face shape, this style will put all your worries to rest. The larger frame tends to give the illusion of a smaller face, plus oversized sunglasses are also a very useful tool to conceal or minimize the arch of your nose. Those with heart-shaped faces can really pull this style off, since it makes the broadest part of their face longer, while elongating the cheekbones. It's also a perfect style for a more square face because it softens angular features.
Bold and confident personalities usually gravitate to this style so it's no surprise that some of the most daring celebrities choose oversized as their sunglasses of choice.
When choosing this style, ensure the frames don't touch your entire cheek. That's a sure way to know they're too big. Even though they're oversized, you don't want the style to take over your face. The weight of a pair of sunglasses is also something to consider – if they're too heavy, they could cause headaches.
This style has such an advantage: they look good with almost any outfit, especially in summertime. Think classic-style bathing suit and a big floppy hat. Everyone on the beach will be wondering who you are – just keep them guessing. So go, live your glamorous life, and wear those oversized sunglasses knowing you look fabulous, darling!
Vintage chic: quirky and hip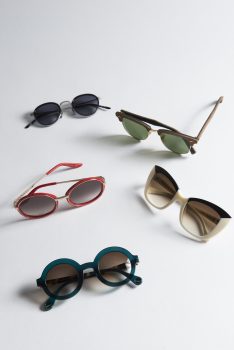 Vintage sunglasses that were all the rage in the 1950s to the 1980s are now one of the biggest trends for 2018. You'll be seeing them everywhere! The cat eye, in particular, is in the spotlight at the moment with every It girl and fashionista sporting them. The round version of this trend is also getting its fair share of attention. Round shades are more versatile than other vintage and can be paired with casual, as well as formal looks. Plus, they're stunning on both men and women.
If you're the creative type, or like to be wearing the latest trend at all times, then vintage sunglasses are the style must-have this year. Why not try your hand at mixing and matching silhouettes with different patterns and colours? Vintage sunglasses have come a long way and are offered in practically every colour of the rainbow, as well as a variety of metal details. Some are entirely made from aluminum or a new plastic material called Optyl.
Don't forget the heels. Vintage style sunglasses look incredible with your favourite heels and a pencil skirt – the brighter the better. For a more casual look, pair this style with a cute A-line floral dress. Mixed patterns and colours are completely acceptable with this style.
When looking to fit your vintage sunglasses properly always remember they should be fitting close but never too tight. Fitted properly, they'll stay on snugly and won't slip or fall off if you bend forward or look down. Also, keep in mind that the eyeball should be directly in the centre of the lens, both from right to left. To all those ladies who have long beautiful lashes, remember at no point should they touch the frame or lens when you blink.
Men can have just as much fashion game with vintage eyewear. They can rock this fun, trendy look with equally fashionable jeans, boots, a T-shirt and leather jacket. Vintage eyewear calls for bold and confident personalities.
Any pair you choose will bring that modern twist to the once older style. Before you know it, you'll have a vintage collection of your own.