3 local distilleries share their artisanal secrets
By Laurie Wallace-Lynch
Craft beer and ciders have become wildly popular and readily available, and now a number of locally made artisanal spirit brands are making their mark on the industry. Made with love, handcrafted by sourcing some local ingredients, two local distilleries have even won international awards for their spirits.
Maverick Distillery, Oakville: Canadian corn is the secret ingredient
Did you know that Canada's top selling craft vodka and winner of a Gold Medal in the San Francisco World Spirits Competition is handcrafted right here in Oakville?
TAG No. 5 Vodka is hand crafted by Maverick Distillery under the careful guidance of Chief Vodka Officer/Owner Craig Peters, who proudly proclaims, "we are relentless in our goal to make the smoothest vodka at a reasonable price. Blind taste tests continually rank TAG as one of the smoothest, best tasting vodkas around."
The secret starts with using sweet Canadian corn. "Our vodka has a pure, subtle flavour with hints of sweetness," states Craig. "Corn makes a great silky texture vodka—once you try corn you don't go back!"
The corn is milled and then boiled to convert the starch into sugars for fermentation. "Continuous distillation produces an incredibly pure spirit," explains Craig. "Following distillation, we trickle-filter our vodka for five days through birch charcoal which further removes impurities. This results in what we believe is one of the world's smoothest vodkas."
Craig and his wife Sally opened Maverick Distillery in Oakville in 2009. "We were the first craft distillery to be issued a license in Ontario and our name reflects our independent spirit as pioneers in our industry," says Craig.
'Mavericks' Craig and Sally also produce double-aged Barnburner Whisky and Ginslinger Gin.
"Our whisky is a true Canadian classic, blended of corn and rye grain and aged three years in bourbon barrels," explains Craig. "The second aging is in freshly dumped bourbon barrels from Kentucky. This creates a rich, bold depth of flavour like no other whisky."
Ginslinger Gin is a London dry-style gin that Craig describes as "bold and fresh and juniper forward.  The cold pressing of wild juniper and fine botanicals, many of which are hand-foraged from the Niagara Escarpment, gives Ginslinger a fresh taste that makes a perfect gin and tonic."
TAG No. 5 Vodka is available in four sizes at the LCBO while all products are available at the Maverick Distillery/Retail Shop at 2140 Winston Park Drive, Oakville. Maverickdistillery.com
The White Distillery, Mississauga: Mediterranean-inspired, handcrafted spirits
When Kevin Dahl could not find his favourite Dayaa Arak aperitif anywhere in stores in Canada, he decided to make his own. This was the inspiration behind opening The White Distillery which specializes in Mediterranean-inspired spirits, handcrafted in Mississauga.
"We craft small batch alcohol spirits that are inspired by handwritten recipes passed down from our ancestors," says Kevin Dahl, Owner of The White Distillery. "We started in 2016 with one product—our Dayaa Arak. It is made from mainly grape spirits and is meant to be sipped, like wine. Dayaa Arak is North America's first and only hand-distilled Arak. It is triple-distilled in a large copper pot still using the best Niagara grapes in combination with the finest Syrian aniseed."
Kevin later expanded his product line to produce Phoenix Ultra Smooth Vodka, Berrycello Strawberry Liqueur, Pastis du Hameau, and JAFFA Gin.
The true rock star of The White Distillery lineup is their Phoenix Vodka which won a Gold Medal in the 2019 Los Angeles International Spirits Competition.
"Winning this international award was a huge achievement and a day I will always remember," he says. "Our vodka was judged in a blind taste taste by a group of distinguished judges next to other vodkas from around the world. It was a remarkable moment, especially since no one had ever heard of our little distillery in Mississauga!"
Pastis du Hameau is a French style aperitif produced by the distillation and maceration of grape spirit, star anise, wormwood, lavender, with 20 other botanicals and spices plus Canadian maple syrup. Maple syrup is also a key ingredient in the Berrycello, a handcrafted strawberry grape spirit liqueur. "It's a Canadian take on Limoncello."
JAFFA Gin is made from Canadian corn, Niagara grapes, seven botanicals and dried Jaffa orange peels.
The White Distillery spirits are available at select Ontario LCBO stores. www.thewhitedistillery.com
Reid's Distillery, Toronto: Crafting premium gin is a family affair
Reid's Distillery is Toronto's first distillery dedicated solely to the production of gin; owned and operated by Martin Reid and his children Calvin, Graham and Jacqueline Reid.
Martin Reid's parents hail from Scotland and during the Reid family trips abroad, they noticed a huge influx of creative craft spirit distilleries throughout the U.K.
"In the U.K., there was a lot of exploration in the craft gin industry, including new processes and young start ups experimenting with unique flavour profiles," says Calvin Reid. "Juniper berries are the main botanical that qualify it as gin, but after that, the world is your oyster. We wanted to bring that artisanal craft gin excitement here."
Reid Distillery opened two years ago and recently introduced Citrus Gin (with hints of lemon, lime and grapefruit) and Spice Gin (cardamon, cloves and cinnamon).  Their premium gins are made from Canadian wheat, wild-foraged Canadian juniper and many other botanicals. Explains Calvin Reid, "what makes our gin unique is that we use Sweet Fern foraged in Northern Quebec and have an awesome network of foragers."
Reid's signature Gin is available at The Gin Shop at LCBO stores while all their products are available at Reidsdistillery.com
Credit:
Our thanks to the distillery for providing recipes and to Ulysses Press and author Casie Vogel for permission to excerpt cocktail recipes from the Hard Seltzer Cocktail Book by Casie Vogel. Book cover courtesy of Ulysses Press. Book photos courtesy of Ulysses Press/Michael Calcagno.
RECIPES
LA Rose de Damas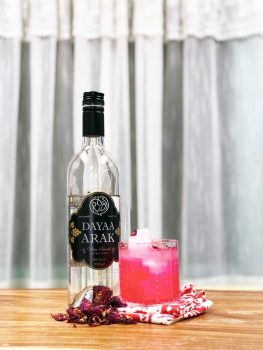 (one serving)
Add one ounce of Dayaa Arak, ½ ounce of lemonade and ½ ounce of rose syrup to a glass with ice. Mix well and top up with cream soda.
[Recipe from White distillery above]
Watermelon Sugar Slushy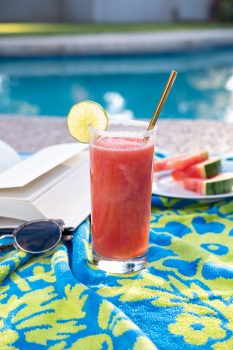 Makes 4 to 6 drinks
4 cups seedless watermelon, chopped
1 cup vodka
2 ounces lime juice
1–2 ounces simple syrup, to taste
1 (12-ounce) can watermelon or lime hard seltzer
1 lime wedge, to rim glasses (optional)
sugar, to rim glasses (optional)
lime wheels, for garnish
Place watermelon in the freezer for a minimum of one hour, but ideally overnight. The next day, blend the watermelon, vodka, lime juice, and simple syrup together in a blender until the watermelon is completely liquefied.
Add the seltzer and pulse a few times. If desired, rub a lime wedge around the rims of two large glasses. Dip in sugar. Pour into prepared glasses and garnish with lime wedge.
Summer in the City Manhattan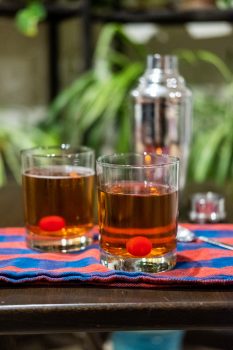 Makes 2 drinks
1/4 cup bourbon
1 ounce sweet vermouth
2 dashes bitters (like Angostura)
1 (12-ounce) can orange hard seltzer
maraschino cherries
Fill a cocktail shaker with ice. Add the bourbon, vermouth, bitters, and hard seltzer. Mix.
Strain into two glasses. Garnish each with a maraschino cherry.