Not everyone has time for a week-long getaway and, frankly, if your travel plans include catering to teen kids, shorter sometimes is better. As a skiing family with three teen boys, local ski resorts have been our go-to for years; quick getaways that promise quality family time, intense activity and, most notably for my kids, a break from their phones. This winter, we decided to up our game, and our distance, and head to Mont-Tremblant, Quebec for a three-day trip in search of a more elevated skiing experience.
While some may balk at the idea of driving seven hours for a mere three days in Quebec, my boys and I can attest that it's well worth it. If a few days is all you have, don't let the distance dissuade you from experiencing Tremblant. Boasting four slopes and 14 lifts, the mountain has 102 trails to accommodate all skiing levels and preferences. While I enjoy Ontario skiing, it simply can't compete with the sheer size and selection of runs in Tremblant. At an elevation of 875 metres, its peak is approximately four times higher than that of Blue Mountain in Collingwood. That, alone, promises more time on the snow and less on the chair lift. The day we hit the slopes, the sun is beaming and a fresh layer of powdered snow coats the trails. We start early, enjoying stretches where we are the sole skiers in sight. Although I prefer to meander down the lengthy mountainside with ease, I'm forced to rev up to keep pace with my boys who race to the bottom no matter the difficulty. The result is a killer workout. With my thighs burning and breath quickening only halfway down the run, I'm thankful for the gentle slopes that buffer the steep descents on even the difficult black diamond runs. One of the keys to spending more time on the hills, and less time warming up in the lodge, is dressing properly.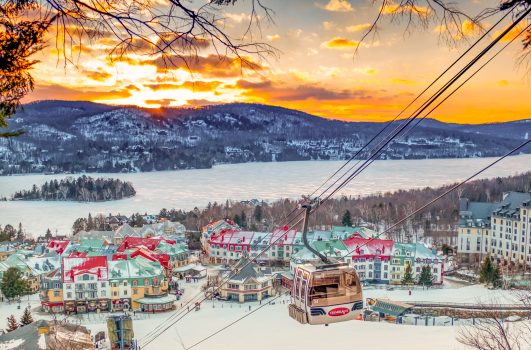 Mont-Tremblant is cold, and however chilly it feels at the base, expect a deeper freeze at the peak. One word: balaclava. Our layers of warmth paid off. Despite the frigid temperatures, we didn't break from skiing except for lunch. Admittedly, spring skiing is synonymous with warmer temperatures. However even in March, better prepare for the cold just in case. Our hotel, Le Westin Resort & Spa, is conveniently located inside the Tremblant pedestrian village and is a two-minute walk to the gondola. In fact, just about anything you need is within a few minutes' walking distance here. The Intrawest village exudes small town charm with cobblestone paths and brightly hued buildings with boutiques, restaurants and cafés. With no vehicles in sight, it's perfect for families with young kids to wander safely. While the entire village can be explored by foot in about 15 minutes, it's more fun to take your time, perusing the shops and stopping by a fire pit to warm your hands. Be sure to ride the cabriolet – a gondola that carries village guests from the top of the village to its base, and back, with panoramic views of the mountain.
After our full day of skiing, it's time for the ultimate aprés ski experience – the hot tub soak. Le Westin does it right; the hot tub is outdoors, surrounded by stone with a view toward the sunset, if timed right. The sun is setting as I descend into the steaming water with my son. There is also an outdoor pool about 20 feet away which seems a painfully long distance in this sub-zero clime. I offer my son a monetary bribe to take the plunge; he agrees and bravely dives in. Returning 10 minutes later, he admits the water is warm but not as hot as the tub. I'm glad I stayed put and promise to pony up the cash back in the room. For dinner, there are plenty of options within a five-minute brisk (read: chilly) walk from the hotel entrance. We could certainly eat in our suite, equipped with a kitchen and spacious living area, but we prefer to dine out. Our first night we eat at The Shack – a casual eatery with realistic-looking trees growing out of the floor and through the ceiling. It has a fun vibe and varied menu to appease the most finicky eaters. Our second evening, we seek out some Quebecois culture at Le Maison de la Crêpe. This intimate rustic restaurant serves traditional style crêpes, savoury and sweet, with francophone music playing in the background. J'adore. To add sizzle to your night, head to Casino Mont Tremblant located a short driving distance from the village. Its three floors house a distinctive assortment of games, two private lounges and a bar. An upscale dining experience with a magnificent view of the mountain awaits at Altitude Seafood and Grill. Shuttles between the village and the casino are available for patrons 18 years and older.
For my third, and final day, I ditched the slopes for Scandinave Spa Mont Tremblant. A short drive from the village, the spa is a Nordic paradise surrounded by Laurentian forest and overlooking the Diable River. Like the day before, I would be spending a good deal of my time outdoors, albeit clad in a bikini rather than layers of Thinsulate. That's because the spa's signature experience is the baths. Based on the Finnish practice of hydrotherapy, it incorporates a cycle of hot-cold-relax to relieve tension, improve blood circulation, detox the body and release endorphins. It's meant to be experienced outdoors, no matter what the temperature. The spa is beautiful, comprised of luxurious rustic wood buildings that house massage rooms, saunas and meditation spaces, surrounded by stone patios and structures where hot tubs, cold dips and fire pits are strategically placed to enable easy transition from one to the other. I step outside to the minus 12 Celsius air, hugging the terry cloth robe around my bathing suit and walk to one of the hot tubs, wondering how any experience that incorporates chattering teeth can be considered pampering.
Although there are a number of guests in the hot tub, the spa's rule of silence makes it easy to feel secluded and relaxed amid the icicle-laden trees, snow-covered ground and rushing water below. I'm quickly seduced by this unique experience, already feeling tensions melt away in the steaming water. Eager to release more endorphins, I exit the hot tub, walk to the closest cold water pool, and plunge into it. As I expected: it's heart stopping cold. My silence is inadvertantly broken with a stream of 'oh my goshes' expelled in raspy whispers until I step out. I scurry to a sauna to bask in the heat before finishing off in a Zen-like meditation room. As I continue the hot-cold-relax cycle, I notice my body grow immune to the cold despite my wet bathing suit. It's a weird, yet empowered, feeling. Is this the endorphins kicking in? When it's time to leave, I'm relaxed and rejuvenated. Ready for the long drive home and planning to return to Tremblant next winter for the perfect family getaway. www.mont-tremblant.ca