Expert advice from Oakville Galleries' Dinner in Gairloch Gardens Chef Charlotte Langley
By Danielle Leonard
A garden party is defined by Merriam Webster as "a party that takes place in a garden or a large yard with gardens". Succinct definition, yes, but accurate? Not so much. For anyone who has attended the annual Dinner in Gairloch Gardens for Oakville Galleries, the experience encompasses far more than a verdant setting. Just ask chef and culinary curator, Charlotte Langley – this year's chef for the highly anticipated event held in September. Not only has she cooked for some of Canada's most recognized restaurants, she founded Canada's most modern seafood cannery, Scout Canning, and has been an integral part of numerous world-class culinary events.
While few (if any) backyard patios can match the stunning setting of Oakville's famed Gairloch Gardens, hosting your own garden party is well within reach for anyone with a yen for freshly prepared summer dishes, lush greenery and creative flair. As Langley gears up for Oakville's al fresco dining experience of the season, she caught up with West to share her top tips on how to host your own backyard dinner party with ease.
How important is décor?
Décor and themes are not only important as visuals, but also as conversation starters. I like to pick a two- to three-colour theme to use throughout. I love rose pink and scallop shell colours for the spring and summer. Fresh vibrant green surroundings make the colours pop. Lighting is key, too. Consider the time of day you are expecting your guests to ensure proper lighting and coverage from the elements.
Do you recommend creating a theme for the party?
I love themes! With the rose pink and scallop shell colours, for example, I would add blush napkins, large white glowing shells throughout the garden and incorporate ocean waves in the background. Bouquets in a similar shade that have touches of sea lavender and wild sea greens would be a beautiful finishing touch.
Plastic or porcelain dishes? Porcelain, 100 per cent.
Cloth or paper napkins? Cloth.
Is it necessary to advise guests of the menu before the event?
No, I don't believe so, as long as you have prepared something for guests with alternate diet needs. However, sharing the menu in advance may help build excitement among the guests, as well.
What do you suggest for a drink menu?
Keep it light and refreshing. I recommend serving a variety of non-alcoholic spritzers such as cucumber and mint, allspice and vanilla or blood orange and basil. I love to enjoy sparkling wine and rosé. And, to wrap up the evening, serve a nice liqueur like Poire Williams.
How can a host organize preparation and service of food so that it's served hot and on time?
Mise en place is a French culinary phrase that means "putting in place" or "everything in its place." The more you are prepared, the better your timing will be. Organization and cleanliness as you work are key. As the host, you're providing hospitality to your guests; while gentle reminders to encourage guests to sit at the table are often needed, it's also okay to let things run late. This is the time to enjoy and engage with your friends, so why not make it last?
Being the host with the most can often mean the host with the least time to enjoy the party. Any advice on this?
I highly recommend hiring someone to help you. Even if it's to simply manage the bar or clear plates and tidy up. The stress of keeping clean can be very distracting. The party is for your guests, yes, but don't forget that it's for the host, too. You're allowed to relax and have fun!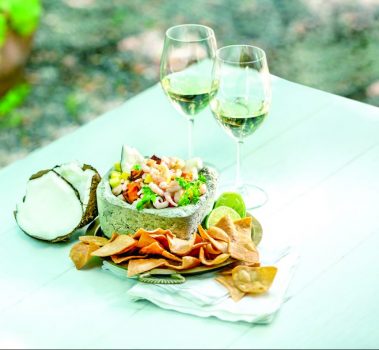 Wild Nordic Shrimp Ceviche with Coconut, Sweet Potato and Pineapple
Ingredients
1 bag (340g – 400g) MSC certified frozen cooked & peeled cold water shrimp, thawed
1 medium sweet potato, small diced
¼ cup lime juice and zest of 1 lime
¼ cup coconut milk
¼ cup fresh pineapple, small diced
1 tbsp fresh cilantro, chopped
1 tbsp fresh mint, chopped
2 tsp olive oil
Salt to taste
Method
Thaw the shrimp overnight in the fridge, drain well on a paper towel. Preheat oven to 400°F. Toss the sweet potato with olive oil and season lightly with salt. Roast on a parchment lined baking sheet for 25-30 minutes, turning once halfway through. Let cool on paper towel. In a bowl, mix shrimp, coconut milk, lime juice and zest, pineapple and sweet potato. Marinate for 30 minutes. Mix in the herbs and serve with tortilla chips.
Recipe by Charlotte Langley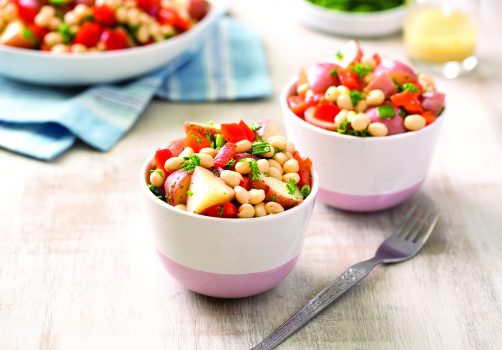 Bean and Red Potato Salad | makes 8 servings
Ingredients
1 ½ lb small red potatoes
3 cups cooked white pea beans
4 green onions sliced
1 small sweet red pepper, diced
3 tbsp white wine vinegar
1 tsp Dijon mustard
¼ cup canola oil
salt and pepper
2 tbsp chopped parsley
Method
Cook the potatoes in a pot of salted water until tender. Drain and let cool. When potatoes are cool, cut in quarters and place in a large bowl. Add the cooked white pea beans, green onions and red pepper. In a small bowl, whisk together the vinegar and Dijon mustard. Slowly whisk in the canola oil. Season with salt and pepper to taste. Toss the salad with the dressing. Garnish with chopped parsley and serve.
Recipe by Ontariobeans.ca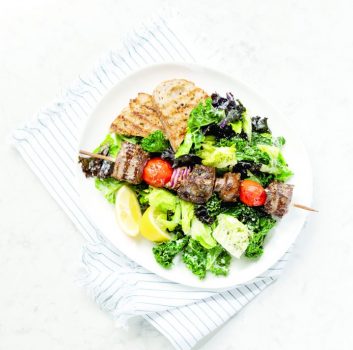 Steakhouse skewers with kale Caesar salad | makes 4 servings
Salad Ingredients
1 pkg (150 g) soft (silken) tofu
1/4 cup olive oil
2 tbsp grated parmesan
2 tbsp lemon juice
1 tbsp red wine vinegar
1 tsp Dijon mustard
1 tsp Worcestershire sauce
2 cloves garlic, chopped
1/4 tsp each salt and freshly ground black pepper
6 cups shredded kale
4 cups torn romaine lettuce
Skewers
3/4 lb (375 g) grilling steak cut into 1-inch cubes
12 button mushrooms
12 cherry tomatoes
1 red onion, cut in chunks
2 tbsp oil
2 tbsp grainy Dijon mustard
1 tbsp Montreal steak spice
Place tofu, olive oil, parmesan, lemon juice, vinegar, mustard, Worcestershire sauce, garlic, salt and pepper in a blender.
Blend until smooth and well combined. Toss 3/4 cup dressing with kale. Cover and chill for 30 minutes.
Preheat grill to medium-high heat; grease grate well. Whisk oil with mustard and steak spice. Alternate threading steak, mushrooms, tomatoes and onion onto soaked wooden or metal skewers. Brush all over with spice mixture. Grill, turning at least twice, for 8 to 10 minutes for medium-rare doneness.
Add romaine lettuce and remaining dressing to kale salad. Toss to combine well. Divide salad evenly among 4 plates. Garnish with additional parmesan cheese and black pepper. Top with skewers.
Recipe and image courtesy of Canada Beef. Reprinted with permission.