By Peter Bailey  |  photography by Nikki Wesley
Tucked into a lovely treed section along Mississauga's Collegeway, just north of Dundas Street off Mississauga Road, lies the Glenerin Inn and Spa. For years, this  cozy inn has been well known to local residents, but its fame has spread and it has now become the go-to spot for couples who want to hold their weddings, families who wish to celebrate Christmas, Easter or Mother's Day, and corporate planners who want to hold meetings where fine dining is on hand.
Of course, the inn has long been a place where couples or families could go for lunch or dinner in a quiet, dignified setting. The inn is also becoming famous for its Afternoon Tea, held Monday to Thursday from 2 to 4:30 p.m. Guests can choose to enjoy it in the Sunroom or on the patio, weather permitting.
But casual diners can also enjoy the barbecue treats offered from Monday to Thursday evenings on the patio. On Thursday the entertainment features live music.
The inn's restaurant serves what chef Roomie Karai describes as "Canadian food," traditional dishes that feature steak or chicken and offer what he calls "a heightened dining experience." Karai, 50, hails from India and trained in international cuisine. His background includes the Taj Group of Hotels, based in New Delhi, as well as eight years aboard Royal Caribbean Cruise liners, before coming to Canada in 1997 and working for the Delta Chelsea and Airport Marriott hotels.
The lounge offers burgers, chicken fingers and other dishes for those who feel like having "comfort food" in a more casual setting near the bar. It's an ideal spot to watch the game and mingle with friends or colleagues.
I sampled two new dishes featured for the summer season, a Cuban sandwich composed of pork shoulder, ham, Swiss cheese, dill pickle, with butter and mustard on a baguette. I also tried the barbecue rack of lamb with fresh vegetables, accompanied by a glass of Woodbridge merlot.
Both meals were just the right size, and I shared them with my congenial host. The sandwich offered a range of delicious flavours and the lamb was perfectly prepared and well paired with the wine. The atmosphere was sophisticated, yet unpretentious. The staff know how to do a good job and they don't make an unnecessary display of it.
Roomie says the meat he serves is supplied locally, and the vegetables come from area farmers. The restaurant also offers a variety of wines, including Canadian vintages. It also offers Old Credit Brewing and Holiday Honey craft beers. Reservations for dinners are recommended for Friday and weekend dining, including Saturday brunches.
The inn is now a heritage building, built of stone, with warm wooden interiors and fireplaces in the great rooms. Families and couples can relax here, and couples especially can take advantage of Couples Spa Escapes, featuring yoga, lavender full body scrubs, facials and reflexology on the feet, along with lunch for two with two glasses of champagne and chocolate-covered strawberries.
The Inn strives to offer exceptional service, says general manager Lisa Tracz. "We try to exceed customer experience because we're smaller." Small size adds to the charm of an inn, and dealing with staff feels somehow more personal.
It's a rare treat to experience expert service and fine dining in a setting with so much history. The building was constructed in 1927 by Toronto lawyer Watson Evans as a 30-room summer residence. Evans and his wife held gala balls and parties for the cream of Toronto society, up till his death in 1932.
During World War II, the building became a refuge for girls from a school in Whitby, England. In the early 1940s, the British Army requisitioned the school run by the Sisters of the Order of the Holy Paraclette, and the junior students – ages 7 to 14 – were evacuated by ship to Canada. After a rough voyage to Halifax, they arrived by train in Toronto with no money and nowhere to stay.
Mrs. Evans, now a widow and in poor health, offered Glenerin to the Sisters for "as long as the war may last." Thus, it became the new home for eight staff members and 90 children for the war's duration.
In 1945, the Robert Simpson Company purchased the site as a rest home for employees who were suffering from serious illnesses. All workers' expenses and full salaries were paid during their recuperation. The 40 patients had access to tennis, lawn bowling, badminton, swimming and croquet. The music room was turned into a library, and Glenerin became the country's first staff rest home.
Eventually, Someplace(s) Different Ltd. purchased the site in 1984 and opened the inn in 1986.
The Glenerin Inn nurtures a tradition of comfort, rejuvenation, entertainment and good food that has lasted for more than 90 years, and the owners plan to continue that service for a long time to come.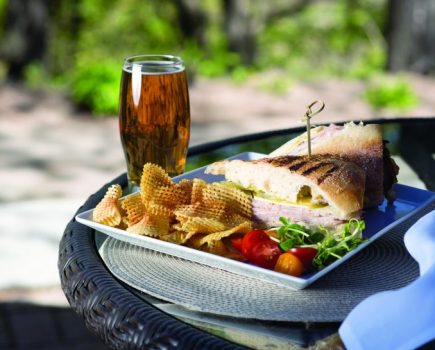 Cuban Sandwich
Ingredients
8-inch French baguette
¼ cup unsalted butter, softened
3 tablespoons Dijon mustard
¼  pound of black forest ham
¼ pound of roasted pork shoulder
¼ pound of Swiss cheese, sliced
½ cup dill pickle slices
Instructions
Spread 2 tablespoons of butter on one half of the bread and a thin layer of mustard on top of the other. Place 1 to 2 layers of ham, pork, cheese, and finally the pickles on the buttered bread and top with the mustard- spread bread. Press and grill the sandwich. Slice and serve with a side of fries.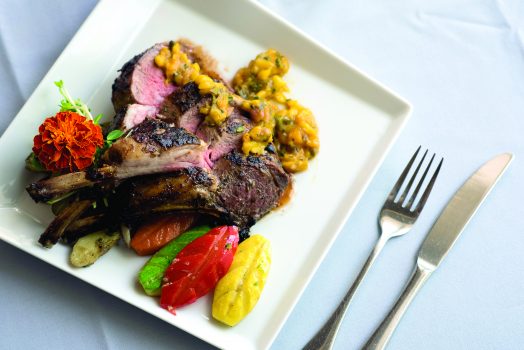 BBQ Rack of lamb with mango mint | serves two
Ingredients
1 Rack of lamb with 8 chops
2 tbsp Worcestershire sauce
2 tbsp ketchup
2 tbsp apple cider
2 cloves of garlic, minced
1 tbsp fresh parsley
1 tbsp fresh oregano
Salt and pepper to taste
Directions
Combine Worcestershire sauce, ketchup, apple cider, garlic, parsley, oregano, salt and pepper. Stir to make a mixture. Brush half the marinade over lamb. Set aside to marinate.
Preheat grill and set the racks on the grill turning and basting often with marinade for 15 minutes until medium rare. Rest for a few minutes and cut into two portions.
Mango mint salsa
1 whole mango, peeled and diced
¼ cup diced red onion
1 teaspoon finely minced jalapeno
1 tablespoon fresh lime juice
1 table spoon chopped mint