by Carmelo Giardina
Regenerative viticulture has become a buzz word in the wine world recently, yet there's still some confusion as to what specific practices set the philosophy apart from organic or sustainable grape growing. Based on the idea that soil, and the environmental and cultural elements that rely on its health, can be improved by farming it responsibly, regenerative agriculture doesn't seek to simply maintain the status quo but offer rehabilitation.
Broadly defined as principles and practices that enhance ecosystems, the basics of regenerative agriculture include minimal soil disturbance, keeping soil covered and integrating livestock. The practices improve watersheds, enhance biodiversity and improve the soil.
Among a small handful of Canadian wineries and wine growers that follow this viticultural ethos is CedarCreek Estate Winery set within British Columbia's Okanagan Valley. Having released its first wines in 1987, CedarCreek is one of the eight original BC wineries and is known for producing exceptional, quality-driven wines with each vintage. Their penchant for high-end consistency is traced back to how they interpret the land that provides the fruit of their labours – a philosophy that stretches beyond the practice of organics and other sustainable methods.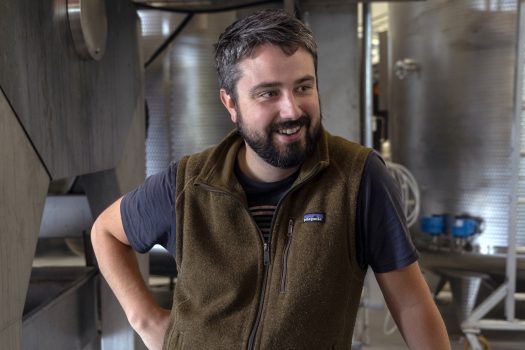 Recently registered as a Regenerative Farm with Regeneration Canada, CedarCreek is now part of a national community that supports these concepts and openly shares ideas and innovations that are poised to remain focused on improving farming practices and care of their biggest asset – the land.
"A lot of the principles of organics complement regenerative practices but we can always do better," says Kurt Simcic, CedarCreek senior viticulturist. "We hope to enhance our soil's nutritional activity, improve the water cycle, and in turn we hope to see resilience to future droughts and floods."
This puts farmers at the centre of mitigating any future climate catastrophes. But consumers can also play a part by supporting wineries that are thinking about how to best grow their grapes, in addition to how they'll taste in the bottle.
"Regenerative Agriculture is a hot topic at the moment, and I can attest to the fact that over the last five years, we have seen dramatic increases in soil quality and health and corresponding improvements in vine health and fruit quality," says CedarCreek winemaker Taylor Whelan. "Our goal is to farm and manage the property in an ecologically sound and responsible manner and we have identified [regenerative viticulture] as one way for us to reduce our impact and 'leave our land better than we found it'."
Farming in such a way does result in lower crop yields, but quality is much higher. For CedarCreek, the elevated condition of fruit has allowed the winery to not only grow their premium tiers – offering better quality than ever before – but to also create the 'Aspect Collection', which is the culmination of the winery's commitment to high-quality, terroir-driven wine. These single block wines stand apart and now compete with the best Canada has to offer.
"The connection between the land we farm and wines we make has strengthened and we are tailoring our viticultural approaches to best fit each individual block of fruit and maximize its true potential," says Whelan. "It's more work for the teams in the vineyard, but the results in the bottle are hard to argue with."
If regenerative agriculture has the potential to shift climate change and social welfare, not to mention make better tasting products, then it's a practice worth consideration. "There is a quote from a very well-known organic/biodynamic winegrower in New Zealand, named James Milton, who says 'We're not standing on dirt, but the rooftop of another kingdom'," says Simcic. "As farmers, it's a statement that's worth thinking about."
CedarCreek 2018 Aspect 'Block 2' Pinot Noir
This wine is a tribute to the unique blend of clones planted on clay, silt, and stone and is fermented using wild yeasts. Winemaker Taylor Whelan says "Our Aspect Collection pinots best express the terroir we are working with. They're made predominantly from clone 115 and are grown on distinct soils. Block 2 soils are heavier with the vines having more access to water – this leads to a more elegant and red-fruited profile." French oak is used for aging (14 months) and this allows the wine to fully express itself and truly capture the character of the vineyard. Right now, expect fine, dusty tannins, red fruit flavours, clove and a mineral splash that leads to a long and excellent finish. ($75)
CedarCreek 2020 Platinum 'Jagged Rock' Sparkling Rosé
Fruit for this sparkling is sourced from the Jagged Rock vineyard – a noteworthy place that is surrounded by steep rocky cliffs at 1,400 feet elevation. The large cliffs reflect heat back on to the vineyard creating sparse sun scorched soils that are ideal for growing remarkable fruit that's delicate, diverse and expressively rich. This bottling was aged four months on lees in stainless steel and comes across as an effervescent and lighter rosé, with brilliant aromas of strawberries and cream, as well as pink grapefruit that jump out of the glass. I love the fine-tuned acidity that allows this to really sing on the palate without overwhelming those characteristic fresh fruit flavours. ($35)
CedarCreek 2020 Platinum 'Jagged Rock' Chardonnay
According to winemaker Taylor Whelan: "Chardonnay is a winemaker's wine, and we do push the style deliberately here. We are looking for mineral, seashell, crushed stone characters, and harvesting early, hoping for plenty of acidity. I love the complexity and elegance of the wine, and the fact that it is so identifiable." This is super fresh tasting, with lean, focused flavours that are still very much trying to find their way through a tightly woven state. The wine's lively acidity matches its expressive framework and I love the mineral salinity towards the finish. Built for the long haul, this is one we should all stand to be patient with – otherwise decanting is recommended. (Not yet released by the winery.) ($35)
CedarCreek 2020 Sauvignon Blanc
Grapes famously hold a mirror to their surroundings. The southern Okanagan has an herbal quality to the air at the height of growing season – sage and antelope brush warmed by the sun. So maybe it's not surprising that there's a tell-tale grassiness to this herbaceous-by-nature sauvignon blanc. The fruit is picked early to retain the bright, fresh acidity that shows through on the palate. Bone dry, with electric acidity, this is somewhat of a textbook Marlborough, New Zealand-like sauvignon blanc, with its notes of lime, lemon grass and subtle green cooking herbs. ($21)