By Barbara Ramsay Orr
Celebrated California chef, Jillian Fae, is in my Burlington kitchen, giving me a cooking lesson.  We are chopping red bell peppers together, preparing the ingredients for a curried shrimp dish with scallions, coconut milk, and cilantro, and a fresh cabbage slaw with nut butter vinaigrette. Chef Jillian is giving me tips on knife skills as we work. Cooking along with me are a group of new friends, from British Columbia, Quebec, California, and Minnesota. Nutritionist Jenn Keirstead is also with us, and we ask her questions about the food we are preparing – which leads to a discussion about using salt to flavour food, the best kinds of oils to cook with, the wisest choice for wild caught shrimp. Earlier I had an invigorating yoga class with Kyla and then a pretty challenging HIIT workout class with Kristin.
This is the best weekend I have spent in months. It's fun, it's definitely healthy and it is most certainly lifting my pandemic spirits.
And it's all virtual.
Welcome to a (virtual) weekend retreat with Mountain Trek, an experience that I didn't even realize I needed, but one which brought me welcome company, helped me rethink some of my daily habits, exercised my body and cleared my head.
That's a lot to accomplish in just over two days, and I was skeptical to begin with. How could anyone reset their body and mind in that short period of time?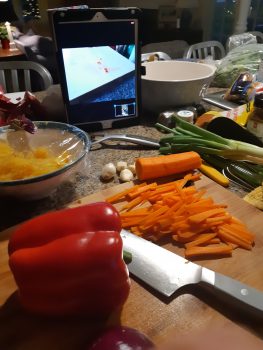 But here's a caveat – this weekend was intense. If you decide to do a weekend like this, it requires complete commitment, and a total immersion in the experience. No distractions, no Netflix, no devices (other than your laptop to communicate through Zoom and Slack).  Put other commitments aside, tell friends and family to keep their distance for the time period, and give yourself over to the work of resetting your mind and body. It is astounding how much good you can accomplish for yourself, and ultimately for those who have to live with you!
Mountain Trek started in 1991 as a recreational retreat focusing on hiking, kayaking, mountain biking and yoga.  Over 20 years, the retreat has evolved to include detoxification, sleep training and mindfulness.
Kirkland Shave, program director and lead guide at Mountain Trek explains how the program has grown. "We've come to understand that the balance is critical, and is what leads to our guests having life-changing experiences week after week. We pride ourselves on following the latest science. Today, we have a team of over 30 world-class health experts, all supporting 16 guests at a time."
Mountain Trek is home based in a luxury retreat in the mountains of British Columbia. The total experience, with hiking, spa treatments, gourmet dining and group fitness classes would be an inspired choice for a health getaway. Just named the #1 Health Retreat in the US and Canada, and #4 in the world by Travel + Leisure, it is the perfect blend of pampering and self improvement.
It is inarguably true that we could all benefit from a week of outdoor exercise, good food and guided meditation. But the pandemic means we must make do with the virtual version, and I can attest that it is a revitalizing and rejuvenating way to invest your weekend.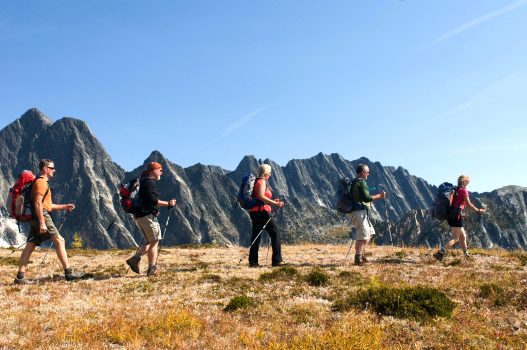 The experience began late on a Friday afternoon as all of the participants met together over Zoom, introduced ourselves and discussed how the weekend would go. We used Slack to share pictures of our meals, the scenes we saw on our walks, and the questions we were pondering.
The Friday night cooking class with Chef Jillian was relaxed and light hearted, with all of us chiming in, almost as if we were in the same room together. The recipes had been sent to us ahead of time, as well as an ingredients shopping list. We prepared not just the evening meal – chicken thighs braised in a fresh tomato sauce, spaghetti squash and salad greens – but also prepped the ingredients for the morning smoothie. The extra tomato sauce would be used for the shakshuka breakfast dish. The recipes for the weekend were all without salt, sugar, white flour, or dairy, but were incredibly tasty and colourful.
Then we headed out, in my case in the chilly dark, for a twenty minute post dinner walk. That may have been the most useful new activity for me. My hubby and I have a habit, in these COVID times, of finishing dinner and collapsing into the stupor of Netflix. The twenty minute brisk walk, through a neighbourhood alight for Christmas, brought me home feeling lighter, and with more energy. We finished the evening with a discussion led by Kirkland Shave about meditation, including a few useful techniques for maintaining concentration, maximizing mindfulness and improving sleep hygiene.
Over the next two days, the group bonded, examined our health goals and stretched our minds and bodies.
Each morning began with a smoothie and then 'Sunrise Yoga'.  We sweated through challenging HIIT workouts with Kristin, did guided meditation with Kirk, and enjoyed solitary 90 minute fitness walks, where we were encouraged to remain aware of our surroundings and to be mindful. A functional movement class after dinner helped me, again, avoid the late evening slump and a talk about optimum sleep hygiene followed by a restorative yoga class, sent us to sleep, after a day free from devices, and full of positive activity.
The final wrap-up discussion late on Sunday was an opportunity to share our personal responses to the retreat, and to identify the new intentions and new habits that we would strive to include in our lives as a result of this weekend.
I have resolved to include post dinner physical activity at least four times a week, and I certainly intend to repeat some of the dishes we learned to cook, particularly the curry shrimp and the chilli. I am, as a result of our discussion and the calming effects of meditation, more aware of my surroundings. The program encourages you to become more self aware, to improve self care, to work to destress and to set attainable goals to improve your emotional, nutritional and physical health.
All a good investment, in my opinion. When life returns to normal, an in-person visit to Mountain Trek is the ideal way to retreat and reset your life intentions. The company offers its award-winning programs from the lodge in British Columbia from April to October. Additionally there is a program in the Appalachians out of the boutique Hotel Domestique. In November 2021 and March 2022, they will be offering an alumni adventure trekking vacation experience in New Zealand, Bhutan and other exotic and culture-rich locations around the world, once travel is safe again.
The real in-person experience is the ideal, but for the moment, this digital virtual retreat is a valuable way to spend a pandemic weekend, setting goals, de-stressing, becoming mindful.
Do it. You deserve it. Your body will thank you.