By Danielle Leonard |  Photography by Pearle Hospitality
It's not easy to find the perfect weekend getaway for one, yet that's what I was seeking. A luxurious setting to transport me far away from the stresses of everyday life, but only a relatively short drive away. I wanted to indulge my senses effortlessly and return home refreshed and relaxed. It was through this quest that I discovered the exquisite Elora Mill Hotel & Spa—a little known gem that has recently undergone a massive transformation to become a luxury destination of Southern Ontario.
My scenic one-hour drive from Burlington led me to the charming historic village of Elora nestled within a nature's paradise of lush forest along the banks of the Grand River and Elora gorge. The Elora Mill Hotel & Spa is perched majestically atop the cliff of the gorge at the foot of a main downtown street.
I'm impressed with the reception when I check-in to one of the boutique hotel's 30 suites. Its bell hop, Scott, graciously accompanies me to my room, stepping inside to drop off my bag and explain the myriad amenities at my fingertips. The guest rooms are equipped with the latest in comfort-inducing technology, to be sure. I learn how to heat up the bathroom towel rack, as well as the bathroom's tiled floor. He shows me where the Dyson hair drier is tucked inside a drawer; I've yet to use this feat in hair technology and am excited to try it later. I am also advised that motion detector lights will flick on under the bed should I get up in the night. They're to make sure you can maneuvre safely in the dark, he tells me. It's a nice touch.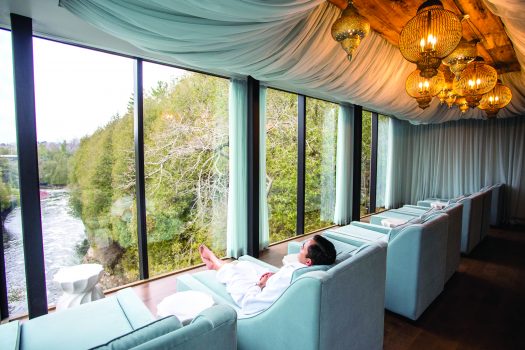 Before leaving, Scott mentions he is happy to light the wood burning fireplace in my room, at any time. I make a mental note; the night will be cool, and I love a good fire. As I open the  door to the balcony looking the Grand River, there's a knock at the door. Scott has returned with a flute a champagne. A lovely welcome, indeed.
I'm now ready for my spa treatment – a one-hour Swedish massage at the Stable Spa located a few steps away from the hotel. Comprised of three floors, an elevator transports me to the second floor where I'm directed to the beautifully designed locker room to change into a lush white robe and flip flops. A contemporary styled steam room decked in  white and silver tiles is located here, with a second one down the hall beside by the doors to the outdoor pool and hot tub (I'll be visiting those later).
I'm soon directed to the lounge on the third floor to await my treatment. Surrounded by floor to ceiling windows overlooking a stunning vista of the Grand River, I rest on one of the aqua-hued chaise lounges and feel stresses from home ebb away.
It's never easy to rouse the body after a relaxing massage, however when my hour is up, I force myself onward to check out the pool. The sun is shining warmly on the outdoor deck, located on the second floor, and wrapped with a glass railing for panoramic views from any angle. After a few laps (remember, I'm here to rest, not exert myself), I move to the hot tub to close my eyes and listen to the ever-present rush of water below. The spa is worthy of a full day experience. I recommend spreading out a couple treatments over the course of several hours to take full advantage of the amenities. A fitness room is conveniently located on the first floor, for anyone who wishes to begin the day with a good sweat before the pampering gets underway.
Dining at the Elora Mill Hotel is a perfect way to round out my personal retreat experience. With expansive windows, its restaurant offers a stunning view for guests but, as anyone can attest, a good restaurant comes down to its menu. I'm happy to share that my dishes are delicious. The waiter explains that all menu items are crafted in-house – from the baked goods to the pickled peppers – using fresh and local (where possible) ingredients. Note, that with a pastry chef on staff, you may indulge in a few more baked goods than usual. I did and, trust me, it's worth every delectable bite.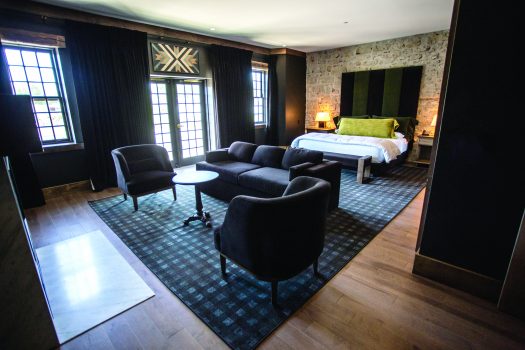 I'm particularly pleased by the two mocktails I'm served. As someone who refrains from alcohol, I am thrilled to have the bar customize each cocktail to match the flavours of my menu selections; a white pepper tonic for my appetizer and a grapefruit-based refresher to complement the grilled fish. In short, the impeccable service matched the quality of the food. Fully satiated by my small feast (read: stuffed), I head out for an evening walk.
You don't have to go far to be enveloped in nature at the Elora Mill Hotel. Within minutes I'm on a wooded trail, edging a ravine until I reach what the locals call, Lover's Leap. It's a rock outcropping high above the river from which, according to legend, a heart-broken Indian maiden leapt to her death after hearing her lover had been slain. Continuing along the trail, I come across a set of stone stairs that descend to the water's edge. I pass on that, for now, and head back to my suite after a 20-minute walk. The evening is growing chilly and I'm dreaming about that roaring fire which is going strong just after dark as I'd requested.
No trip to Elora is complete without getting to know the lively downtown that boasts an abundance of shopping, cafés and art galleries. As most women will agree, retail therapy is a lovely complement to spa services. Elora delivers on that. I'm impressed with the selection of boutiques.
There aren't a lot, but each has its own unique character offering high quality products that range from women's clothing to home décor to body care. There's even a used bookstore – a rare sighting these days – which is worth a visit. For the arts aficionado, several art galleries are within walking distance of each other, making a self-guided tour an ideal afternoon outing.
The getaway was exactly what I'd needed to clear my mind and refresh my energy before returning to the daily grind. With no brutally long drive or exhausting flight home to dissipate the effects of my stay, the good vibes remained long after I'd arrived
back home.