By Barbara Ramsey-Orr
Our plans to travel internationally are on hold, but excellent adventures exist locally that will help you scratch the vacation itch. Many resorts and restaurants outside the GTA are open. They have instituted strict isolation policies and are ready to safely welcome guests. Here are two places where you can escape from the confines of your home and enjoy the healing tranquility of our spectacular Canadian wilderness, in luxury.
Bartlett Lodge (opened for the season June 19th)
This iconic resort on Cache Lake in Algonquin Park, in existence since 1917, is run by longtime Halton residents, Kim and Marilyn Smith, who took over the lodge in 1997. The couple also run the well regarded girls' camp, Camp Tanamakoon located on nearby Canoe Lake.
Bartlett Lodge is accessible only by boat, so guests are assured of a real getaway, both literally and metaphorically. For social distancing purposes, passenger numbers on the boat that takes guests to the lodge are restricted right now.
Contactless check-in allows you to move in to your cabin without interacting with staff, and then, once you are settled, the beauty of Cache Lake and the Group of Seven's favourite painting locations are yours to explore. The lodge will set up trail hikes or self-guided canoe trips to different areas of the park, including one itinerary that traces the favourite painting spots of Canadian artist Tom Thompson, who died in the park. There is swimming, fishing, canoeing, paddle-boarding and kayaking to pass the time. Picnic lunches, life jackets, trail guides and maps are all provided. Or you can sit on the dock with a cold brew and listen to the birds.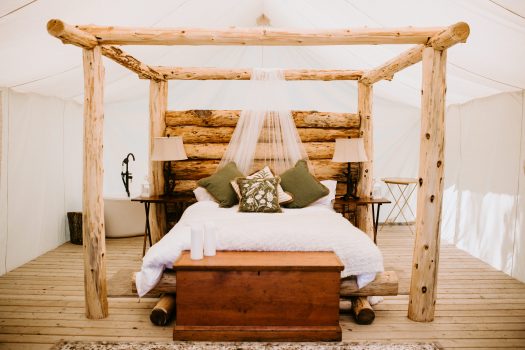 Accommodations vary from one, two or three bedroom log cabins to platform tents, or one of two artist's suites, located in the historic restored log cabin of well-known artist Isabel McLaughlin.
There is no television nor telephones in the cabins, and cellular service in the park is spotty, so you are well away from politics and the daily news blasts. There is limited wifi in the main lodge building for those who can't go cold turkey. For most, this is a chance to reconnect with each other and with nature. Evenings can be spent watching the most brilliant stars you have seen in years, sipping a glass of wine and listening to loons and wolf calls from your screened-in veranda.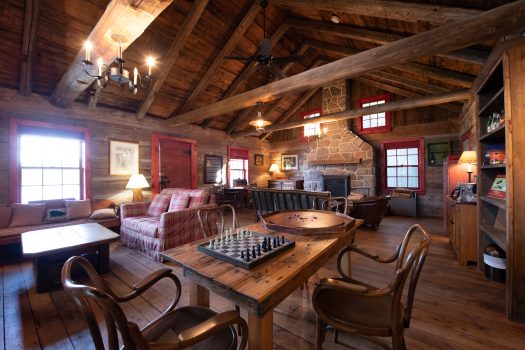 The dining room at Bartlett is deservedly famous, and dinner guests come from all over the area to dine here. Chef Bob Huff prepares surprisingly elegant cuisine, with an emphasis on locally sourced ingredients. The kitchen will not use any animals that are not sustainable or that are caught inhumanely. A spectacular charcuterie board, bison appetizers, wild caught organic BC salmon and themed wild game nights are part of an ambitious culinary experience that includes both seasonal specialties and international classics. At the moment, meals can only be ordered for pick up, or for delivery to your cabin, with environmentally friendly containers. The lodge is not licensed but guests can bring their own wine; there is no corkage fee in the dining room.
Centrally located in Algonquin Park, about halfway between the East and West Gates on Highway 60 and east of Huntsville and the Muskoka Lakes, the lodge is about a three-and-a-half-hour drive from Toronto.
The lodge will stay open until October 24th.  It is a place that promises the untouched beauty of Northern Ontario, and the opportunity to disengage from the world, for a while.
www.bartlettlodge.com
Whispering Springs
If an Ontario campground married a ritzy hotel, Whispering Springs would be their love child.
This wilderness retreat, situated about 90 minutes east of Toronto, is operated by John and Nancy Corcoran of Ste. Anne's Inn and Spa fame, so you know that it will be special. Guests sign on for a glamorous camping experience that is a world away from sleeping bags and air mattresses. This is camping that comes with a queen or king sized bed, fine linens and butler service.  Spacious safari tents provide a private, casual and isolated 'room', decorated with eclectic collectibles and oriental rugs. A private verandah looks out over the spring-fed ponds and forest.
With social distancing in mind, the resort has instituted strict measures to ensure a safe stay. Guests can check in online and go directly to their safari tent without having to interact with anyone. Ingredients for meals, designed around seasonal and local ingredients, are delivered via butler to each tent, all prepped and ready to throw on the BBQ.  A dinner BBQ basket for two features beef tenderloin, local and seasonal vegetables, fresh salad, baguette, dessert and local Prince Edward County wine. Alternatively, guests can bring their own ingredients and plan their own dinner. Breakfast can also be delivered. Consider the Traditional breakfast, or the Mimosa version. There is wood fired pizza on delivery as well as a "bucket of booze" and wines from local wineries.
Tents are fogged and cleaned after every guest. Activities to enjoy during this time of reduced social interaction include canoeing, paddle-boating and fishing on the spring-fed ponds. A hiking trail winds through the Northumberland county forest. There is yoga, usually offered as a class, but during these times, can be arranged for a couple or a small group. Spa services are on hold, but there is an outdoor gym area. For the moment, all of the common areas, including the saltwater pool and hot tub, are closed but may be opened as the pandemic restrictions are eased. With no telephone, television or wifi in the tents, get ready to digitally detox.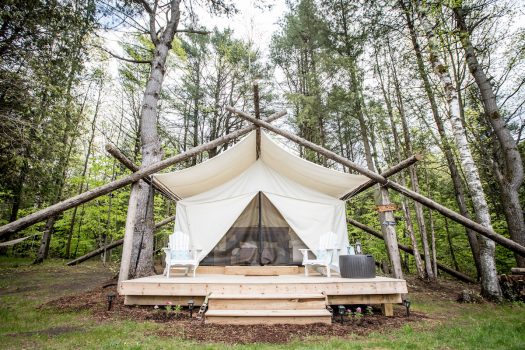 I don't know about you, but the idea of ordering room service from my tent makes me happy. It's almost enough to make you forget about all the other stuff. S'mores, anyone?
www.whisperingsprings.ca