New Year, New You
The New Year brings a desire for regeneration, a renewed commitment to wellness, and a desire to reset our systems. Here are two ways to do that in superb fashion, one nearby and the other a bit farther away.
A Wellness Weekend  at The Four Seasons Toronto
A day at the Spa at the Four Seasons Toronto, aka the Cloud 9 Oasis, is a wonderful thing, but a whole wellness weekend at this superb hotel is the best reset for those who are holiday-fatigued and winter-chilled.
If all you can squeeze in is a day visit, the spa will make you feel as if you have had a holiday rest. Booking a treatment gives you access to all of the spa spaces, including the pool, Jacuzzi, eucalyptus scented steam room and relaxing day beds. Herbal tea and healthy nibbles are available all day as well as crystallized water. There are comfy robes and good quality creams, shampoos and conditioners for post treatment primping.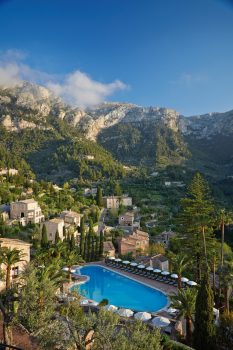 Lunch in your robe can be arranged – the spa serves a healthy chef-designed menu that can be pre-ordered, with vegan and vegetarian options.  When the weather is warmer, you can eat on the balcony overlooking the city. Guests can order from the spa's menu of healthy favourites like lobster and baby lettuce wraps, the signature ABC salad or a hearty acai bowl created by Giannicola Colucci, the hotel's executive chef.
There is a full range of treatments available, including a complete makeup and hair make-over. The massages and skin treatments are exceptional. Try the Sub Zero Vitality Facial with cryo technology. The 90 minute treatment will remove years from your skin. It includes a cold temperature facial cryo-massage designed to invigorate and tighten the skin through increased microcirculation. But this treatment is more than just a facial. It includes a head massage, maple sugar hand scrub, hand, arm and neck massage, aromatherapy, a facial peel, a mud mask and moisturizing creams.
I can attest to its effectiveness – my skin was visibly improved, and felt younger, firmer and more taut. Amazing. There is also an Ultra-Lux Black Diamond Facial, a non-surgical lifting facial that uses the exclusive Celestial Black Diamond Powder to enhance the skin's absorption of concentrated anti-aging ingredients. Other treatments available include body scrubs and masks, mani-pedis, and specially designed nail and body treatments for gentlemen.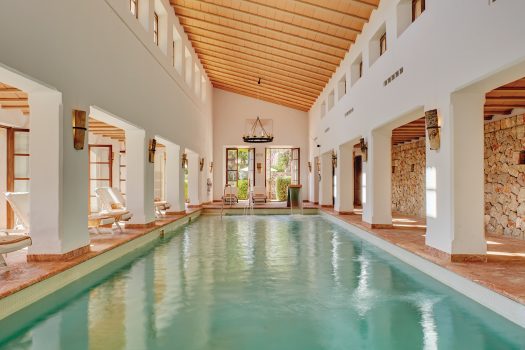 If you really want the full reset benefits, commit to a weekend at the hotel. They will design a program to address your New Year's goals. In addition to the spa, the treatments and the pools, there are workout rooms with floor to ceiling views of the city, treadmills and a Peloton bike. The hotel can set up a session with a personal trainer for a customized total body workout, or you can take part in a yoga or pilates class.
When your day of healthy exercise and pampering winds down, all the attractions of Toronto are nearby. In the hotel itself, Café Boulud serves award winning French cuisine or opt for sharing plates in d/Bar. The hotel has a designated spa sales manager to help customize an itinerary from beginning to end.
Reset, detoxify, sweat and cleanse – whether a day or a weekend, time spent at the Four Seasons and the Cloud 9 Spa will help you face the Canadian winter with renewed vigour.
www.fourseasons.com/toronto
A Health and Wellness Retreat, Iberian Style: Belmond La Residencia, Mallorca
Set into the hillside, overlooking the blue water of the Mediterranean, and protected by the Tramuntana Mountains, this famous hide-away on the northwest coast of Mallorca in the Balearic Islands is the ideal place to leave the busy world behind and concentrate on healthy eating, exercise and maybe some deep meditation.
Once owned by Sir Richard Branson, and a secret bolt-hole for Princess Diana Spencer when she wanted to get away from it all, this historic resort hotel is now a Belmond (Orient-Express) property. The list of royalty, politicians and movie stars who have stayed here is lengthy, including the Emperor and Empress of Japan, the King and Queen of Jordan, Ryan Seacrest, Catherine Zeta-Jones, the Duchess of Kent and Tom Hanks.
The appeal is undeniable. Occupying two manor houses dating from the 16th century as well as a collection of other heritage buildings, the hotel is a marriage of elegance and seclusion.
The hotel is about 35 km from Palma and a forty-minute drive from the island's international airport. It is on the edge of the small village of Deià which has long been home to artists and writers. La Residencia embraces the artistic history of the area with original art hung throughout the space. There are art classes for guests, and a resident artist. It is a fine opportunity to take the time to explore your creative side.
There are terraced gardens with dry stone walls, and two pools that offer gorgeous views of the ocean and the mountains. The 67-room property, decorated in traditional Mallorcan architectural style, is surrounded by olive and citrus groves and includes in its property one of Spain's largest permanent sculpture gardens.
The emphasis here is on restful seclusion and healthy activities. Guests can experience the spa, which emphasizes locally inspired signature treatments. The spa has an indoor pool, Jacuzzi, sauna, steam room, gym and treatment rooms. It offers a wide range of treatments, including relaxing therapies, massage, facials, signature treatments, alternative therapies and general body pampering.
There are two tennis courts and a resident pro for those who may want to perfect their game; the resort can arrange reservations for golfers at more than 20 island golf courses. High up on the mountain, at the end of what was once a donkey trail, is the hotel's secluded refuge, where guests can go with an individually designed picnic for a time away. Or for quiet meditation.
The resort's El Olivo Restaurant is centred around the original antique olive press and specializes in Mediterranean cuisine.
There are frequent flights from the Spanish mainland to Mallorca. The hotel closes for winter, but re-opens mid-March just on time for spring weather.
The perfect place for a rejuvenating reset.
https://www.belmond.com/hotels/europe/mallorca/deia/belmond-la-residencia/?utm_source=local_search&utm_medium=link&utm_campaign=google_business