By Barbara Ramsay Orr
I stood on the terrace outside the villa at White Pearl and watched sunrise gild the quiet bay in front of me. Birds called from nearby branches, monkeys chattered in the distant Casuarina trees and waves rolled with a soothing regularity onto the wide white beach. Even this early, the sun warmed my shoulders and the air seemed charged with ozone, maybe a hangover from last night's rain. Flowers shone white and pink and yellow against dark foliage.
"This can't get any better," I thought.
And then it did.
A discrete "good morning" announced that breakfast had arrived and within a few minutes, our butler – our private butler! – had laid out breakfast in the shady part of the terrace.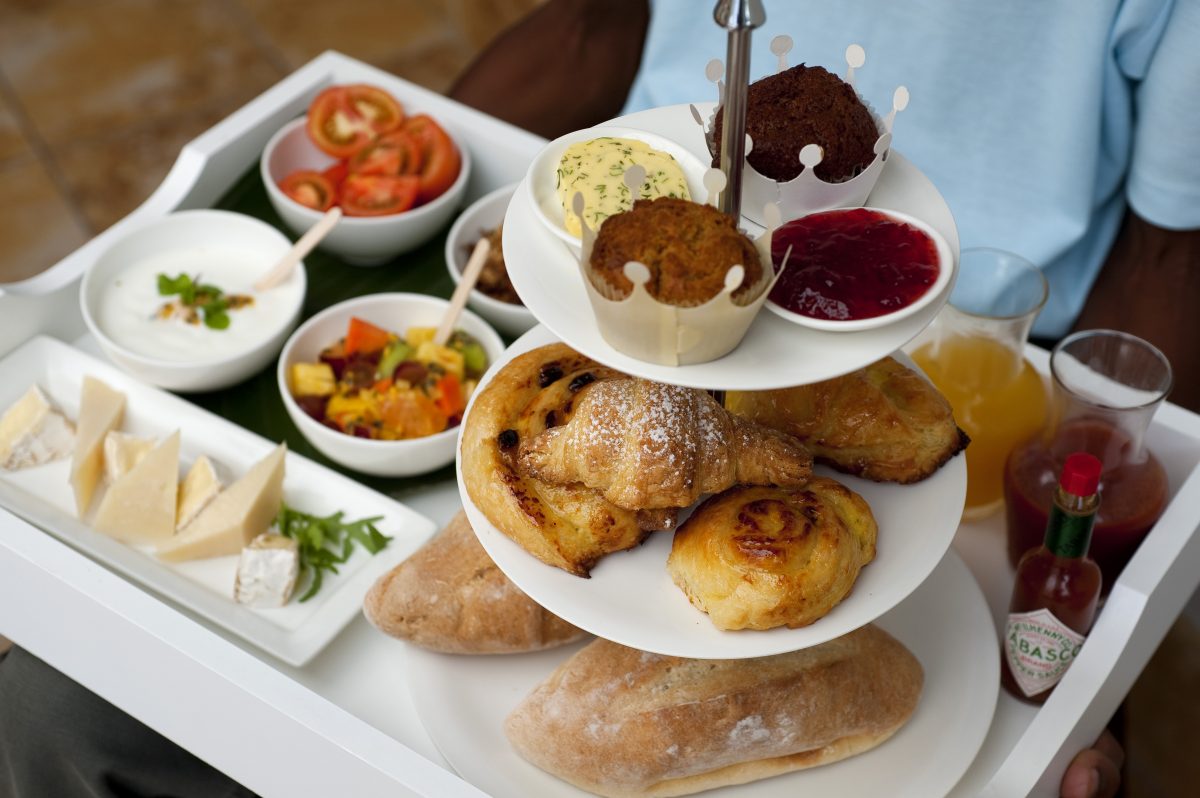 It was going to be a memorable day.
My daughter Allie and I had arrived late the night before after long hours of travel. She had flown in from London, England, and I from Canada via Cape Town and Johannesburg. We were looking forward to a rejuvenating retreat from our busy lives, and some much needed mother-daughter time. White Pearl was the ideal place for both.
Located on the curve of a protected bay on Mozambique's Lagoon Coast, about 100 km south of the capital city of Maputo, White Pearl is a luxury property promising an escape full of pampering and adventure. There are 21 individual villas built into the hillside overlooking a two-kilometre long beach and almost camouflaged by the jungle. Each villa is sleekly modern in design, completely private and blessed with splendid views of the Indian Ocean. All have a generous deck with private plunge pool and interiors that are elegantly spacious and airy.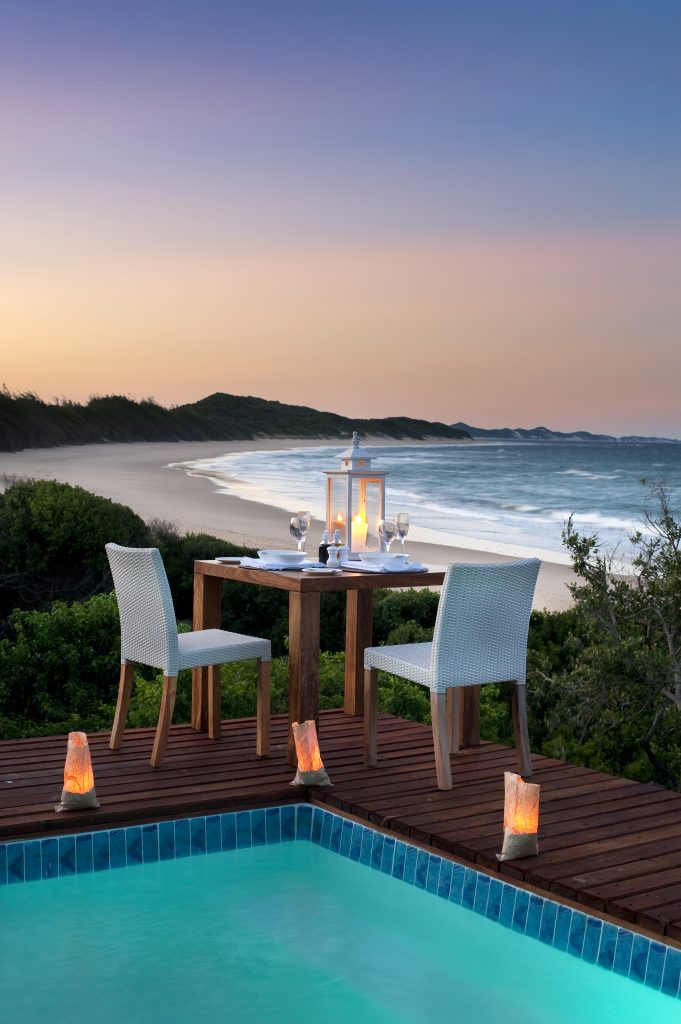 The White Pearl aesthetic is a kind of 'beach club cool,' with lots of blues and whites, natural wood finishes and scrubbed floors. Like most of Mozambique, it reflects the influence of African, Arabic and Portuguese style. Public rooms echo the same look, classically relaxed, uncluttered and sophisticated, with Mozambican art and handcrafts as accents.
It's as restful on the eyes as it is on the spirit.
Each villa is assigned its own butler who oversees all of your needs, helps you schedule your day and makes sure that whatever you want to do is made possible.
Helder, our personal butler, returns after breakfast to help us plan our stay. We both want to do a horseback ride along the beach, try the marine safari, do a coastal marine walk and maybe do some sea kayaking. 
"I would suggest the early morning for your beach ride," Helder tells us. "It can get very warm as the day goes on, and the horses are happier when it is cooler. I can arrange that for 9:30." 
"Also, there is a surprise planned for you for lunch – it will be wonderful. Then you might need a rest."
Together we plan how we will spend our days, even fitting in treatment sessions in the spa. It is effortless, uncomplicated — so exactly what we need right now.
Most of us thrive on the complexity of modern life, but to step out of the buzz, just for a few days, is sometimes a re-energizing necessity, and White Pearl is ideally designed for that purpose.
There is Internet, and large screen TVs — but the pull of the view from the terrace makes those things somehow less important. Although all the means for connectivity are there, disconnecting in this paradise is irresistible. 
Our beach ride is a slow and leisurely one at first, with nobody else on the beach but us. The return trip is an energizing gallop — even the horses are eager to get back for lunch.
The surprise Helder has promised is a picnic on the beach, just feet from the edge of the Indian Ocean. Under gauzy white curtains, the table is laid with china and silverware, and tantalizing food — fat local prawns, chicken with piri piri sauce, crab curry, grilled vegetables and rich Portuguese custard tarts. 
The following days unfold like a dream. We put on wet suits and climb into motorized dinghies to sail along the coast and snorkel in the clear turquoise water. In a curated stroll along the beach the resident marine expert gives us insight into the many organisms that proliferate in the rocks and coral, revealing a whole world in microcosm. 
One of the unique offerings at White Pearl is the beach to bush excursion. Guests arise early — around 5 a.m. — fresh coffee is provided, and then we head to the Maputo Elephant Reserve to experience a real African safari. Mid-morning breakfast is served from the back of the safari jeep, and there's the possibility of sighting elephants, giraffes, warthogs, zebra, rare black-backed antelope and rich bird life.
The return to White Pearl is timed so that lunch can be enjoyed, then there's the matching thrill of a different kind of safari — on the ocean, which can include whale watching, dolphin sightings, snorkeling and scuba diving along the pinnacle reef; the perfect way to do it all in one day.
If the timing is right, guests can witness the nesting behaviours of the endangered loggerhead and leatherback turtles.
The resort spa, located above the villas and with views of the Indian Ocean, is small but provides all of the usual treatments, plus some that are unique. The African Rungu massage uses ancient African warrior sticks to deliver long, deep pressure — ideal for relieving stiff or tired muscles. The Jewel of Africa Massage employs a coconut-scented balm for a calming, restorative treatment.
We loved the beach bar, an informal place, sparkling white and perched oceanside, where we gather for a glass of wine before dinner or to grab a casual tapas lunch before an afternoon of sunbathing. The oversized daybeds and loungers that line the pool and overlook the beach are hard to resist, and just steps away is the pool bar, which serves signature cocktails all afternoon. The cool comfort of the Reading Room is ideal for a high tea, and the large telescope in the corner gives you an evening view of the vast African sky and its stars.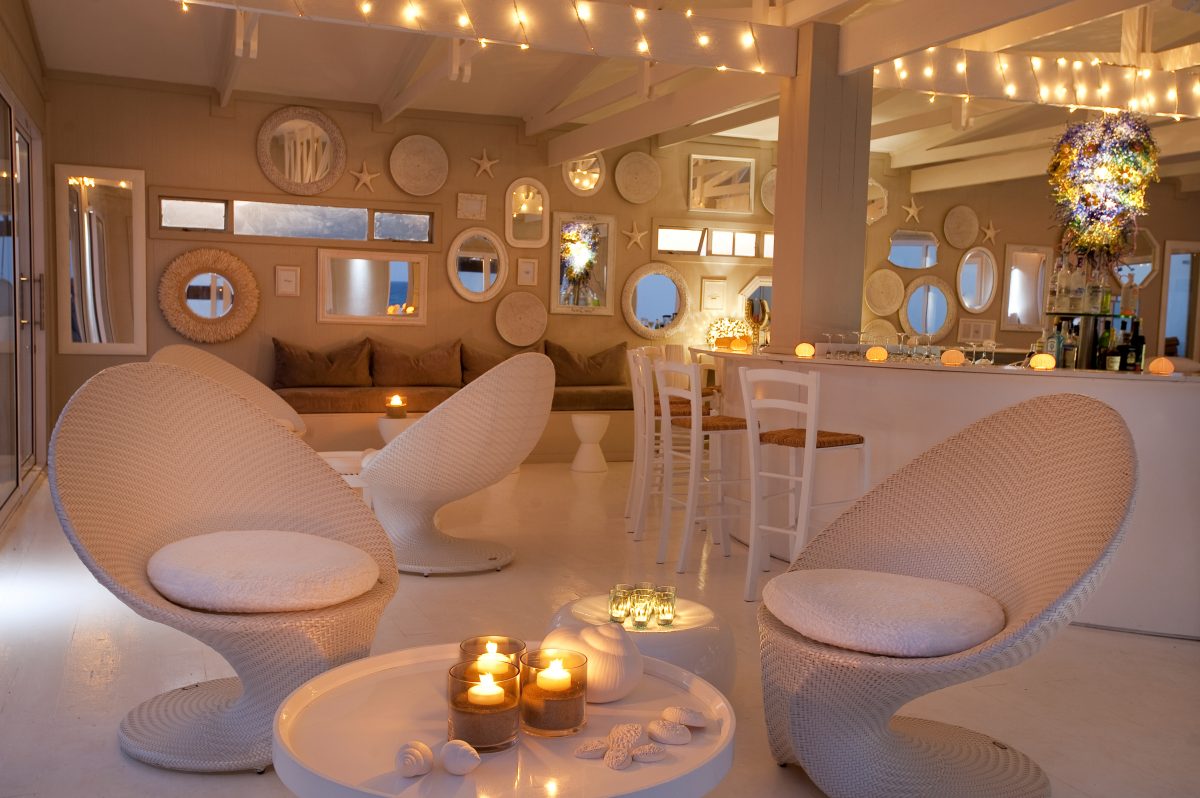 We have dinner one night in formal style in the high-ceiling dining room, and on another we're served casually on the deck. Guests can also arrange to have their butler deliver a private dinner to their villa.
Food is a surprising and delicious blend of flavours, with a strong Portuguese influence married with local ingredients. Freshly caught seafood and tropical fruits and vegetables from the on-sight gardens mean that our meals are both tasty and healthy. 
In the boma, at sunset, we are treated to local music and dance performed by some of the villagers who live nearby. The resort is committed to employing and educating local villagers, supports ecological initiatives in the area and champions Mozambique culture.
Mozambique is an emerging tourism experience, but getting there is easier than one might think. The country suffered for years through civil wars, but since the 1990s has been rebuilding infrastructure and developing its tourism offerings. Getting to White Pearl Resort is now easy. Flights from Johannesburg to the capital city of Maputo are frequent and the resort will collect you from the airport in their signature white 4x4s. When we took the drive, it was a four-hour trip through country market towns and countryside — a dusty and rather long drive that landed us at the resort well after dark. As of May 2018, the completion of the new Catembe bridge will shorten the drive to 90 minutes. 
I'd recommend the much quicker, and more exciting, alternative — to get to or from the resort by helicopter. Allie and I returned to Maputo on the helicopter, a 30-minute flight, with some majestic views of the coastline along the way. Fixed wing flights also connect the resort with Kruger National Park, so guests can enjoy a classic safari in Kruger and then fly to White Pearl for a tranquil beach vacation to rest up from those early morning safari expeditions. 
This was the ideal spot for Allie and I to share a relaxing getaway, but is perfect for a honeymoon, a romantic escape or a family vacation. I would love to come back sometime with the whole family.
Romance, privacy, total indulgence and adventure in a remote location are all here at the Pearl of the Indian Ocean, along with the exotic flavours of Africa. It's a place where you can step out of the world for a while and recharge in luxurious tranquility. 
If You Go:
You will need to purchase a visa for Mozambique ($50 US), which you can do at the airport. Malaria medication is recommended.
www.whitepearlresorts.com